Post War
Newcastle Riders
1945 to 1951 - Part 2
Doug Mclachlan Bonnie Waddell Peter Lloyd Wilf Jay Alec Grant Frank Hodgson Jack Hodgson
Ern Brecknell Pat Vincent Smith Terry Tight
During the second world war speedway was more or less suspended (Hitler was not a fan apparently!), although Belle Vue, Manchester and London track Wimbledon did continue to stage some speedway racing. The rest of the speedway venues were silent for the duration of WW2. Newcastle learned the news that pre-war favourite ,Canadian George Pepper (a night flyer pilot), was killed flying a training mission. So when the track action returned to Brough Park after the war sadly, the biggest name from 1938 and 39 was missing and the crowd needed a new hero.
The first season after the war 1945 slipped by under an open license, no league racing for the fans. At present I know little about this year but I will research it and add details later (please help me with it someone!) John
---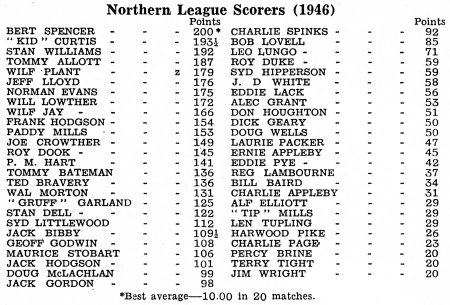 1946 saw the Newcastle side in the Northern League under the nickname "Brough". It was at this time that the fans began a warcry "B-R-O-U-G-H Brough". This became known as the "Brough Roar" and whenever the teams from then to fairly recent times needed a boost the long time announcer Barry Wallace (from the 60's to the present) would lead the chant " Give me a B etc". The team reverted to the Diamonds nickname in 1947. Then they became the Magpies for the 1949 season. Back to Diamonds for 1950 and 51 up to the closure at the end of the 1951.
Terry Tight 1946 or 1947?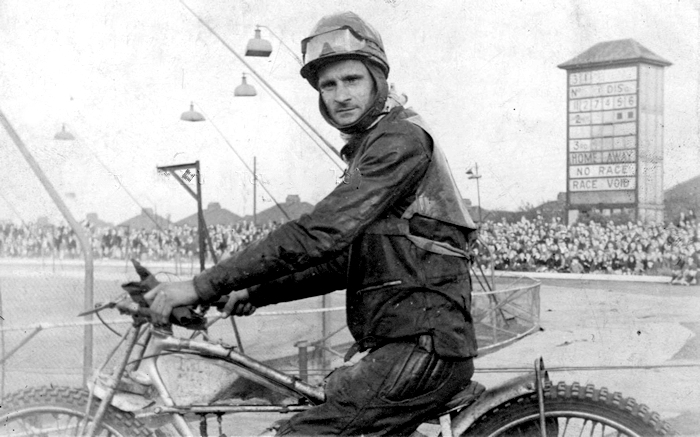 Courtesy of Col Greenwell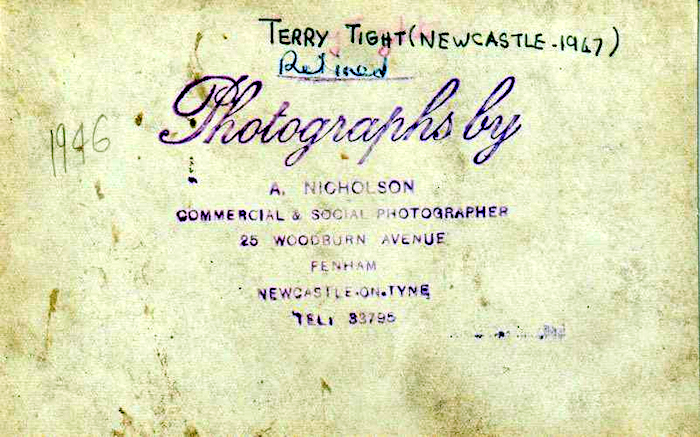 Courtesy of Col Greenwell
Hi John

,

Re Terry Tight

:

Thanks for your reply I am his great grandson. Terry was called Ozzie (it must have been his middle name) I know he had a son called Terry and a daughter called Joyce (my grandmother) we don't have any photos of Ozzie as he always was out of shoot! As far as I remember, he lived in the Old Fold area of Gateshead and all I remember is car and motorcycle parts all over his house, even in the bath! His grandkids went on to become motocross riders and one does the TT Isle of Man every year. I suppose it still runs in the family all of the years later. Keep up the good work. Kind Regards Jonathan Readman
---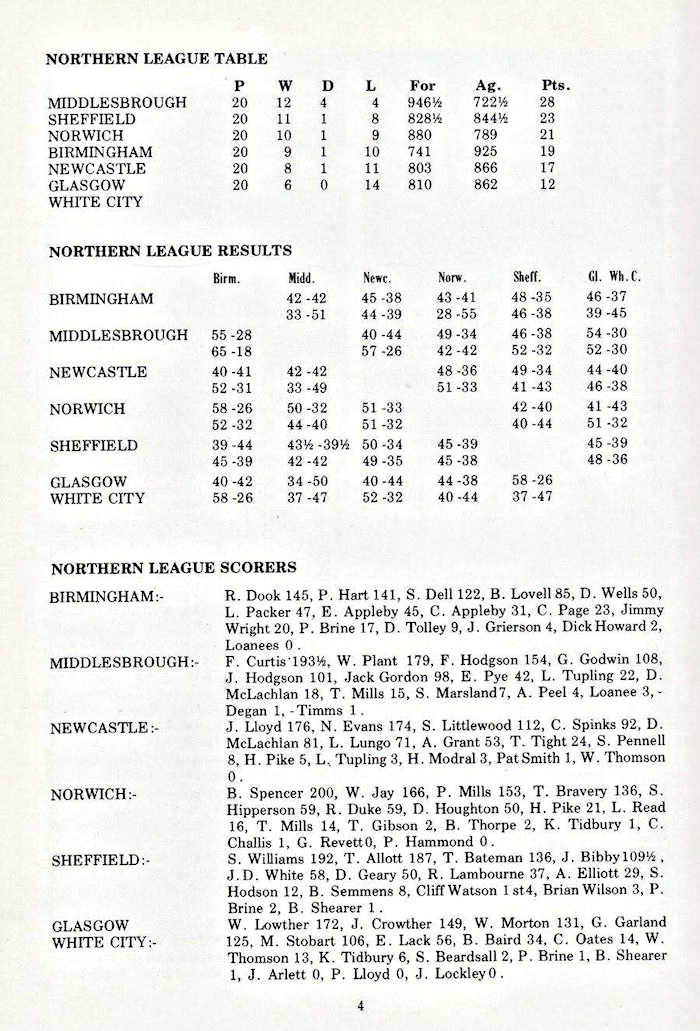 Courtesy of Col Greenwell
---
Post-War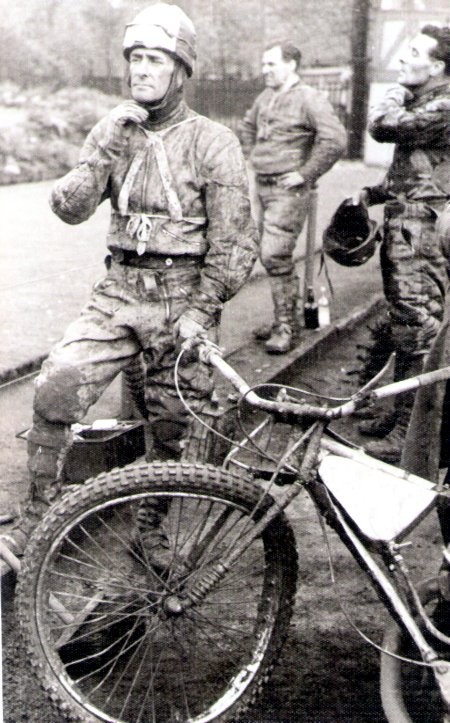 Courtesy of Les Banks
J

ohn Skinner says: We think this is Charlie Spinks and we hope he noticed that his front wheel was buckled! The fuel tank looks like it was made from pieces of tin-plate soldered together? We also wonder if the picture was taken at Newcastle's Brough Park as Newcastle had a building like that at top right hand corner. Charlie did ride for Newcastle.
Gary Thompson says: Hi John, I would definitely say that the rider in the foreground is Charlie Spinks and the two riders behind are Frank Hodgson and maybe Dick Bradley although not sure. I would also say this was post war but it is at Brough Park
John says: I have been digging and it appears Charlie rode for Newcastle in 1946, he was not a Newcastle rider Pre-war. Just noticed what looks suspiciously like a bottle of Newcastle Brown Ale at the feet of the rider in the centre!
Colin Greenwell says: It certainly looks like Frank Hodgson on the photograph with Charlie. If this is 1946 when Charlie rode for Newcastle, maybe it is a Diamonds v Bears meeting. The other unnamed guy looks very much like Eddie "Crusty" Pye to me......I think you have a pic somewhere on one of your websites of him..
---
1947

Red & White Diamonds Team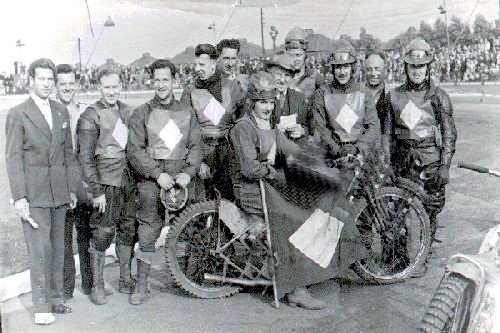 1947 team Left to right: Ken Le Breton , Danny Calder, Doug McLachlan, Johnny Hunt, Peter Lloyd, Pat (Vincent) Smith, John S Hoskins (Promoter), Alec (Farmer) Grant, (Grandfather of Rob Grant Junior), Wilf Jay, Len Gallagher, Bonny Waddell, Norman Evans (Captain).
The Men in Black, 1947 team shot. The guy in the WW2 de-mob suit (Ken Le-Breton), is so dapper apart from the plaster pot on his right leg! There is a healthy looking crowd in the background. I am told that approximately 21,000 once turned up at a match at Brough during this era.
Another

1947

Team Photo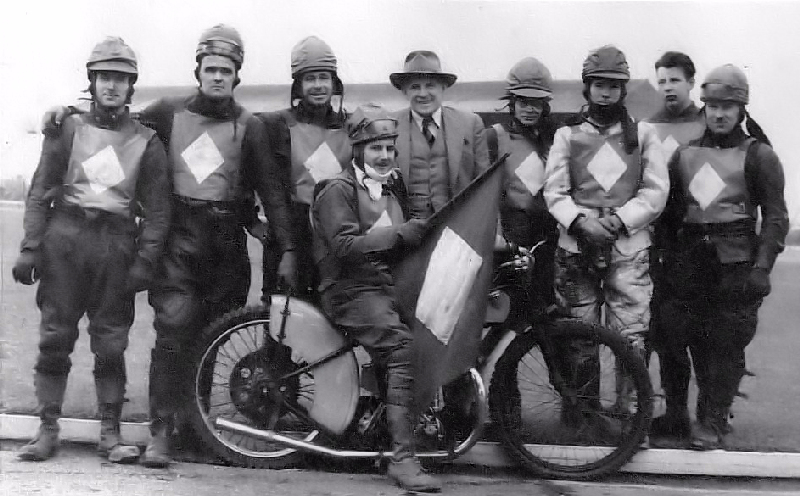 Courtesy of Colin Greenwell
---
1947

Cards
A & J Donaldson
Sports Favourites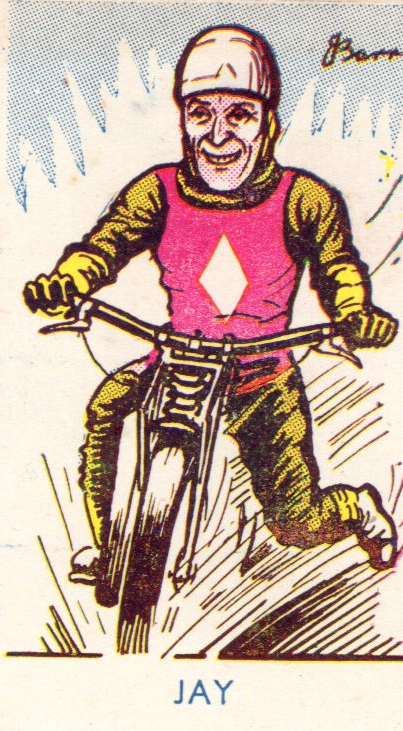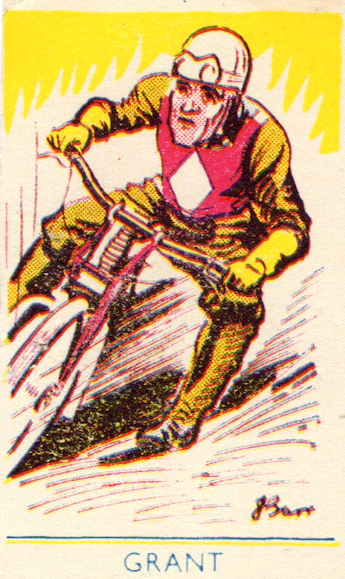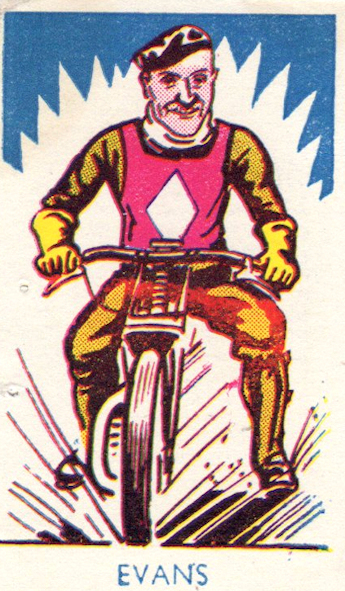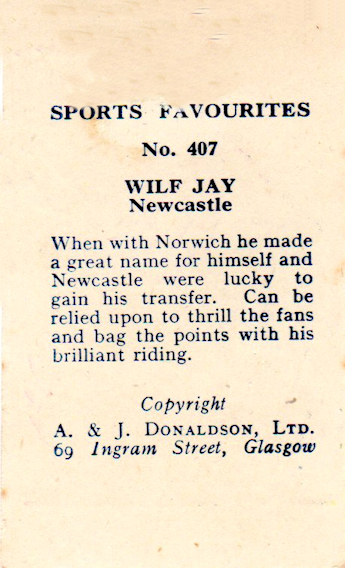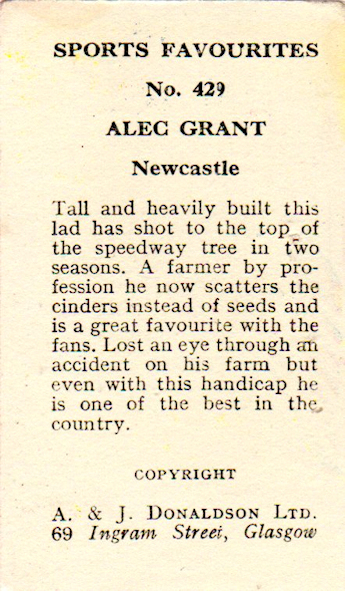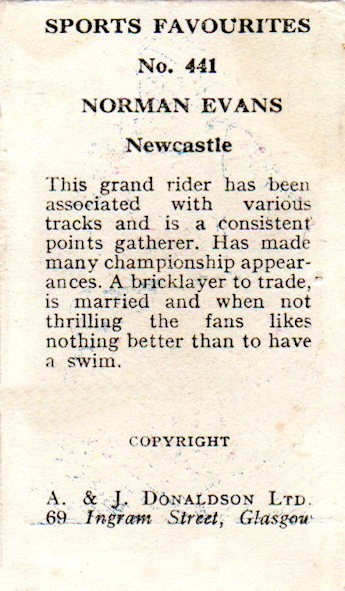 Cards are courtesy of David Pipes
These 1947 cards are interesting because they are coloured, which shows Newcastle's team colours, they were red n white prior to season 1961 when the team became black n white as they are to this day plus a little saphire blue!
If you like these cigarette cards, check out my other website "Defunct Speedway" which has a whole section devoted to cigarette card collections, mainly complete sets and is the largest collection of speedway cards to be found in the same place and it's free to view on the internet too.
---
Coventry v Newcastle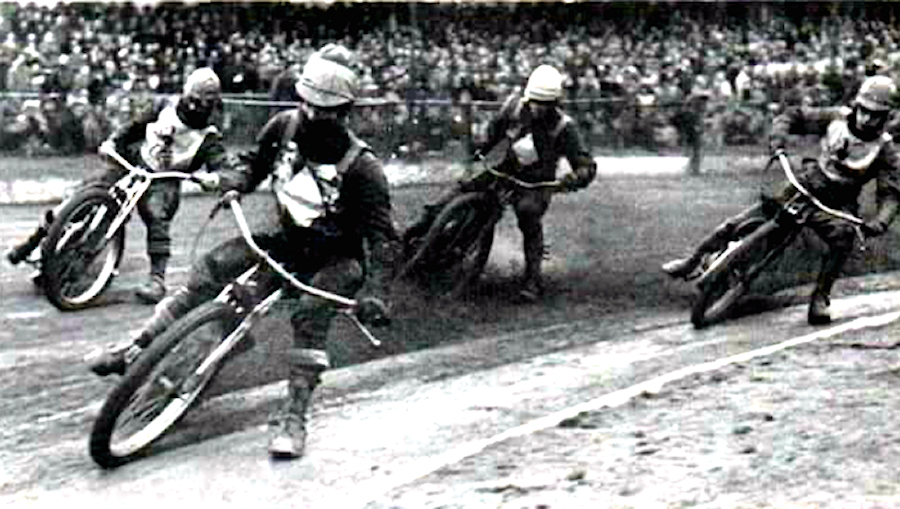 Courtesy of John Spoor
The year is unknown but at a guess, I would say 1947 or 1948 at Coventry and the Diamond in the lead looks to be a big guy so could it be Alec Grant? If you can add any comments about the photo please send me an email John
---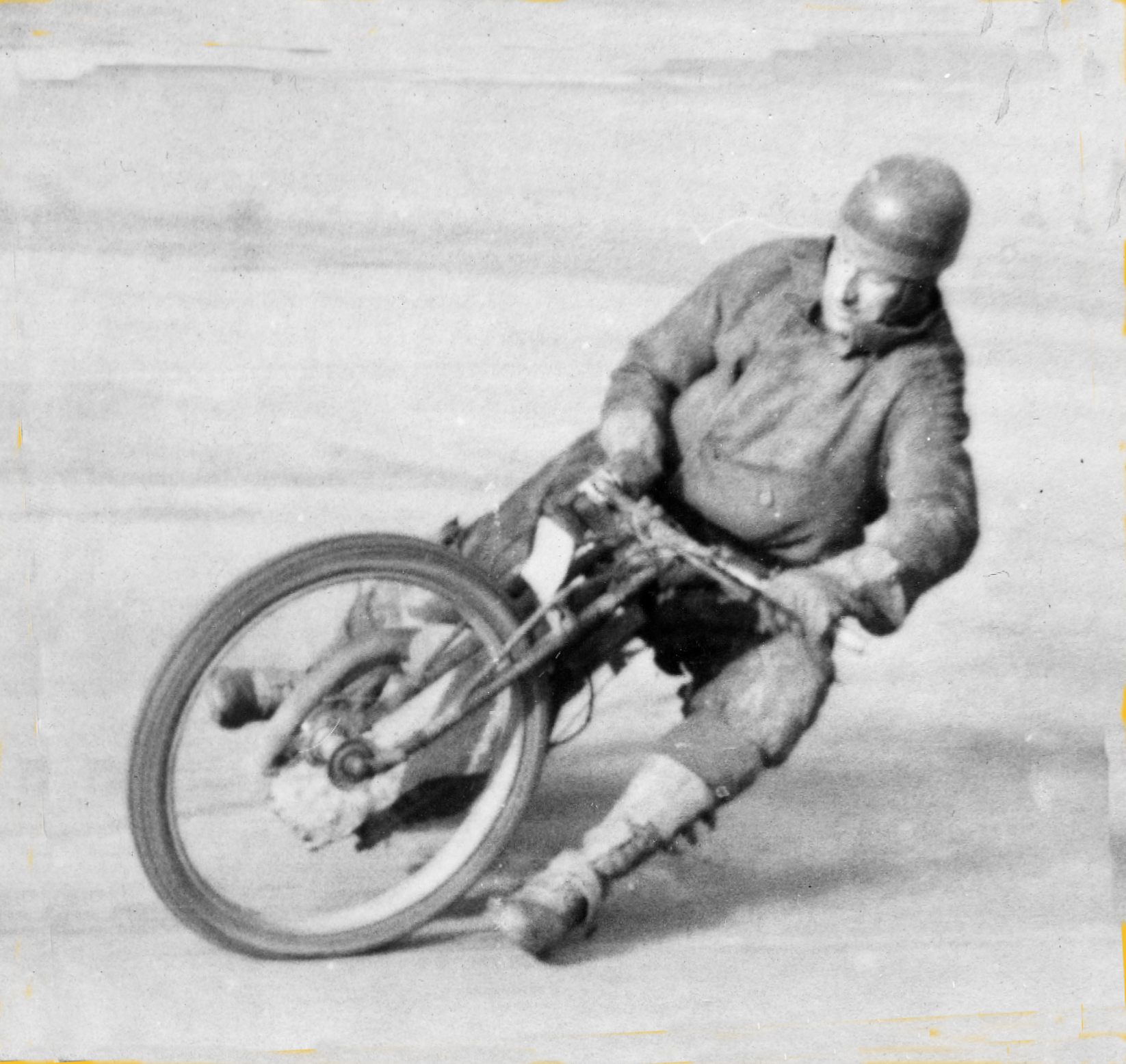 Peter Gale says: I have attached a photo of Pat (Vincent) Smith who rode for the Newcastle Diamonds between 1947 to 1951 it is his Birthday tomorrow (29th March 2011), he will be 99 years old. Hope this will be of interest. I will see if I can get any better photos and will email them to you.
John Says: I know very little about him. Now that I have his picture and his name on this website, it is possible that someone will see this and tell us more about Pat/Vincent. I will ask Peter for more info and pics of this 99 yr old.
Colin Greenwell says: Pat started at Newcastle in 1946 but missed most of the season after getting Diphtheria. He rode in 17 meetings in 1947, having 38 rides, scoring 14points and 1 bonus. His top score was 2 plus 1 bonus...
Phil Hood says: I was looking through your website and noticed the picture of Pat (Vincent) Smith and your request for more information. I have details of a Pat Smith riding for Newcastle in 1946 & 1947 but he did not ride in 1948-1951. He achieved modest success riding in 27 matches, completing 66 rides for a total of 36 points (41 including bonus points) for an average of 2.48.
The Complete A-Z of Post War British League Riders has the following entry for Pat Smith:
"Pat was a former grass track rider who called at Brough Park, Newcastle, to ask for a trial and won a team place a few weeks later. He missed the latter part of the 1946 season after suffering from diphtheria and made more regular appearances in 1947 when he filled a reserve berth for much of the campaign. Despite failing to score in over half of his 17 matches that season, Pat was given an extended run in the team but could only boast a top score of two, paid three, at home to Bristol in July."
According to my records, his best score was 5 points from 3 rides away to Glasgow in the British Speedway Cup.
I hope this is of some help.
All the best,
Phil.
---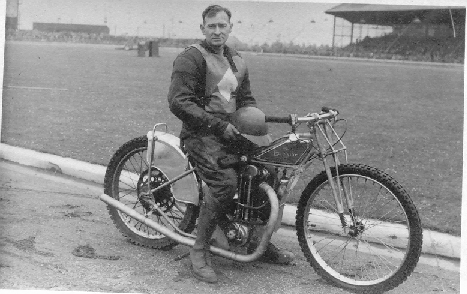 The crowd appears to be all around the stadium. Yet the sport was missing at Brough Park for 9 years from 1952 to 1961. Makes you wonder why?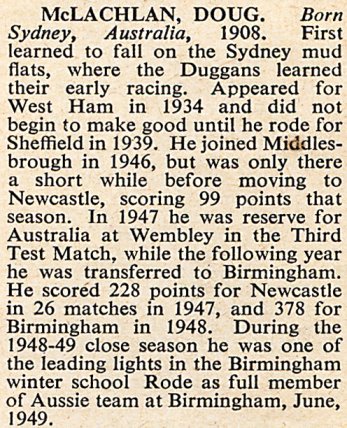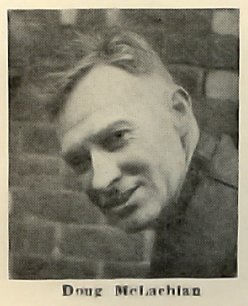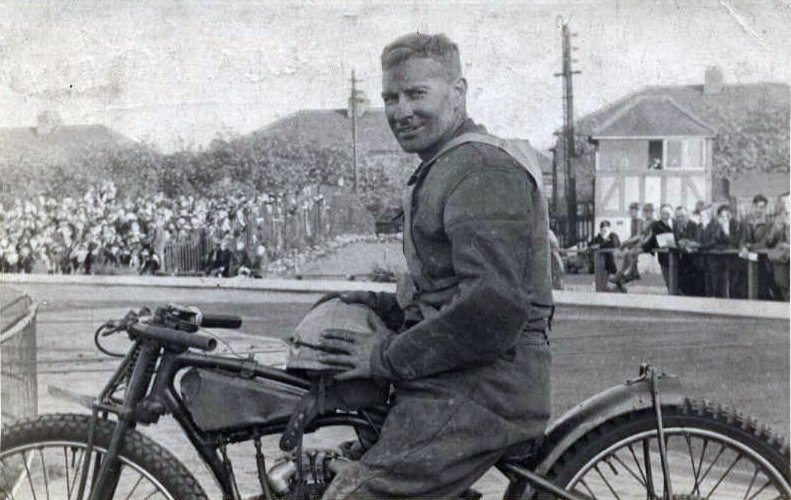 Courtesy of Gordon Heiniger
Doug Mclachlan and in the background the first turn at Brough Park. I remember the little half-timbered building which appears to have been a vantage point for someone? I presume it was there for the Greyhounds? If you know what it was for please email me John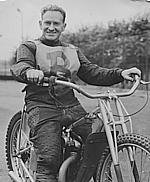 A picture of Doug riding for Birmingham sporting a great pair of handlebars. I remember as a kid buying a pair of speedway type handlebars for my pushbike. I fitted the bars and realised the brake cables weren't long enough, so I had to blow a month's pocketmoney to get my bike back on the road!
---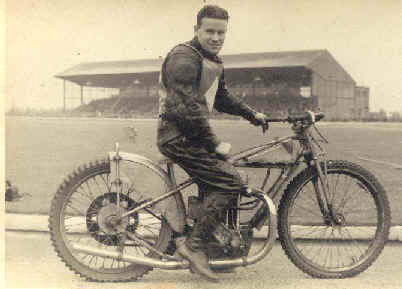 Courtesy of Gavin Parr: This is Bonnie Waddell
1947: Great shot of the back straight stand packed with fans. Brough Park was a great stadium in those days. Around the track, the inner kerb was immaculate, whitewashed for every match. Bonnie's bike has a conventionally shaped fuel tank, a JAP frame I think.
Bonnie
'
s career followed a similar pattern to his brother Jack for the first season in 1946. Bonnie was from Toowoomba, born in 1922, a motor mechanic by trade
.
During the early part of 1947 he rode in Sydney with Keith Cox but had limited success. He was spotted by pioneer Brisbane rider Charlie Spinks who was contracted to the English second division team Newcastle Diamonds. Charlie signed Bonnie up for the legendary promoter Johnnie S Hoskins who was the boss man at the Newcastle track. Late in the 1946 season Bonnie had been a Telegraph Blue, a prestigious award by the popular Brisbane newspaper for services to motorcycling. Not only was Bonnie a very good motorcyclist and mechanic, he was also very dedicated to personal fitness and was active in many sports.
Bonnie left Sydney in March 1947 aboard the Asturios, a former troop carrier

ship.

I

t was not first class travel, but in the company of Bat Byrnes, Ken le Breton, Buck Ryan, Junior Bainbridge, Arthur Payne, Bill Harris, Mal Hodgson, Jack Baxter and Reg Challenger a great time was had by all. On arrival at Tilbury
,
Bonnie straightaway made the long journey up to the north east of England to join his team the Diamonds. Within 24 hours of arrival he was on the track for the match against Wigan Warriors, this was the 28th of April
1947
. In his first ride he finished last , then a third and finally an engine failure put paid to his debut. As he was on the track spare it was a creditable start. Mounted on his own machine he scored 4 at the tiny Bristol track the following week and then 2 at Birmingham. the next evening
.
He went on to ride 26 meetings for the Diamonds in that first season, racing on 8 different tracks the length and breadth of England. His final score was 65 points and 12 bonus points. The best meeting Bonnie had was a 7 paid 8 at home to Norwich
S
tars who included fellow Queenslander Bert Spencer in their team. Bonnie
'
s
Newcastle
team mates for the season included the veteran Australian Doug McLachlan and
another Aussie,
"T
he White Ghost
",
Ken le Breton.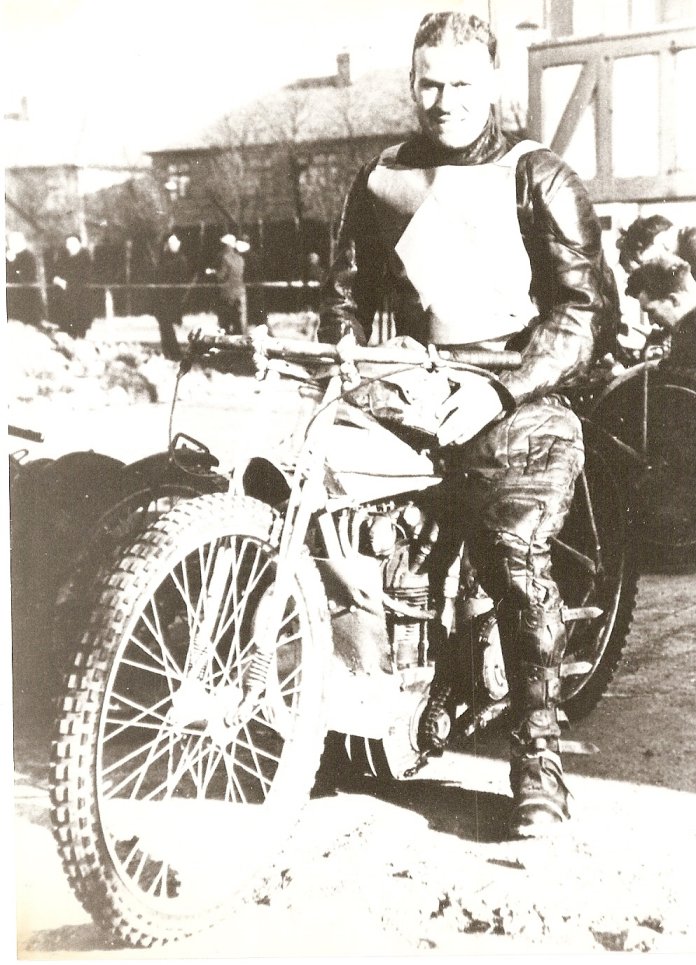 Bonnie in the North East of England's Sunshine wearing his Diamond race jacket partly obscured by the sunlight.
After the long voyage
back
home Bonnie commenced the
Brisbane

,
Australia
1947/48 season. He represented Queensland in the match against an overseas select on November 22
1947
scoring 3 in a Queensland's lowly 13 against a rampant Overseas teams 33. He was called up for the Test against England at the Ekka on December 6
1947
scoring 3 points in the Australian 57-47 defeat of the Lions.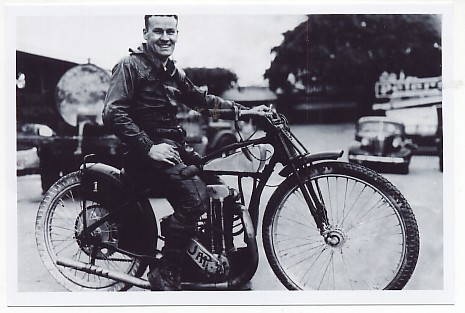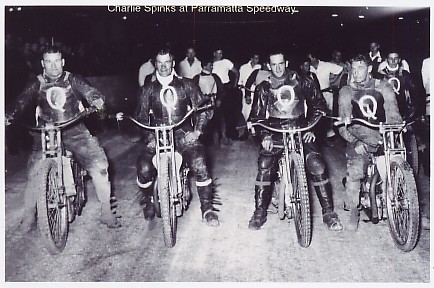 Above left: Bonnie Waddell Brisbane Exhibition Ground 1947. Above right: Bonnie Waddell, Jack Waddell. Keith Cox and Charlie Spinks at Parramatta in Queensland 1947
The text and above two pictures are
Copyright c Tony Webb Brisbane 20/11/2007 who has kindly allowed me to include them here
on my Newcastle History Website
Returning to England in April 1948 Bonnie was dismayed that his Newcastle promoter, Johnny Hoskins had transferred him to Exeter in exchange for fellow Queenslander Keith Gurtner. Worse was to come as Exeter could not give him a team place, he was then loaned to West Country rivals the Plymouth Devils.
Bonnie Waddell & George Newton

War Time Dispatch Riders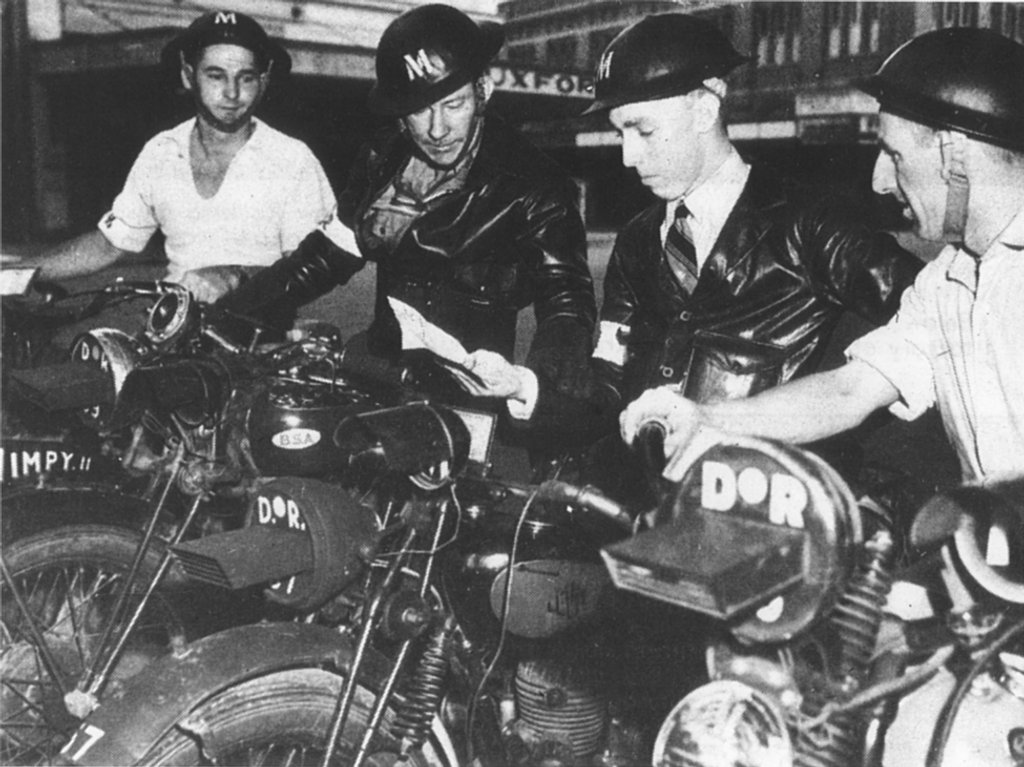 Courtesy of Craig Wood
Craig Wood says: Bonnie Waddell pictured above (Craig Didn't say which of the guys in the picture was Bonnie) Bonnie Waddell was Craig's great-uncle (on his mother's side).
Hi, John, my name is Steve I live in Plymouth, The Dispatch Rider, 2nd one from the left is George Newton, Because only to-day I was with his Daughter looking at his Speedway photos with her, He died in 1984.
John says: Quite a few speedway riders were employed as army dispatch riders during WW2. The odd looking item fitted across the headlight was to cut down on visible light so the riders could do their stuff during air raids etc.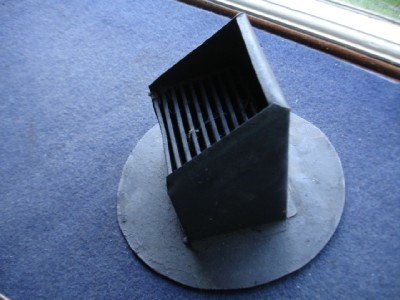 Col Greenwell says: I'm really guessing. Maybe the letters DR stand for Dispatch Rider. I'm saying this because an old guy I used to speak to years ago at Cleveland Park was a dispatch rider with Norman Hargreaves during the war. Headlight thing. Looks like one of those blackout things used during the war, before my time though..!!!!

John says: Yeah before my time too thankfully!
---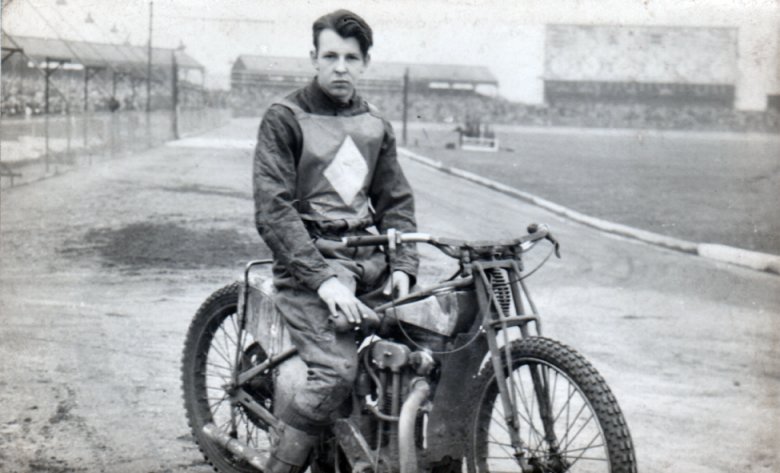 Peter captured in 1947 by the camera. I remember the track lights throughout the 60's and 70's looking like that and here they are, swiveled around onto the dog track, in the 1940's! They must have lasted at least 40 years before an upgrade in the 1980's.
---


The 2 items shown above are from 1947. They show the pre and post war teams and the attendances for 1938, 39 45 and 46. Newcastle drew an amazing figure for 1945. Well over a quarter of a million paying customers at Brough. Middlesbrough did likewise in 1946. How exactly did both tracks close down just a few seasons later?
---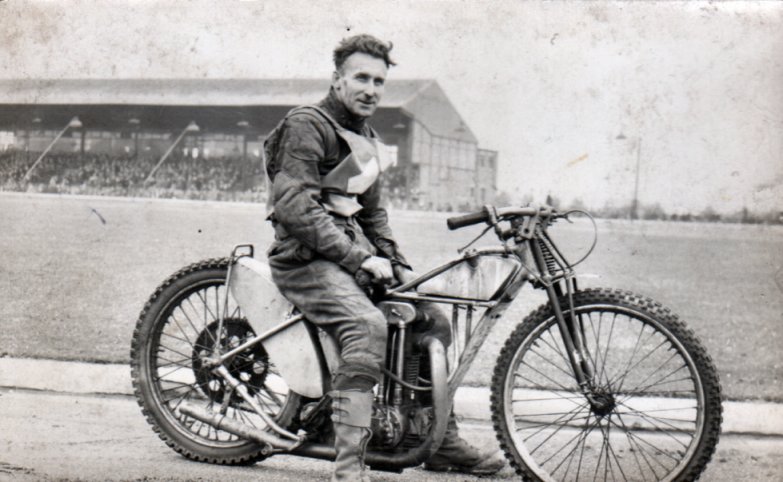 Courtesy of John Hunter via Dave Rowland
1947 Wilf Jay. Modern day (2014) supporters will be surprised to learn that the structure pictured was a colossal back straight grandstand. It was demolished some years ago and nothing built in its place. We are not allowed to watch from that side of the track now
---
1948

Newcastle Team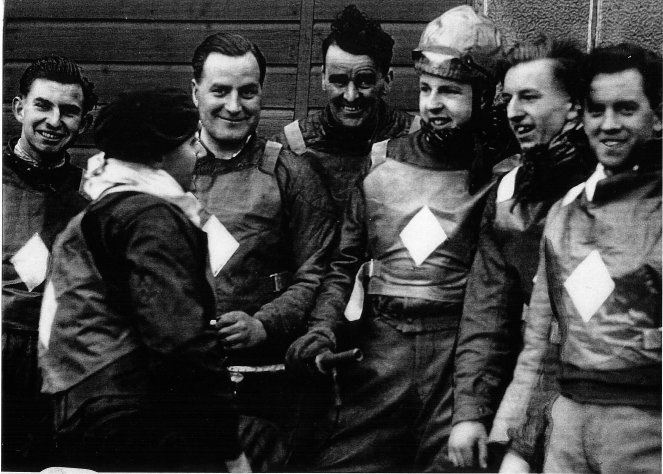 This picture came from Michael Kemp
1947 team Derek Close and Norman Evans Fred Rogers are first, second and third from the left. Can you name the others? John Eric Watson has been in touch about the above photo: -
Eric's Answer : Derek Close & Norman Evans are the 1st & 2nd riders from the left, but the 3rd rider is Eddie 'Crusty' Pye, the 4th rider could be Alec Grant (but I'm not sure about it), whilst the 5th rider is Peter Lloyd, the 6th rider is Fred Rogers, & the 7th rider is Danny Caulder. Also this team picture must have been taken in 1948 (NOT 1947) because Derek Close, Crusty Pyee& Fred Rogers didn't ride for Newcastle until 1948 !.
Thank you Eric I can only go back as far as the 1960's.
---
Norman Evans &
Wilf Jay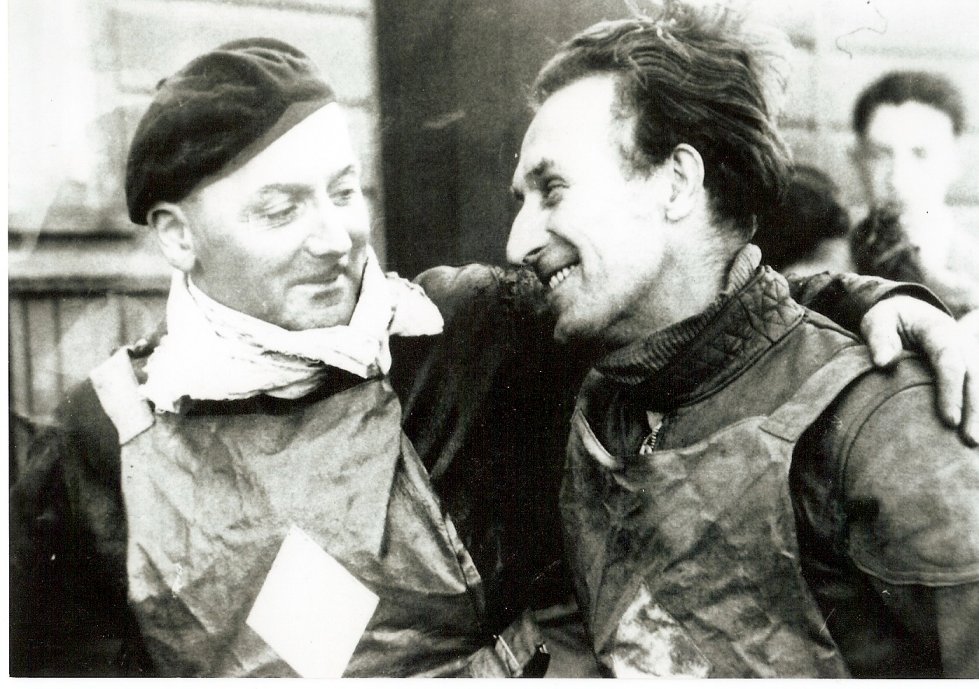 ---
Danny Caulder &
Jack Hunt
The rider in the middle wearing the black clothing is Danny Caulder and the guy doing all the work is New Zealander, Jack Hunt. An unusual shot of a bike turned upside down to work on. I suppose these guys know best but wouldn't the fuel and oil spill out?
---
1948

Newcastle Team &

1949

Glasgow's Ashfield Giants!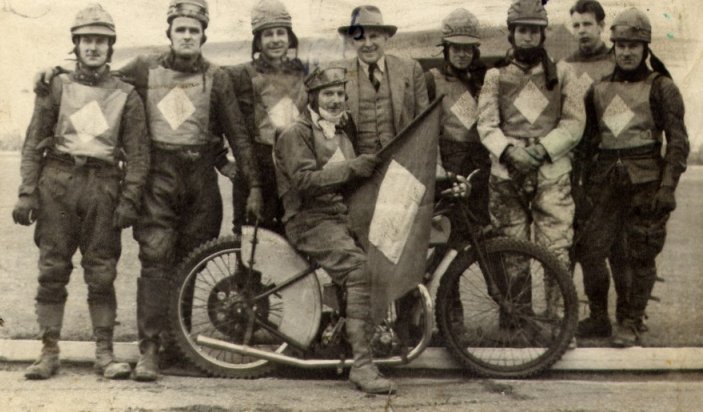 A photo from Gavin Parr's collection.
How much better the race jackets looked in them days against the plain leathers. Also note the "straight through exhaust pipe, no silencer. The engine note of the mighty Jap was great to hear without silencing and the smell of the burning fuel known as to me as "white whisky"? I later was told the "White Whisky" smell was actually Castrol R. It all added to the atmosphere of speedway before the modernization of the sport came along to sanitise it.
Newcastle's 1948 team and Glasgows 1949 team: The old guy, wearing the hat in the centre is Johnnie S Hoskins, the promoter, who pulled the plug on Newcastle Speedway at the end of 1948. The rider wearing the white leathers is the white ghost Ken le Breton and the rider on the bike is skipper Norman Evans. Alec "Farmer" Grant from Westerhope is third from left. I bet he was very pleased to ride in Glasgow in 1949 when he was so very local at Brough Park!
Another Newcastle Team Picture

From 1948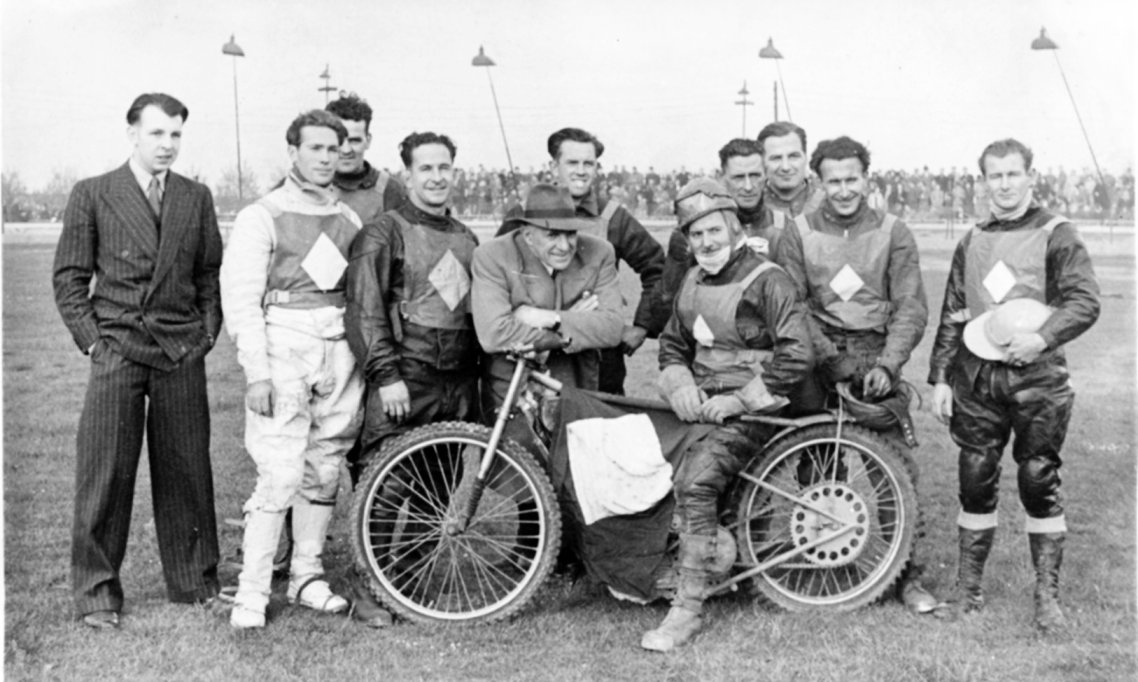 ---
Speedway in the 1940s had many highly paid Star Riders, lots of them from Overseas. Local British riders had a fight on their hands to gain a foothold and in Newcastle it was no different. Our local lads did their best against mainly financial obstacles.
Local Rider's Transport 1948 style
Wallsend's John Hunterr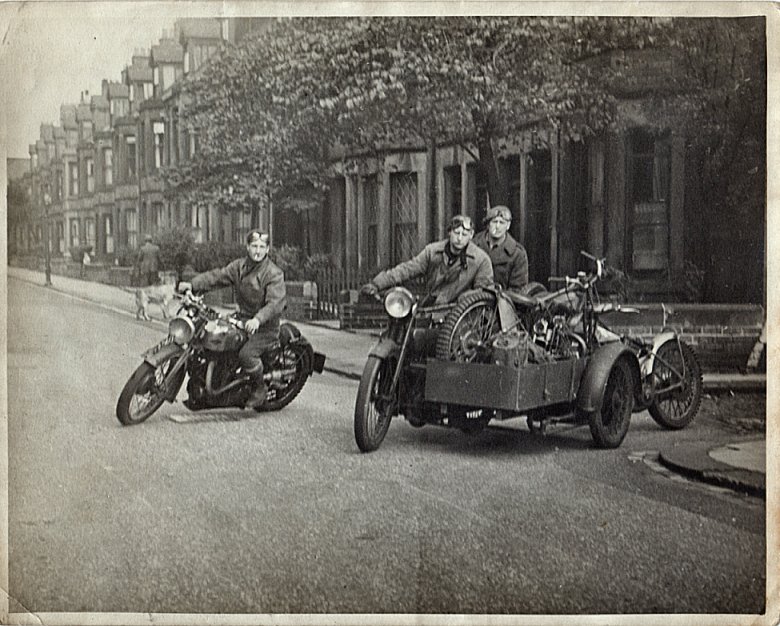 Courtesy of John Hunter via Dave Rowland
1948: Making the short trip from home (Wallsend) to Brough Park for an evening's racing. Local rider John Hunter on the combination with his mate on the back. The guy on the left was another rider Stuart Robson. The combination was a1923 Harley Davidson. I don't know what the other road bike was. The speedway machine in the sidecar was I am told a Rudge with a JAP engine. The other speedway bike has it's chain removed so the back wheel could revolve freely on the road. It was common to see speedway bikes transported in this fashion before car ownership did away with the motorcycle combination..
Another Trip To Brough Park By John In
1948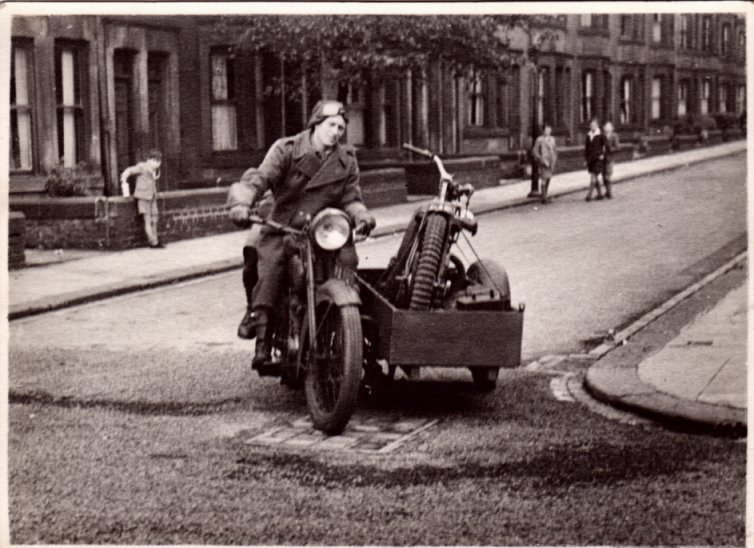 Courtesy of John Hunter via Dave Rowland
Another trip in 1948. This time back from the speedway at Brough Park to John's home in Wallsend. This time John Hunter is on the back with his brother riding. If you have any 1948 programmes have a look for John's name. John had to put in practise anywhere where he could, he looked around for any suitable practise area. He had only his motorcycle combination, no car!
He did however, live close to a railway station and a beach so
he would get up early for a "day at the seaside", with a difference. He would put his speedway bike on the local coast train at his home station, Wallsend and get it off again a few minutes down the railway line at Tynemouth. He would then push the bike down to the Long Sands (Tynemouth Beach). He got in some practise, but only if the tide was out! These following photos were taken at 7.00am. He would wake everyone up and attract the attention of the local police. The coppers would stop John, warn him about the frivolous waste of petrol (rationing still in place in 1948) and tell him motorbikes were banned from the sands. John would patiently explain that speedway bikes ran on wood alcohol, not petrol and produce a copy of the beach by-laws showing that there was no ban on bikes using the beach at that time of year. He would then continue his session on the beach.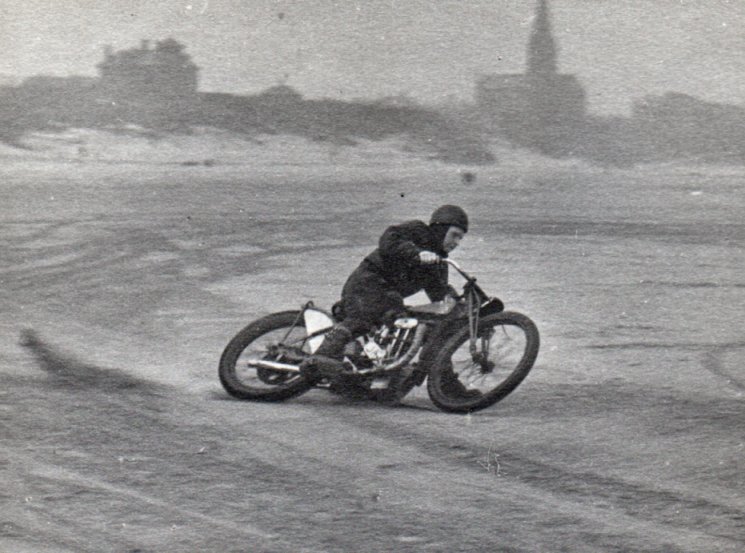 Courtesy of John Hunter via Dave Rowland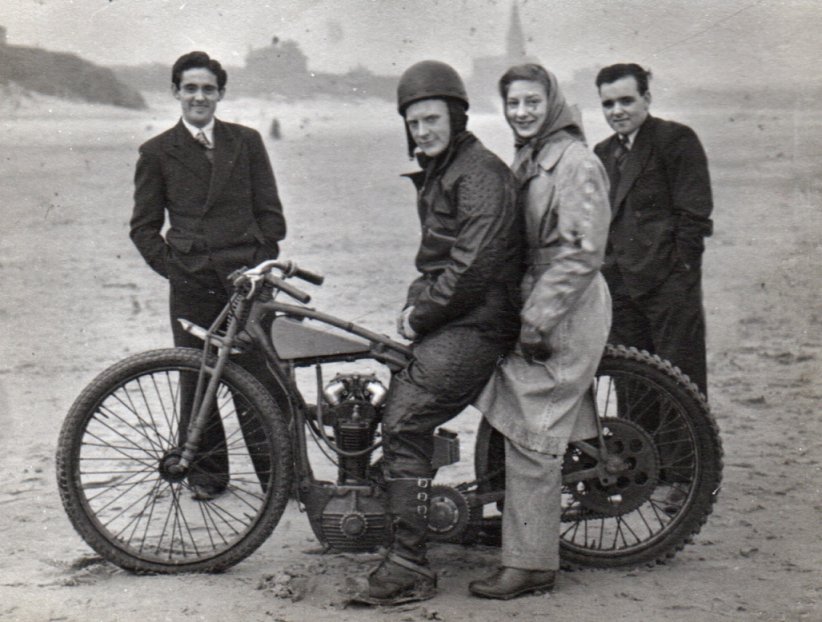 Courtesy of John Hunter via Dave Rowland
1948: John Hunter, his sister and two friends pose for this photo during one of the early morning sessions on the beach at Tynemouth. The modern day Tynemouth inhabitants would have a fit if they were woken by speedway bikes at dawn.
---
Newcastle v Bristol

Programme
6th September 1948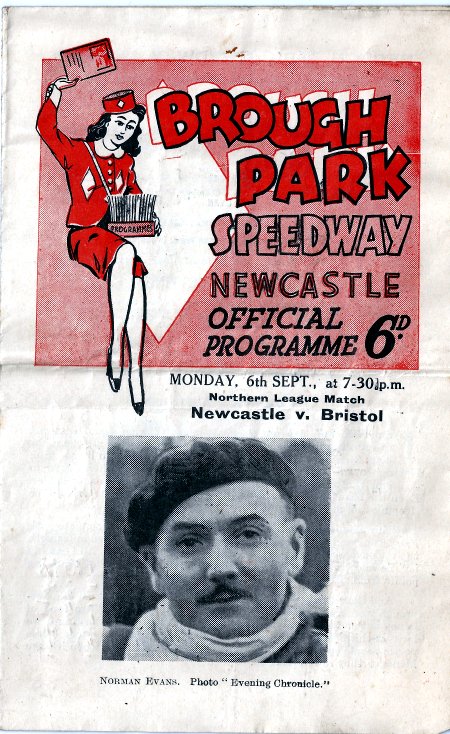 Programme scan courtesy of Ian Young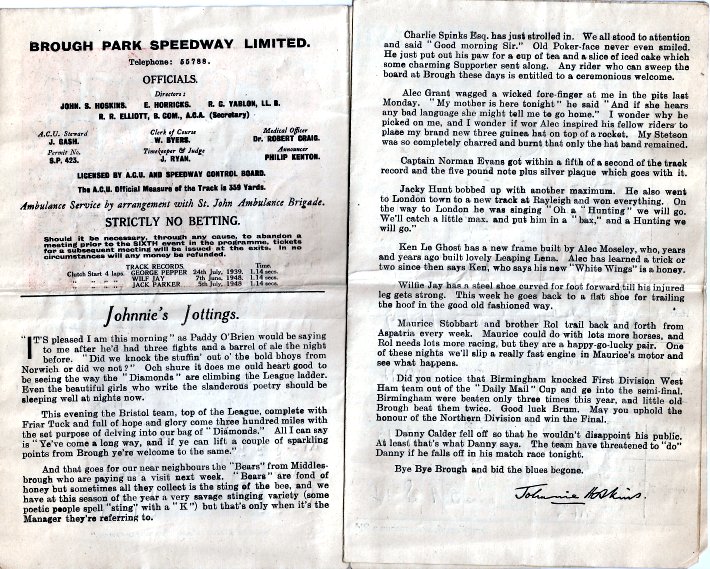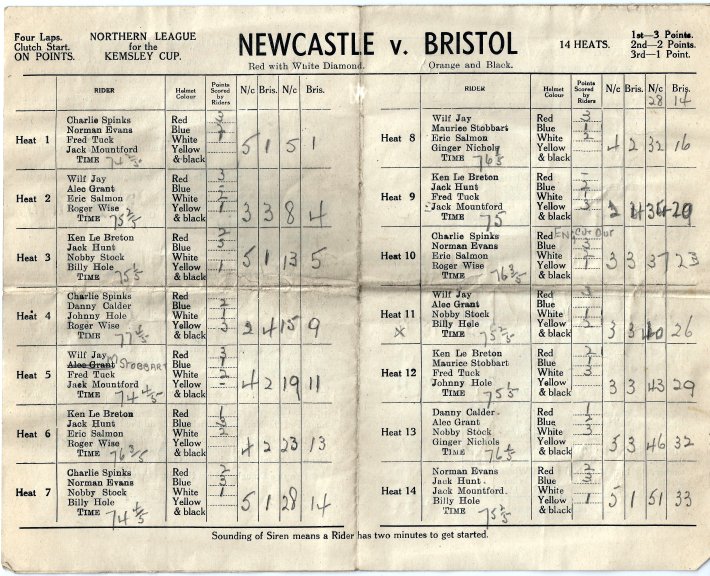 The programme scan clearly shows that Newcastle were Red and White in those days. I am pointing this out for our younger supporters who find it impossible that any Newcastle team would turn out in a red and white strip of any sort. Sunderland are welcome to that! Newcastle Diamonds should have always been black and white but they weren't. However in 1949 the team changed to black and white as they were known as Newcastle Magpies for the duration of 1949. For 1950 and 1951 the team was back to red and white. The track closed down 1951 and fans had to wait until 1961 for the reopening and this time the colours were right. A white diamond on a black background.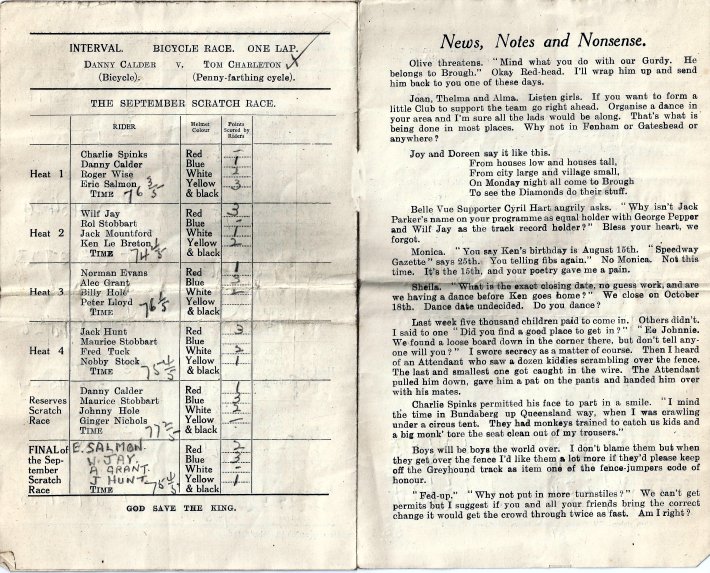 Courtesy of Ian Young
John says: So did the Penny-Farthing win?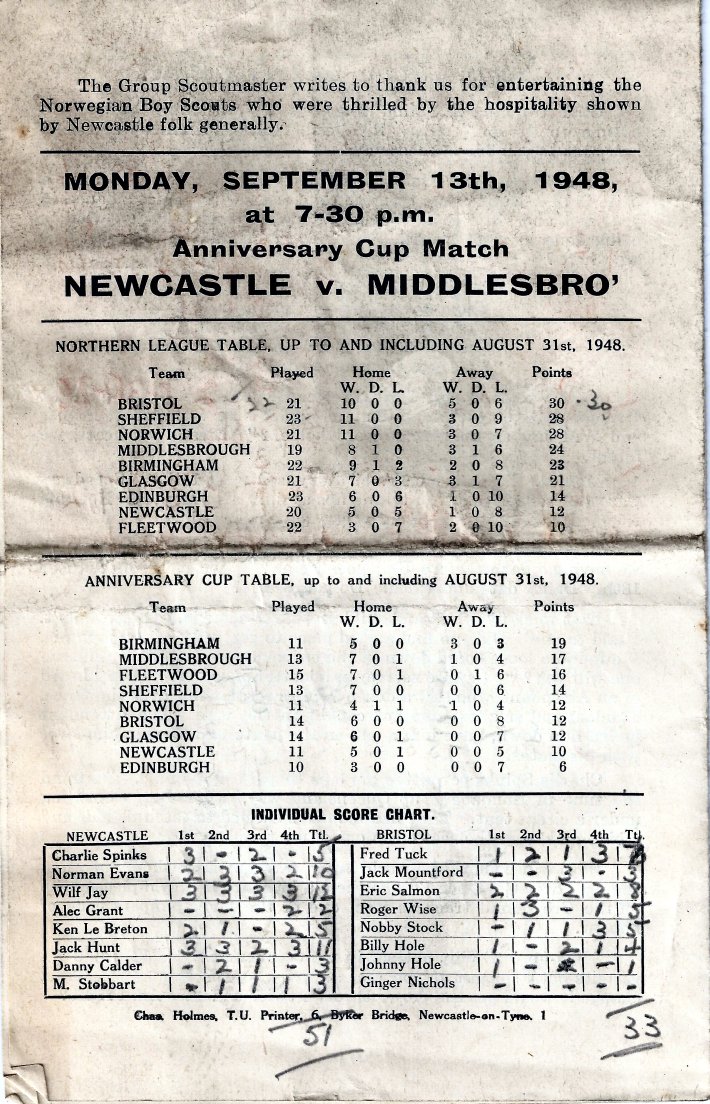 Courtesy of Ian Young
This programme shows how things were done just after the war. I like the bit about the Scoutmaster writing to say thank you and tell us that the Norwegian boy scouts were thrilled by the hospitality shown to them on their visit to Newcastle.
Wilf Jay was the rider of the night. He went through the entire nights racing unbeaten and would have earned a fantastic sum of money compared to the wages of the fans watching him. I am also puzzled as to how the programme shows Bristol topping the Northern League Table? You cannot get that much further south than Bristol!
---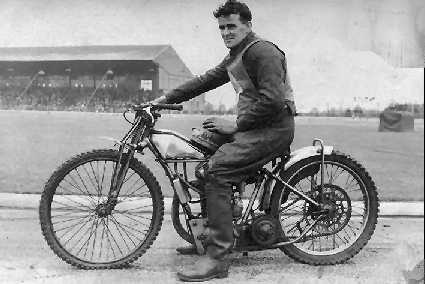 Another of Gavin's pictures: This is Alec (Farmer) Grant the first of the 3 generations of Grants to ride speedway.
I believe Alec lost an eye on the farm but continued riding. Come on Rob Grant Junior, tell us the stories about your grandad! Note the tiny front mudguard on this JAP! The shape of the fuel tank makes me think that this would have been an Excelsior frame. Look at the degree of drilling on the rear sprocket to lighten it! Incredible. The stand in the background no longer exists at Brough. It was on the back straight and very spacious it was too.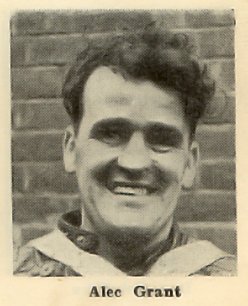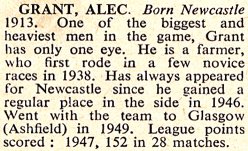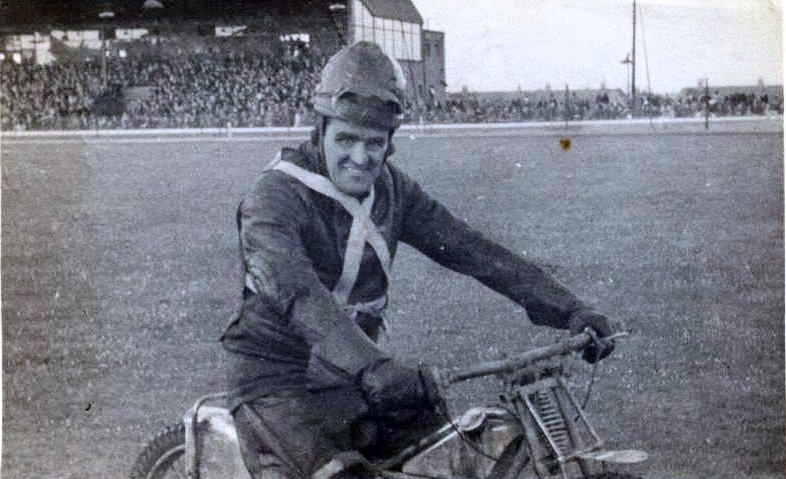 Courtesy of Gordon Heiniger
Alec Grant, that is the back straight stand packed to the rafters. Brough Park was an impressive stadium in that era, thanks to greyhound racing's massive takings.
---
Keith Gurtner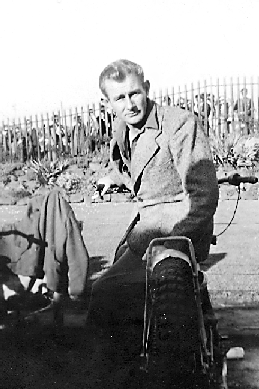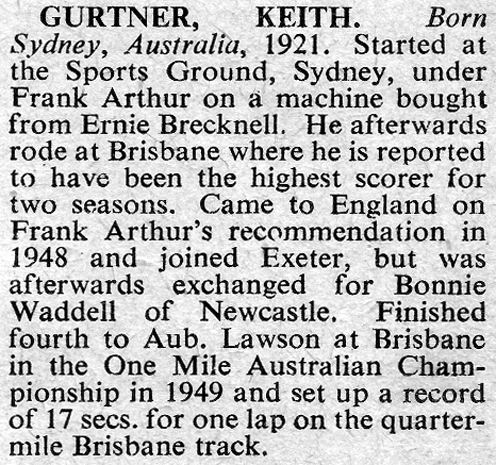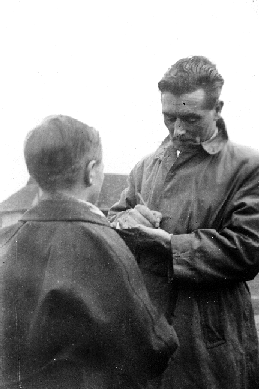 2 more of George Ince's pictures: He thinks this is the Australian Keith Gurtner top. The rider signing an autograph bottom is Frank Hodgson. Who was the young lad with the autograph book? Was it you? send me an email if you know who the young supporter was John
---
Eddie "Crusty" Pye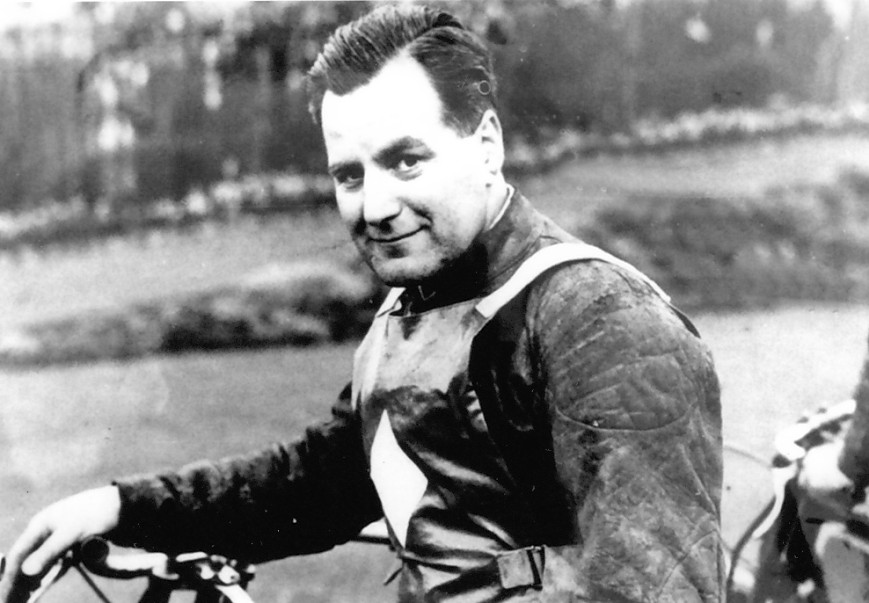 Crusty Pye, can anyone tell me a bit about him?
I asked for more information about Crusty and Eric Watson has been in touch and supplied the following: -
PYE, EDDIE (CRUSTY). Born London 1915. He and Ken Tidbury started on the grass together before the War and in 1939 Eddie secured a contract with Harringay. The War interrupted his progress and then after the War he joined Middlesbrough. At the start of 1948 he moved to Newcastle, but in July of that year he was transferred to Coventry, for whom he scored 126 points in 22 matches. In 1949 he only got 55 points due to injuries – which may have been instrumental in ending his career and forcing him to retire. As there is no trace of him riding for any other Teams after the 1949 season.
---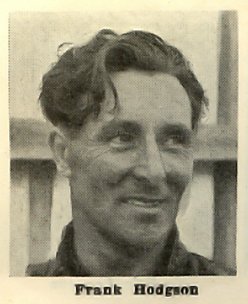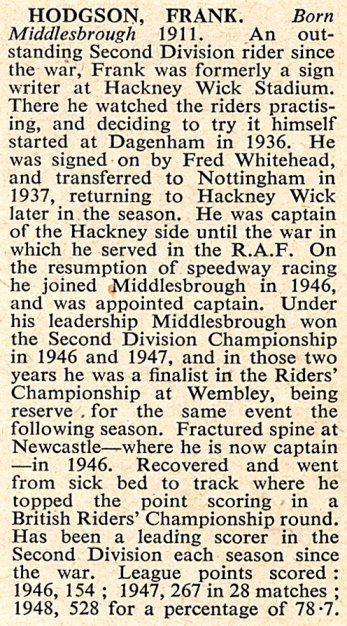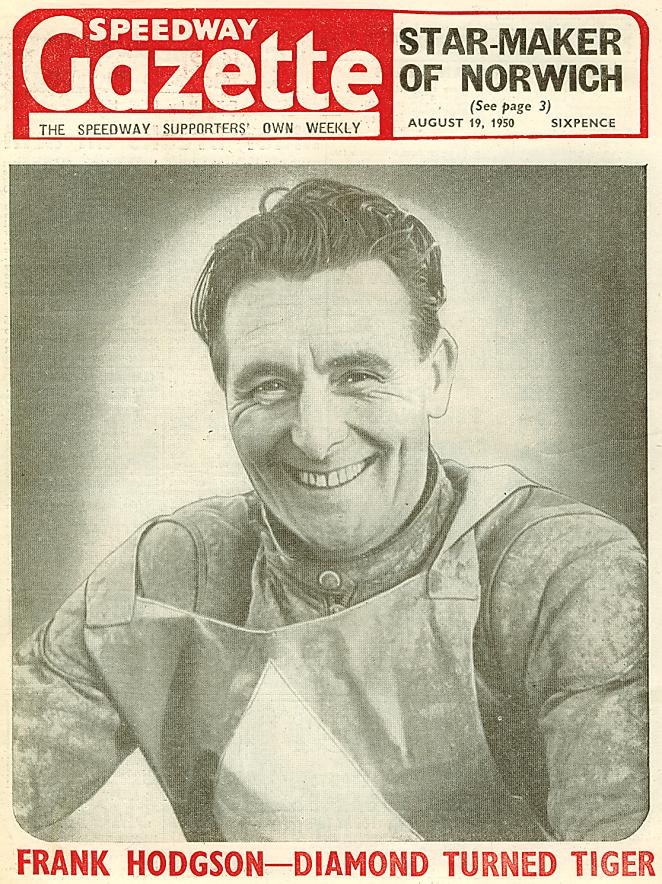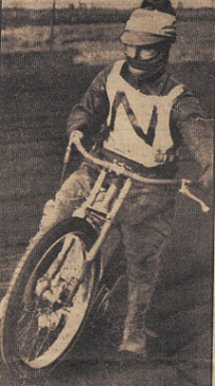 Two photo's of Frank Hodgson taken when he was with the Diamonds
---
Frank's younger brother.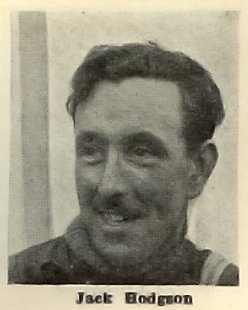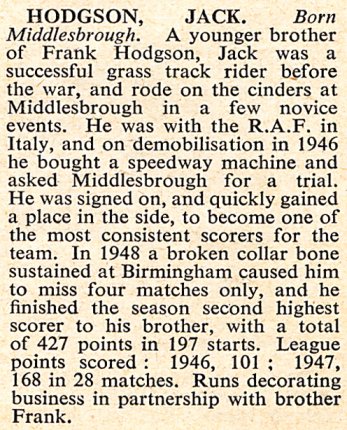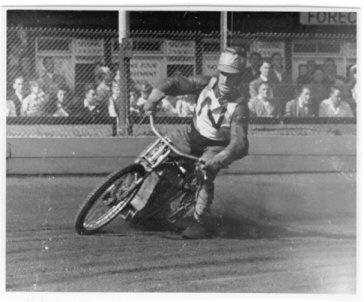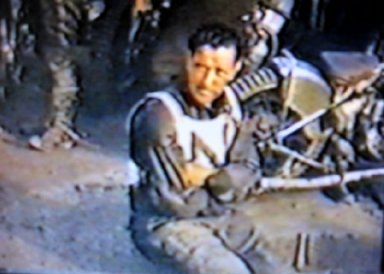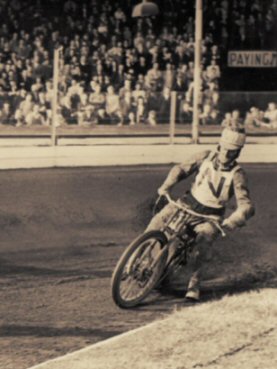 3 pictures of Jack sporting the large "N" for Newcastle Magpies. The centre photo is newsworthy as it is a colour pic which was as rare as hen's teeth in 1949.
---
Australian Ron Johnson With A Mechanic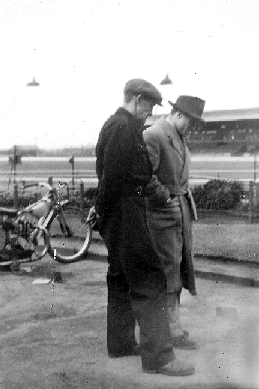 Courtesy of Georgie Ince
---
Mystery Man In
Brough Park Pits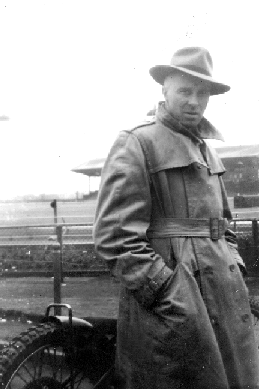 Courtesy of Georgie Ince
Can anyone say who the man in the raincoat and hat is? Could he be a Russian spy?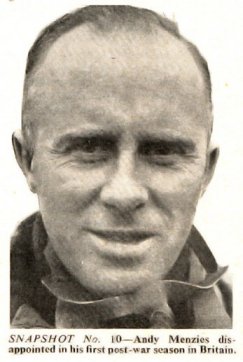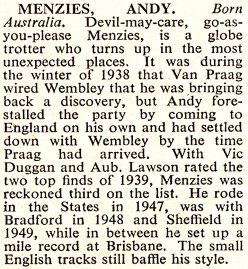 John says: Could this be the mystery man in the hat and trenchcoat? I think it is, so he is an Aussie and not a Russian spy! What an anti-climax!
---
Oliver Hart
My Uncle "Georgie Ince", took these pictures of his all time hero Oliver Hart. I know Oliver was called "The Last Of The Great Leg Trailers" as the bottom picture shows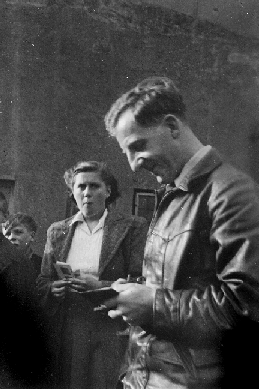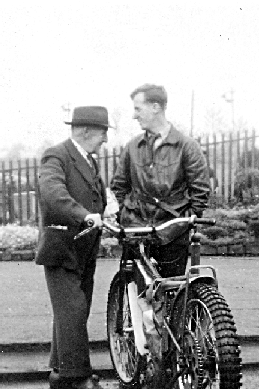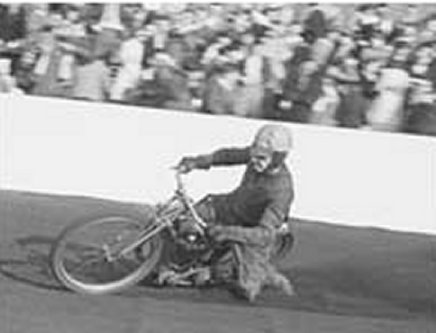 ---
1948

Line Up

This picture was taken before the Newcastle Diamonds team was transferred to Glasgow Ashfield for the 1949 season and Middlesbrough's team moved into Brough Park!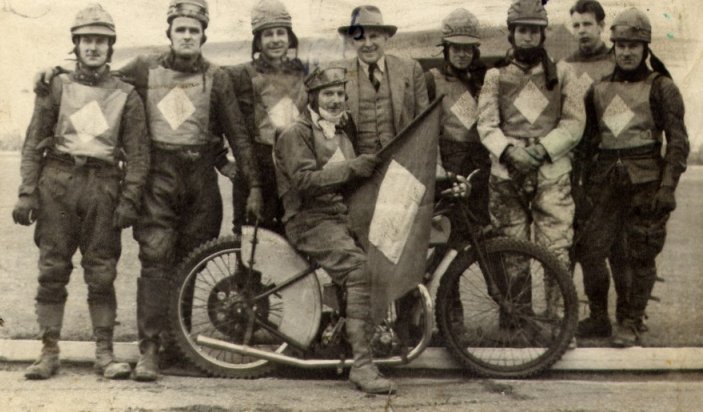 Courtesy of Norrie McNamee
Yes Newcastle was about to have the dirty done to them by promoter Johnny Hoskins. Before the start of season 1949 Johnny had departed along with his assets, our riders!
Incoming Middlesbrough Team For
1949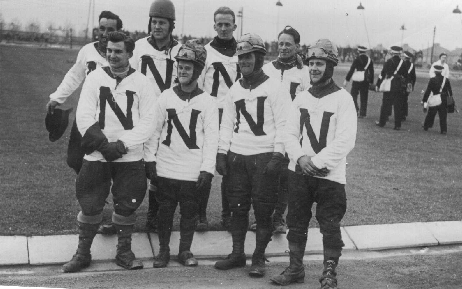 Left to right, back row: Jack Hodgson, Ken Thompson, Joe Arthur, Herby King. Front row: Derek Close, Ern Brecknell, Frank Hodgson (Captain), Son Mitchell. Yes Middlesbrough had closed down and their promoters moved into the Newcastle void left by Johnny Hoskins and the 1948 Diamonds. So they saved Newcastle from closing before the1949 season had dawned.
From the men in black to the men in Bri-Nylon! N stands for Newcastle (What Imagination!) and these were the Newcastle
Magpies
- 1949, The St. John Ambulance men were better turned out! Ken Le Breton would have found it tough wearing such naff gear!
---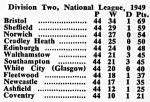 ---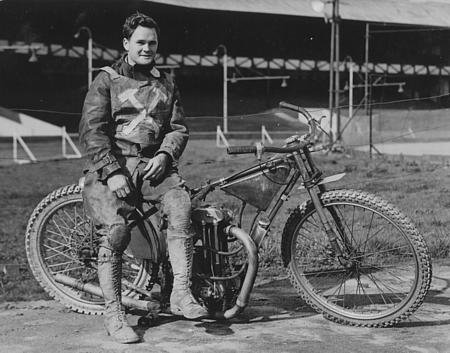 1948 Ern in West Ham colours before his accident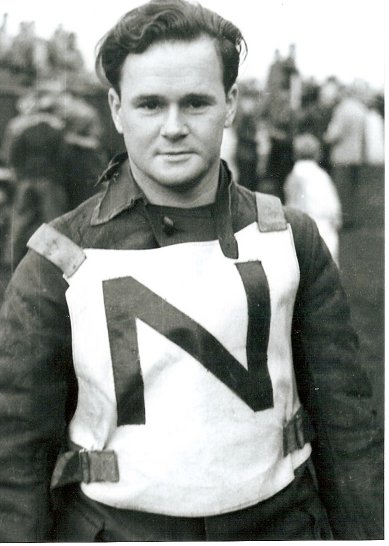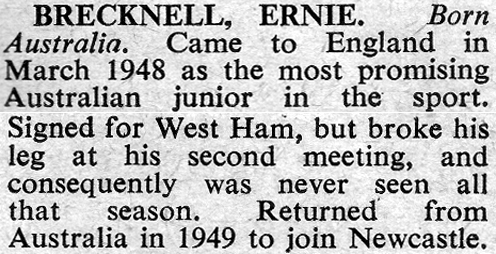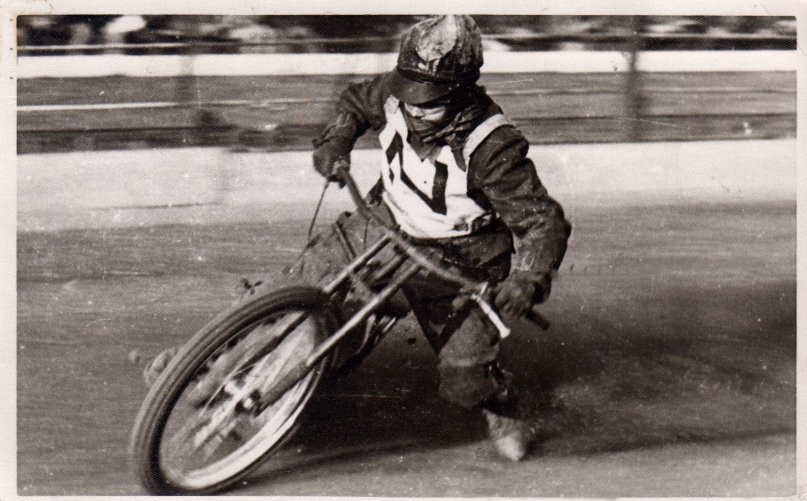 Ern in Action
---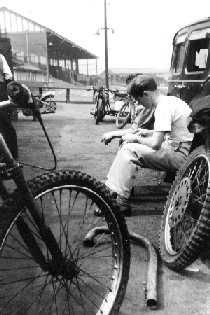 Picture courtesy of George Ince : Ken Le Breton
---
There is one more page from this era click here to read on? More 40's and 50's
---
The contents of the site are © and should not be reproduced elsewhere for financial gain. The contributors to this site gave the pictures and information on that understanding. If anyone has any issue or objections to any items on the site please
e-mail
and I will amend or remove the item. Where possible credit has been given to the owner of each item.