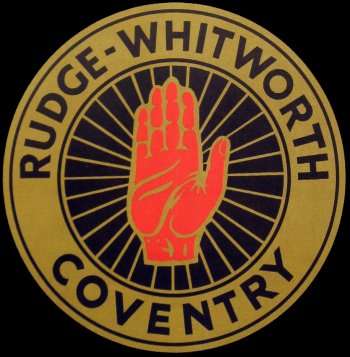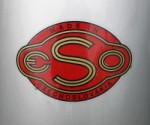 ---
1980s Part 1
---
The 1980's dawned and Newcastle continued to dominate. League championships in 1982 and 1983 brought about elevation into the top flight British League for 1984. Then the bubble burst and the club closed down at the end of the 1984 British League season, when promoter, Ian Thomas pulled out. No speedway at Brough in 1985. The experts said Newcastle should lie dormant for a few years before risking any re-opening but that didn't happen. Brough was again staging speedway in 1986 and 1987, only to close again at the end of the 1987 season so maybe the experts were right? 1988 was another year of silence at the track in Byker before co promoters, Barry Wallace (long time track announcer) and Richard Bailey decided the time was right for another risky re-opening in time for the 1989 season.
Newcastle 1980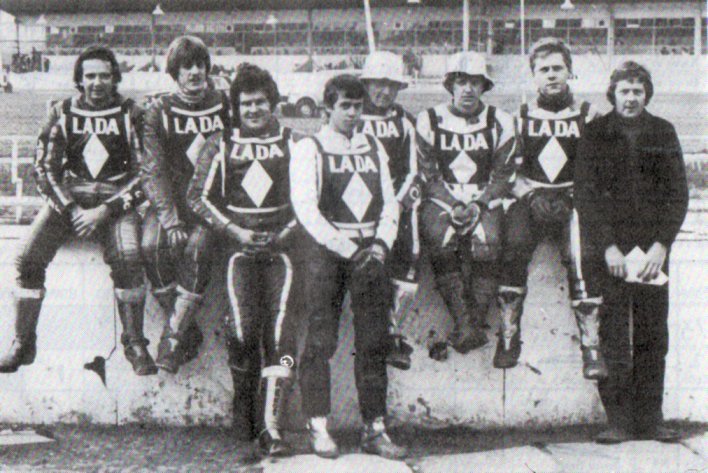 1980 team: Robbie Blackadder, Derek Richardson, Tom Owen, Rod Hunter, Nigel Crabtree, Keith Bloxsome, David Bargh and team manager Dave Younghusband
---
Local Rider
Michael Easton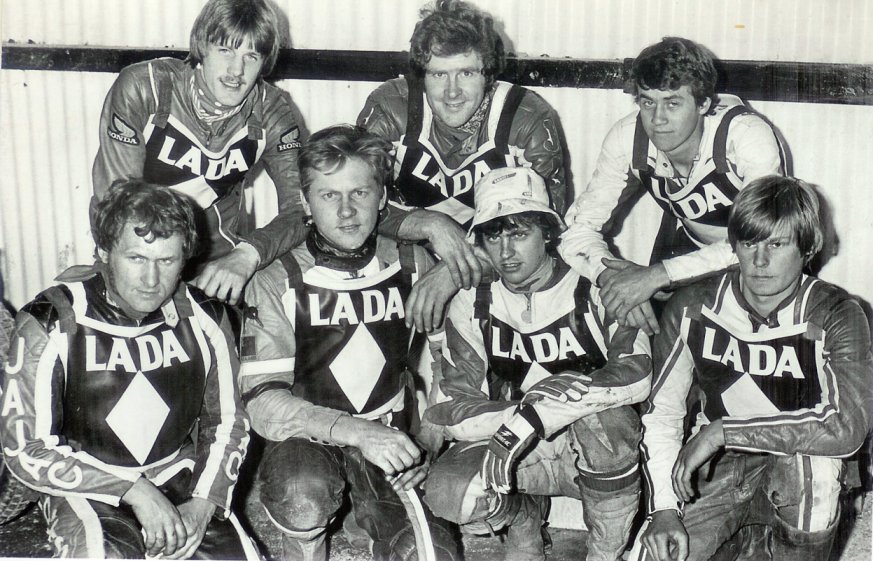 Courtesy of Barry Stephenson
Back Derek Richardson Tom Owen Rod Hunter. Front Nigel Crabtree David Bargh Keith Bloxsome & Michael Easton
Lindsay Easton says: Hi! I have been looking through your website for my dad and you're right, on your page of 1980's (page 1) riders, that is my dad on the far right in the black and white group photo! Michael From Rowlands Gil he has spent his whole life there and is still there now married with 3 kids.
John says: I live about half a mile away from your dad Michael but we have never met. I do remember him although not very well.
---
Kym Mauger With Dad Ivan In 1980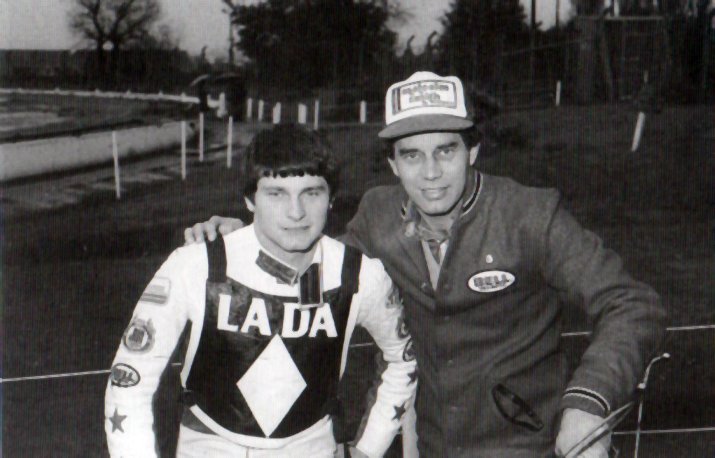 When Ivan Mauger got son Kym signed up with the Diamonds we were hoping he would emulate his dad but Kym never reached the heights of his dad on track. Personally, I thought Kym should have done something else as living up to his Mauger name was likely to be impossible..
---
Derek Richardson & Andy Reid At
Glasgow Blantyre
In 1980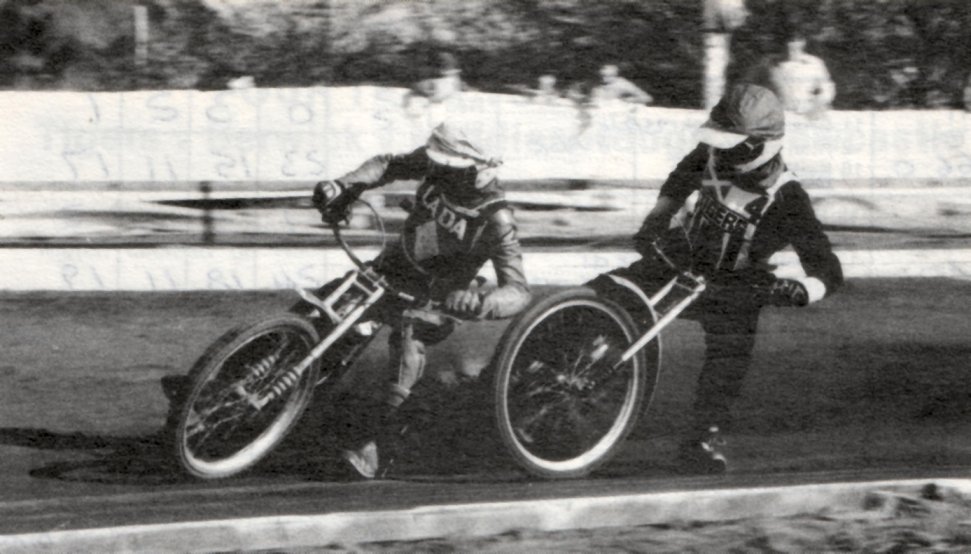 ---
Newcastle 1981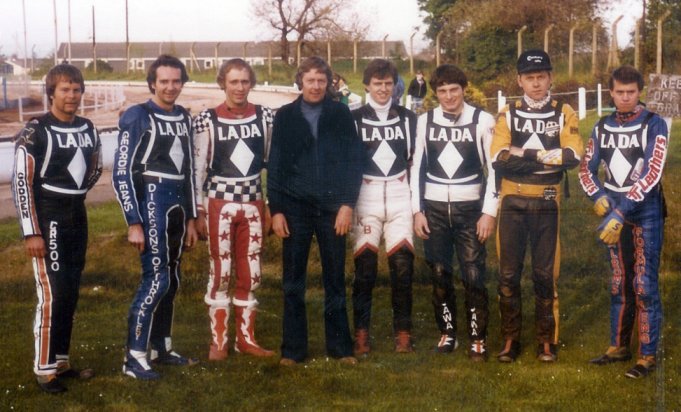 Courtesy of Barry Stephenson
Glen Mcdonald Robbie Blackadder Alan Emerson Dave Younghusband Keith Bloxsome Kym Mauger David Bargh Rod Hunter
---
Victory Parade
1981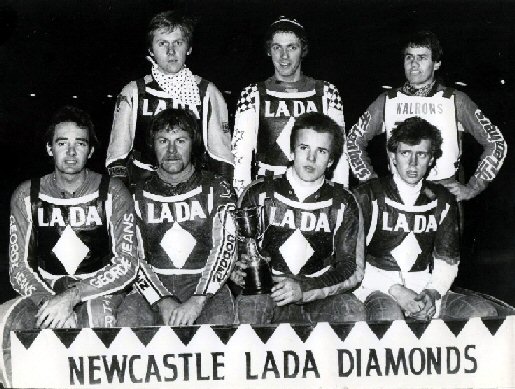 Photo from Nick Short:
1981. No prizes for guessing the sponsors name. Unfortunately for the Russian car makers the Lada is no more, but the Diamonds still survive. Could the cup be the Tyne Tees Trophy? Back row: David Bargh, Alan Emerson, Rod Hunter, Front: Robbie Blackadder, Glen MacDonald, Local rider Paul McHale and Keith Bloxsome. The site needs something from Barghy, Alan, Rod and Robbie so if you are in contact with them tell them about the History Site and maybe they will contribute to these pages!
---
Tyne Tees Trophy
1980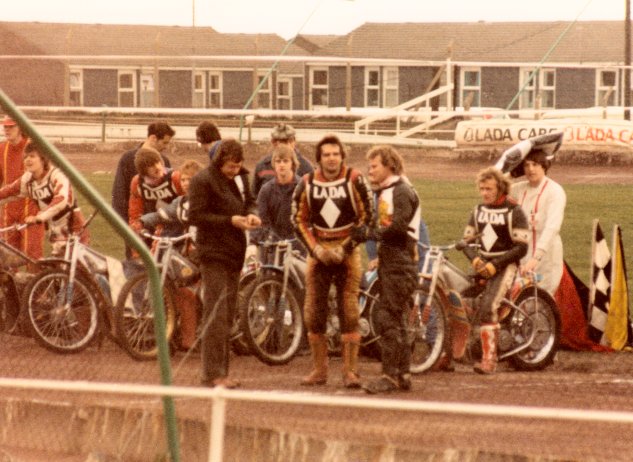 1980 Tyne Tees Trophy Keith Bloxsome, Derek Richardson, David Bargh (almost hidden) Nigel Crabtree with in the foreground the 2 captains (Robbie Blackadder and Steve Wilcock) waiting for the toss of the coin. Looks like it was raining or very windy
---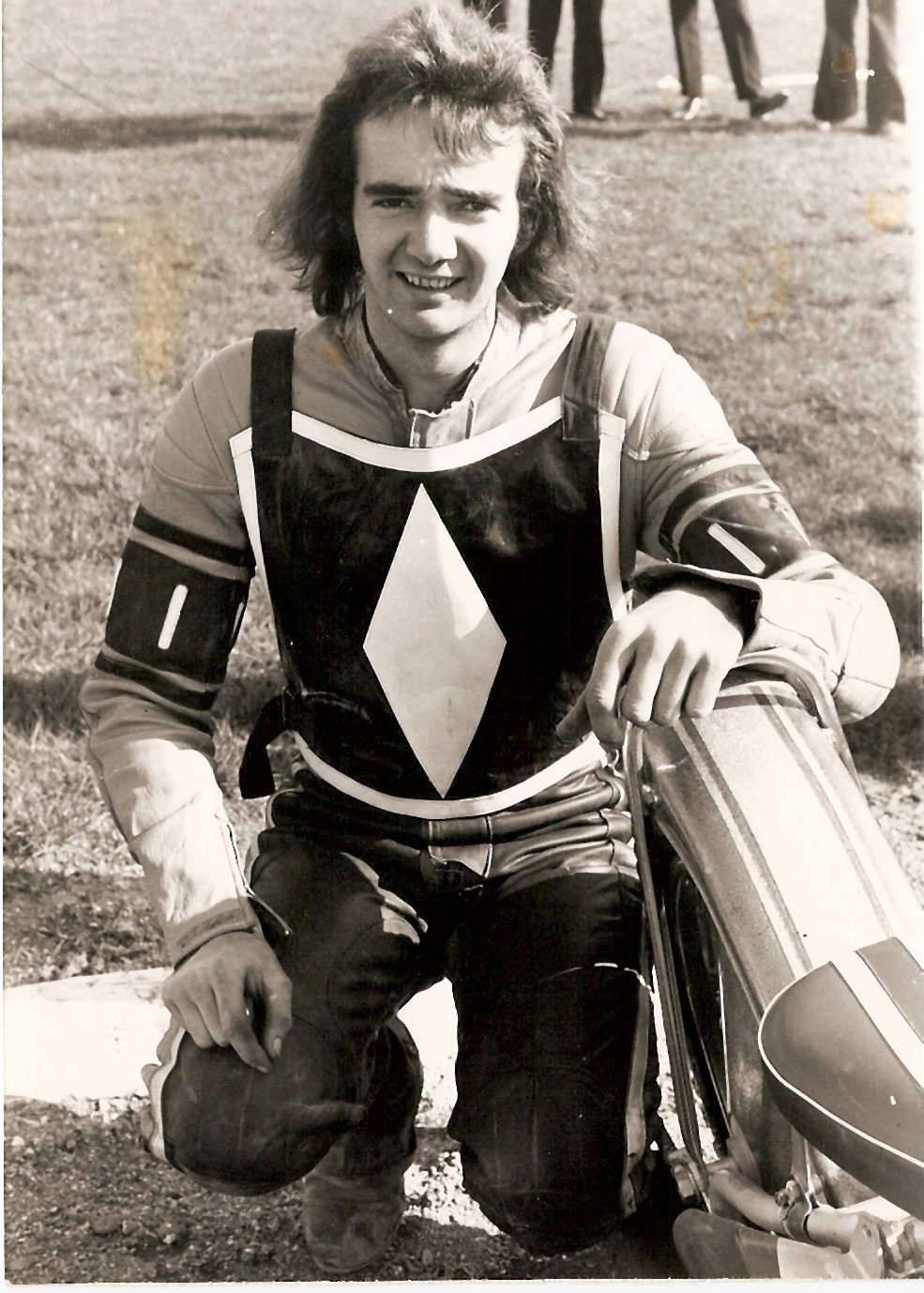 Robbie Blackadder
Rob Best our trackman has been in touch about his old mate Robbie Blackadder. Rob has this to say: -
I went to Crayford with Robbie and Rod Hunter in the early 1980's for a Tuesday night match. The plan being that I drove all the way allowing the 2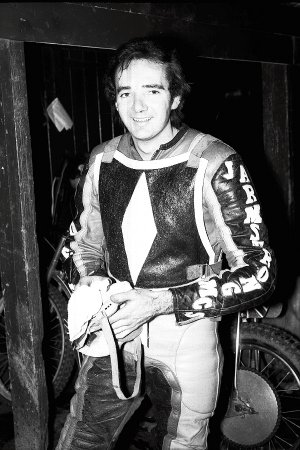 riders to rest before the match. In them days Newcastle's matches were always Mondays, meaning I had already done a full days work (nothing has changed). Crayford is a long way, so our plan was that I got to Robbie's house at 9.30am to get a good start to avoid traffic on the London North Circular (pre M25). I got there in good time to wash Robbie's bike and load up for the trip. When I got there I found him with his one and only bike in bits. He had decided to put his engine etc back into his tried and tested twin tubed diamond frame. This delayed us until lunch time.
We then had to go to Byker to pick up Rod Hunter and then over to Gateshead to pick up Rod's trailer & bike. We were eventually heading south (A1 in Gateshead) with me driving and them resting, by about 1.30pm, so much for an early start!
When we got on the M1 near London, with me driving still and them resting still, the traffic was heavy. Robbie demanded that I drive faster (already doing 70-80 with the trailer) and that I pass other cars on the hard shoulder!
We got to Crayford (South London) just in time. I acted as Mechanic for both, we were winning and towards the end of the meeting Rod fell off, so I was sorting his bike out during the next heat when I looked over to the far end of the track to see Robbie doing somersaults! The doc ruled both of them out of the rest of the meeting and both of them refused to go to hospital. Oh yeah we won the meeting!
As they were injured I had to drive on the way home too! I got as far as the M18 in Yorkshire when I heard "thud, thud, thud" It was the trailer wheels knocking over traffic cones at a road works. I had fallen asleep at the wheel! I stopped woke them up and Robbie finished the drive off. We got back to Robbie's at 4.30am, I got home at 5am and was at my day job for 7.30am the next morning.
Sounds like fun Rob!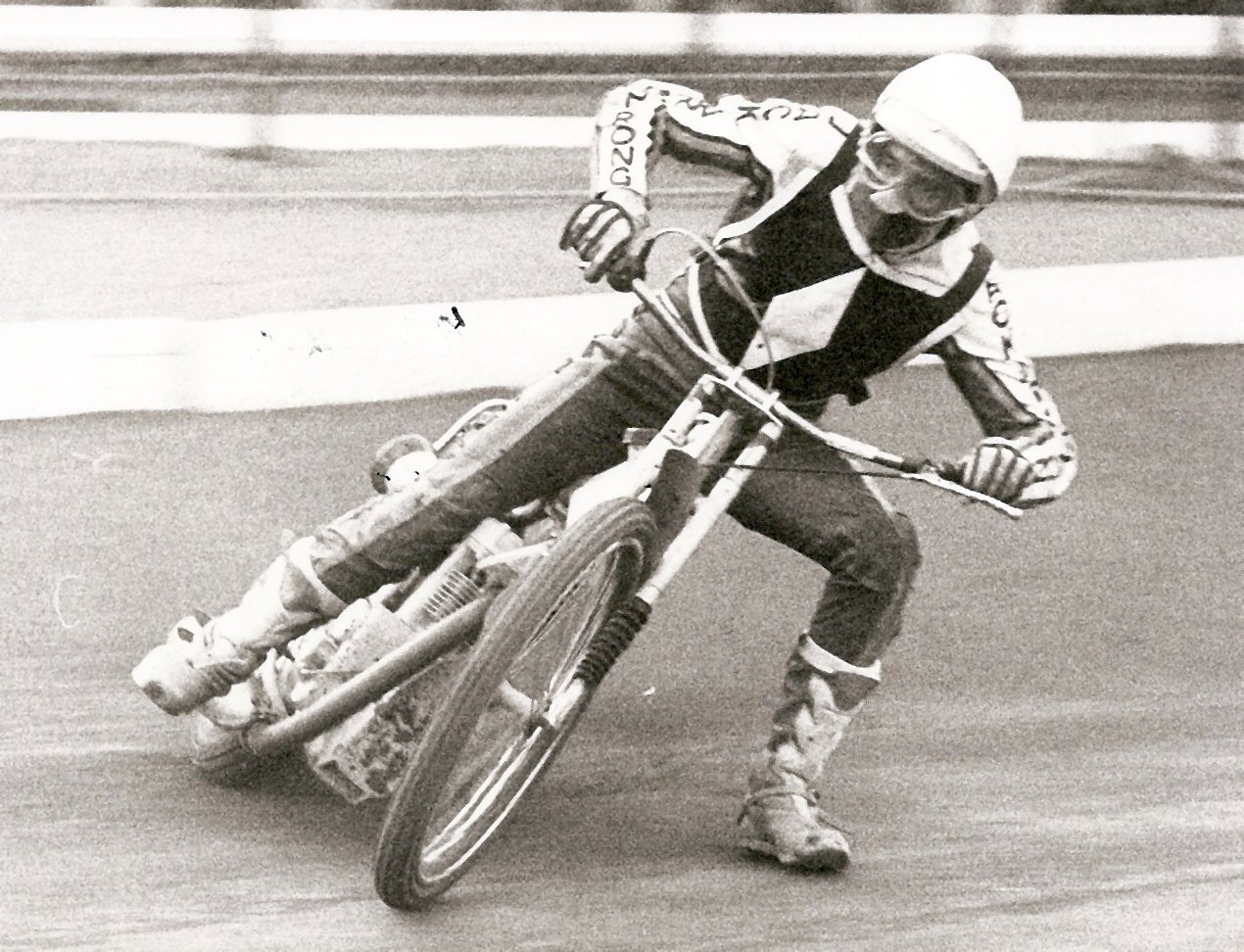 Robbie riding a smooth looking track but hey he's wearing a white helmet cover so it may not be Brough. He relished the bumpy Brough Park where he took some beating
I Think Tom Owen
But Maybe Not?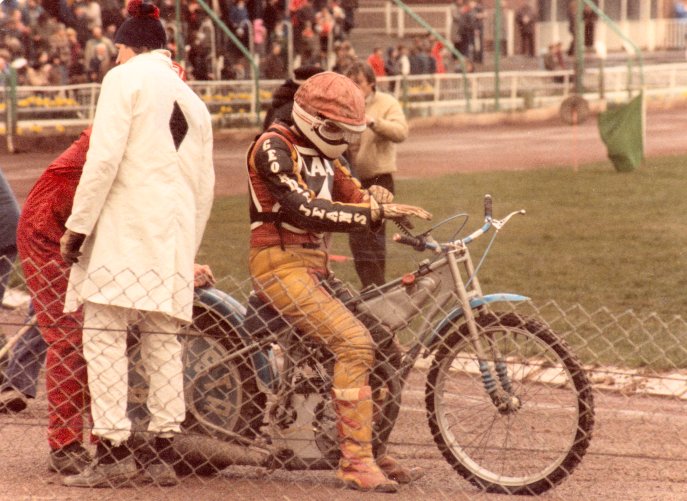 Can you confirm the rider and put a year to it John
Craig C McCurdy says: - John, having had another look at your excellent site, I think the rider putting on his cut-out wearing the red helmet cover is Robbie Blackadder and the year is 1981.
I cannot disagree or confirm what you say Craig, anyone else able to assist? send me an email
John
John Abel says: Rider is Robbie alias "Death" This was part of the Australasian era at Newcastle, I spent 3 years as mechanic for David Bargh. Regards John Abel. Brisbane Australia.
Time to agree that this is Mr Blackadder, I have moved this item from Name the rider to this page Riders 1980 part 1
Robbie Blackadder Going Sideways At Speed 1981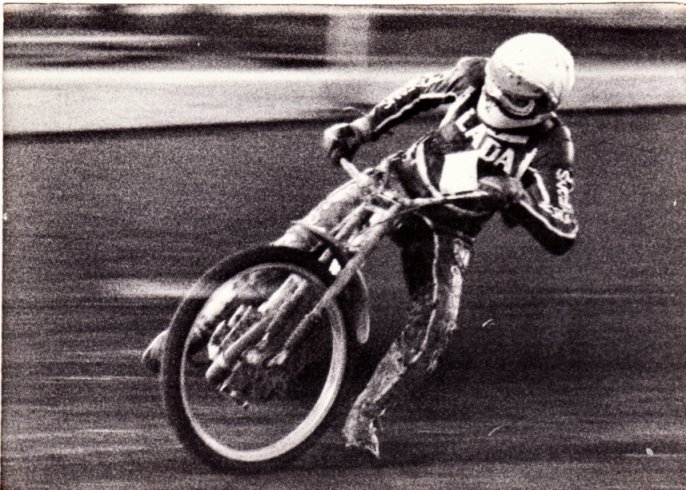 Courtesy Lyn Thompson
Mildenhall v Newcastle
1980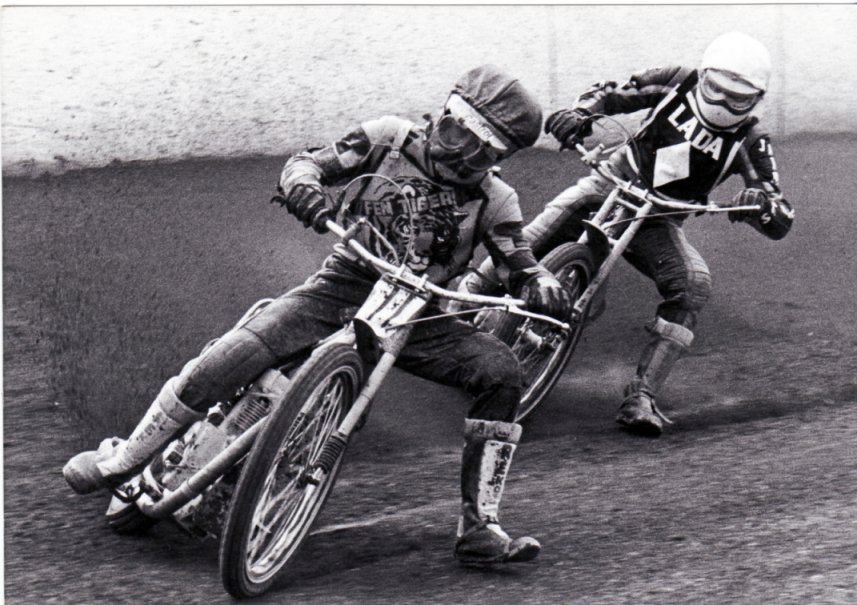 Courtesy of Lyn Thompson
Mildenhall v Newcastle 1980 Mike Baldwin (I thought he ran a knicker factory in Coronation Street!) leading Robbie Blackadder
Hi John, I was just looking through the 1980s section of your excellent history of the Diamonds, and I spotted a minor error. The Mildenhall rider featured is Mark Baldwin - not a namesake of Mike B of Coronation Street fame :-) Mark is the elder brother of Carl, who also rode for the Fen Tigers. Regards, Dave
---
Felton Training Track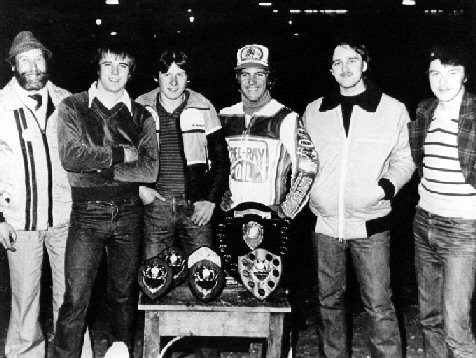 Photo from Nick Short:
Nick reminds me that these were the 1981 Felton Fliers who rode in the Scottish Junior League at Brough. The picture shows Bruce Penhall presenting the 1981 SJL winners with their trophies at Belle Vue on October 17th. Left to right: Eric Dixon Training Track Manager, Paul Mchale, Gary Riddell, Bruce Penhall, Barry Simpson and Dennis Gallagher.
The Felton track was opened in 1978 by Will Hunter (deceased now but was a long serving referee) and Ken Marshall at the disused Bockenfield Airfield about 15 miles up the A1 from Newcastle. In 1979 they entered a team in the Scottish Junior League and finished fourth. Felton no longer operates as a speedway training venue which is a pity as the North East needs these facilities desperately.
---
The Mighty Newcastle "Lada" Diamonds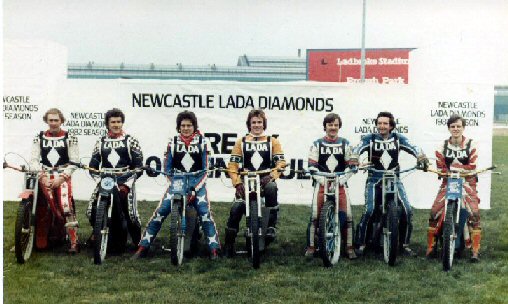 Photo from Nick Short:
Left to right: Alan Emmerson, Tom Owen, Joe Owen, Paul Mchale, Bobby Beaton, Robbie Blackadder, Keith Bloxsome. Brough Park was owned by Ladbrokes in those days and you can see the Ladbrokes Stadium sign in the background.
When I looked at the photo I thought my eyes were playing tricks on me! Paul McHale in the centre looks very much like Tom Owen and I had to look twice before accepting that it was Paul. However, as Tom is also in the picture and on comparison to Paul then the difference is noticeable! I never had any trouble recognizing the two on the track of course! This team line up consisted of 5 heat leaders and wiped the floor with the opposition in 1982 winning the League Championship, Supernational & KO Cup.
Civic Reception
1982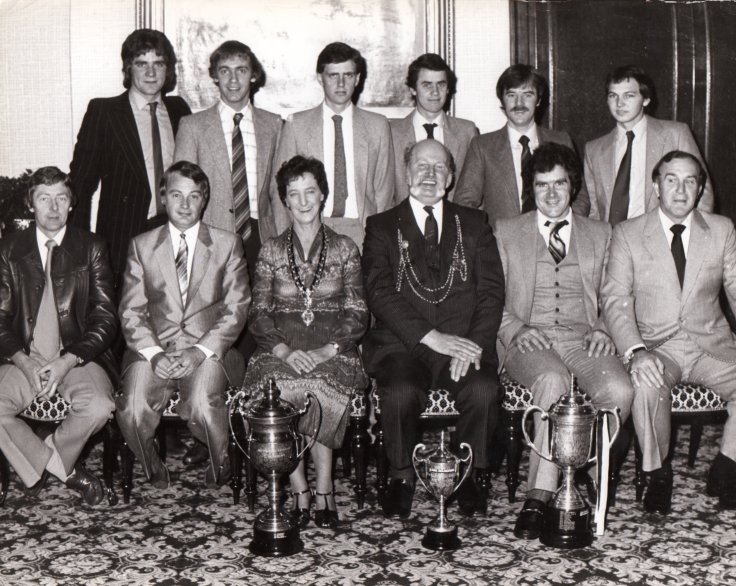 Triple trophy winners Newcastle Speedway were invited to the civic centre for a civic reception to celebrate their achievements Joe Owen Alan Emerson Keith Bloxsome Rod Hunter Bobby Beaton Unknown Front Dave Younghusband Ian Thomas The Lord Mayor and his Wife Tom Owen and Brian Larner
Helen Charlesworth says: Hi John, Just to let you know the 'unknown rider' in the team at the Civic Centre reception is Robbie Foy
Thanks Helen, Now you mention it I can see it is him. Thank you, John
---
Newcastle Diamonds
On Their Travels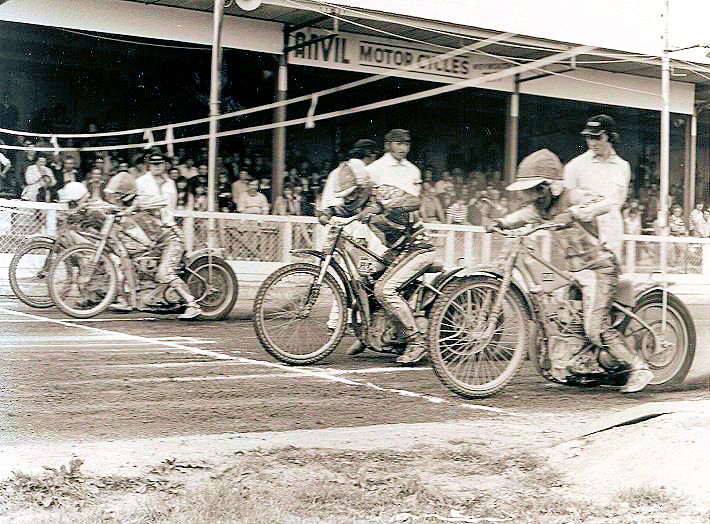 John says: Newcastle's Tom Owen starting from Gate 2. For some reason he is in yellow/black! As a heat leader Tom was usually in white away from home so perhaps he was taking a tactical substitute ride? Is this Weymouth? and can you say the year and who the other riders are?
John
Steve Baker says: left to right, Rod Hunter (?), Martin Yeates, Tom Owen and John McNeil (?). As a Diamonds supporter, maybe you can throw some light on the rider on the outside!
John says: Nah! can't see enough of him. He looks small so it could be Rod Hunter.
Ian (didn't say what his surname was) says: Hi John, In Name the rider part two. The Weymouth rider on gate one is Steve Schofield. Very nice site John. lots of nice photos. Keep up the good work
John says: Still looking for the year, Weymouth fans may have the programme and so be able to confirm the riders, look for a heat with Tom Owen in y/b
Bob Cole says: Hi John, The answers to the Weymouth v Newcastle photo in your name the rider part 2 webpage: -
It is from 8th June 1982. Ht10. From Gate 4...Alan Emerson, Martin Yeates, Tom Owen, Steve Schofield The Result was Yeates, Emerson, Owen, Schofield. Time 69.3
The teams were...
Wildcats 1.Yeates, 2.Schofield,3.Rumsey,4.Wigg,5.McNeil,6.Bear.7.Crockett &
Diamonds 1.Hunter,2.Beaton,3.Joe Owen,4.Tom Owen,5.Emerson,6.Bloxsome,7.Foy
This meeting was raced over the 16 Ht format.
Result 57-39
---
Glen McDonald 1981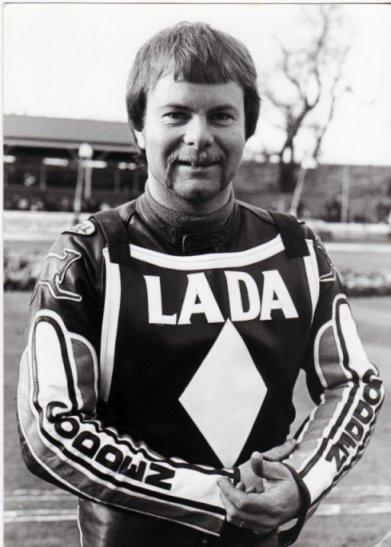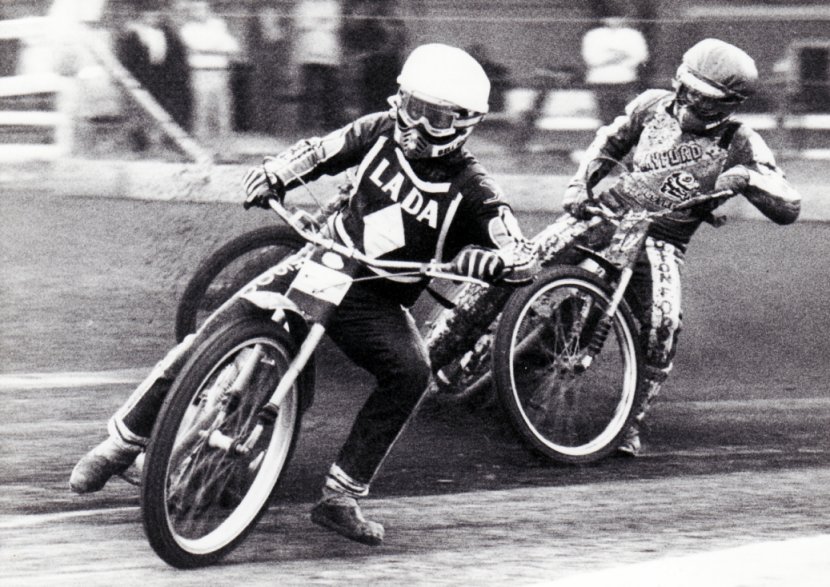 Glen leading Keith Pritchard of Crayford in 1981
---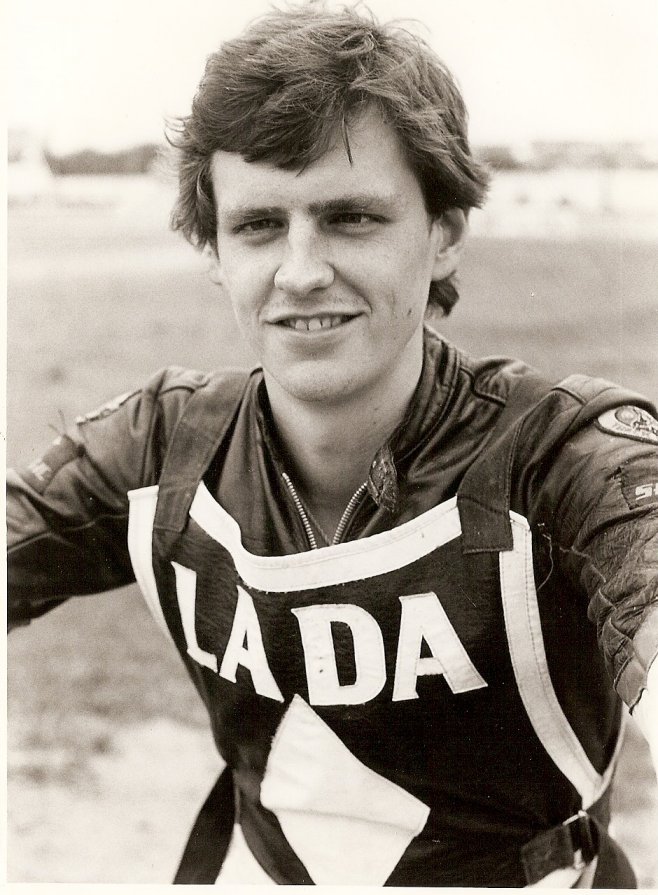 Keith Bloxsome spent 4 years with us 1980-82, 1986. Newcastle sides during 1980-82 were very strong and as a result Keith was in a reserve berth for much longer than he would have been in a weaker team. He scored well on most occasions. I seem to remember him notching an 18 point maximum on one occasion.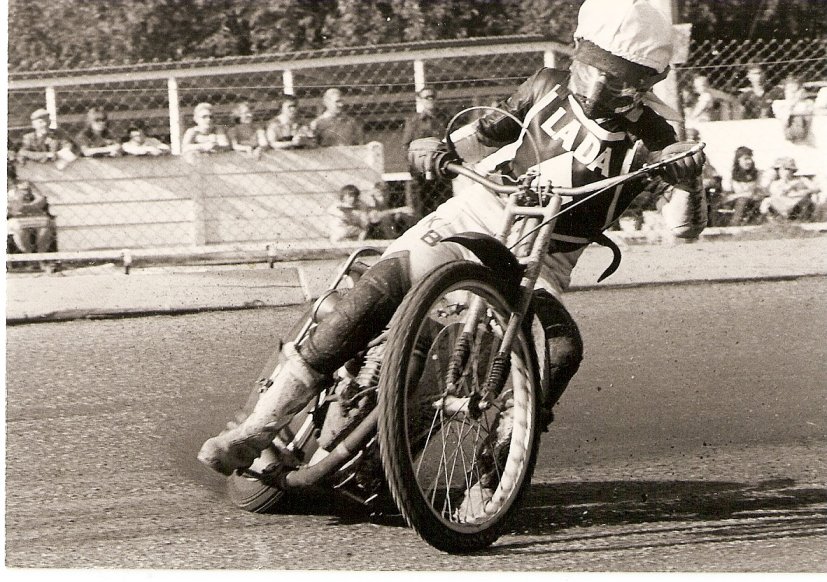 Keith was kept at reserve by our very powerful teams. His double figure scoring from reserve made him a match winner away from home
---
Keith Bloxsome Leading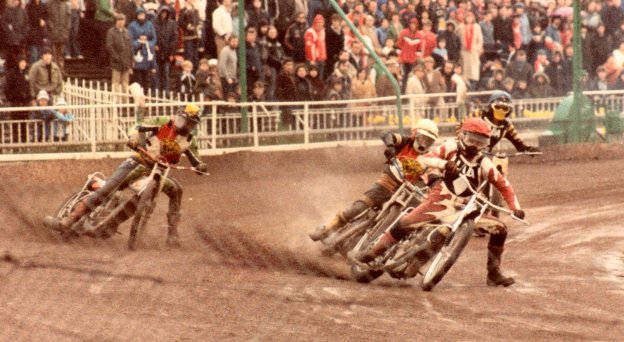 Keith Bloxsome in the lead at Brough Park, can you say who the visitors are, name them all and supply the year
John
Former rider, Tony Richardson has been in touch he says: - It's Newcastle v Middlesbrough Tigers. The year is either 1979 or 1980 more like 1980 (the body colour). The rider in white is Pete Reading, the rider in Y/B not sure could be a guest as I donít recognise the leathers
John says: Thanks Tony, I remember your name from second halves etc
.
Keith Bloxsome rode for the Diamonds
1980-82, 1986 so I would say the above pic is from 1980.
Tony Richardson says: - The rider in Y/B is Bernie Collier
---
Boston v Newcastle
1982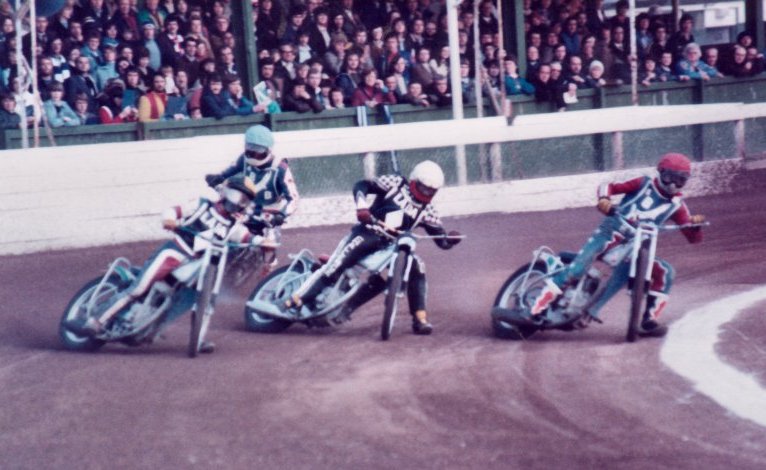 Not sure of the year, the venue must be New Hammond Beck, Boston and I think I recognise Tom Owen in white. Help please with the rest.
John
David Gibson has been in touch, he says: 1982 with Tom Owen and Bobby Beaton for the Diamonds and in red is Rob Hollingworth. Keep up the good work on this excellent website
Joe Owen At Boston
1982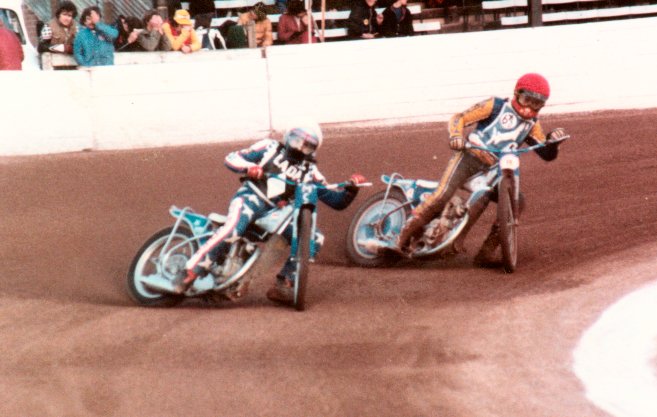 Is this Joe Owen against Boston down at New Hammond Beck Road, can you confirm and supply the year and the Boston rider
John
Dave Gibson says: The photo of Joe Owen at Boston was in 1982 as think this was the last year of the Lada sponsorship deal. The rider in the picture with Joe is Dave Gagen
John says: I have just noticed Joe's brother Tom, watching from behind the fence. Tom is top left corner with the black and white check shoulders
---
4

Team Trophy Winners

1982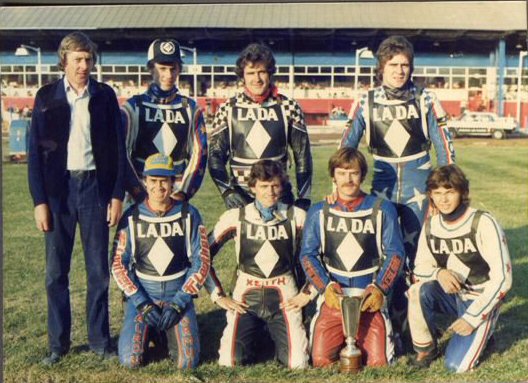 Dave Younghusband (Manager), Alan Emerson, Tom Owen (Capt.), Joe Owen, ..Front: Rod Hunter, Keith Bloxsome, Bobby Beaton and Robbie Foy. That is a Lada on the track in the background A Russian made car based upon the old Fiat 124 design. Brough Park was owned by Ladbrokes then who spent a lot of money on the place and we watched our team from quite a luxurious stadium. The team was brilliant, crowds were big. Happy days! We ain't sure what season this team shot was or what the cup was for, because the Diamonds won many titles during this period. Anyone help us out here?
Barry Wallace says the cup was the 4 team trophy but I forgot to ask if he knew the year.
Glasgow fan Derek Watson has suggested that this photo must be from 1982 as Tom Owen and Bobby Beaton only rode together in 1982.
---
Bobby Beaton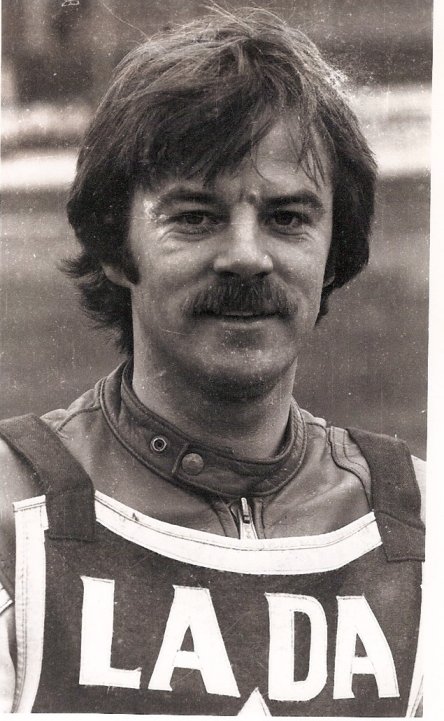 Scotland's Bobby Beaton part of the all-conquering Newcastle Diamonds side of 1982.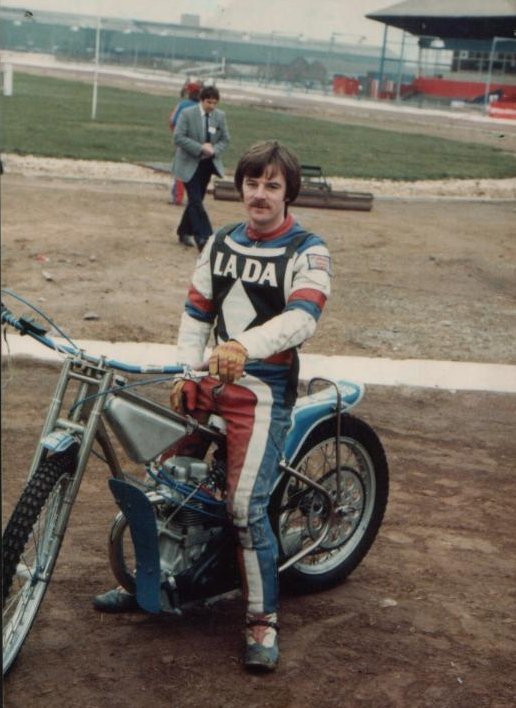 Courtesy of Steve Wicks
An excellent shot of Bobby Beaton
---
1982

Press Day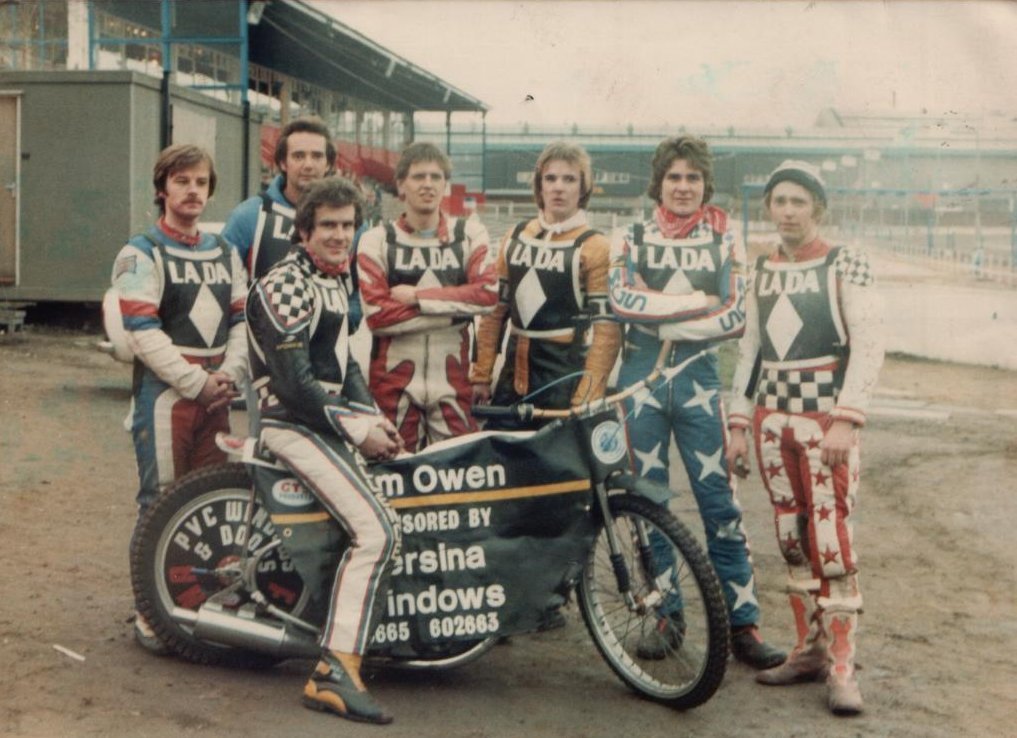 1982 press day. Bobby Beaton, Robbie Blackadder, Keith Bloxsome, Paul McHale, Joe Owen, Alan Emerson and Tom Owen on the bike
---
Kenny McKinna & Tom Owen 1982
---
1983 Newcastle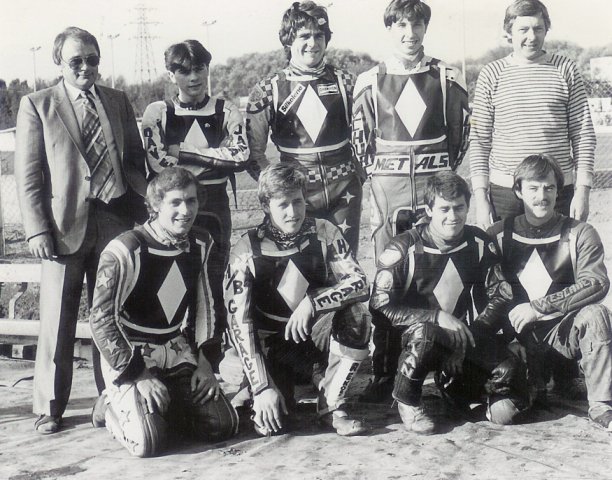 Courtesy of Barry Stephenson
Ian Thomas David Walsh ?? Joe Owen Bernie Collier Dave Younghusband. front Alan Emerson Martin Scarisbrick Rod Hunter Bobby Beaton
Joe Owen
Lada Viking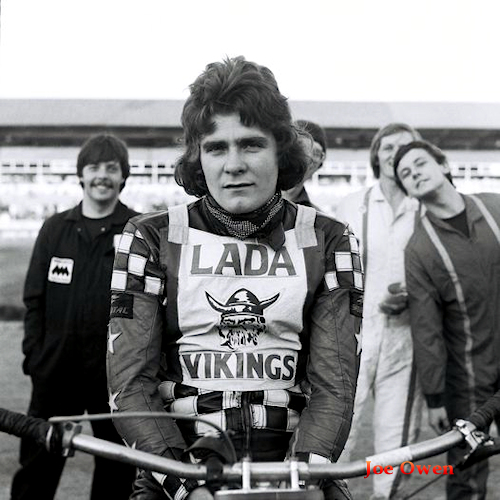 Courtesy of Steve Brock
---
Martin Scarisbrick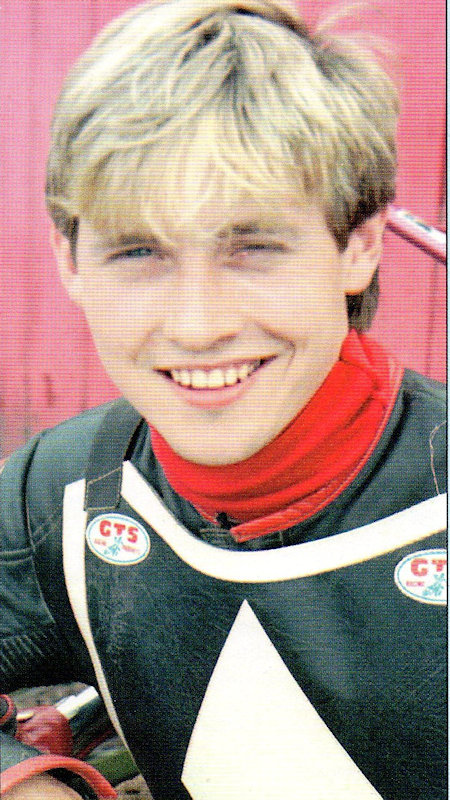 ---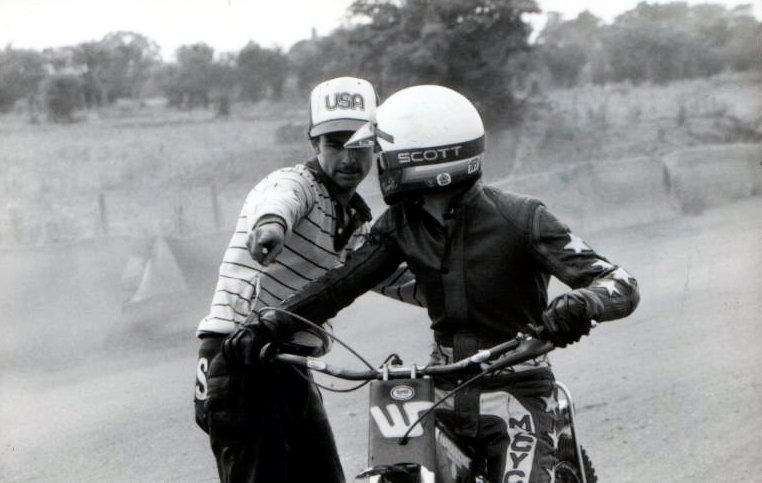 Courtesy of Steve Wicks
Steve taking advice from Newcastle's Californian Eddie Ingels
Steve Wicks With 80's Promoter Eric Stead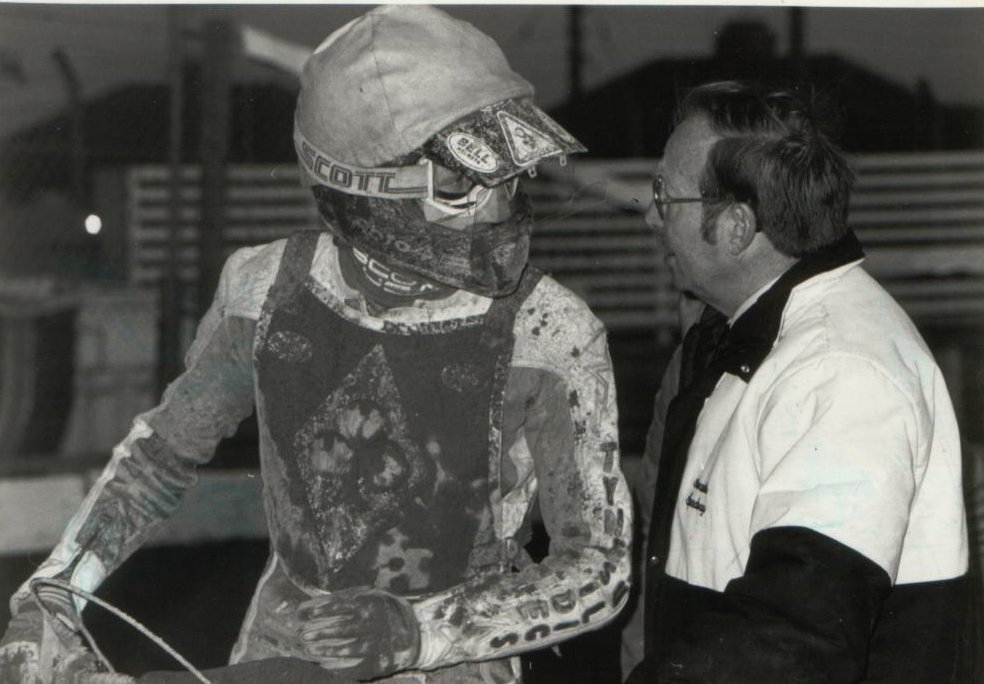 Courtesy of Steve Wicks
Steve At Berwick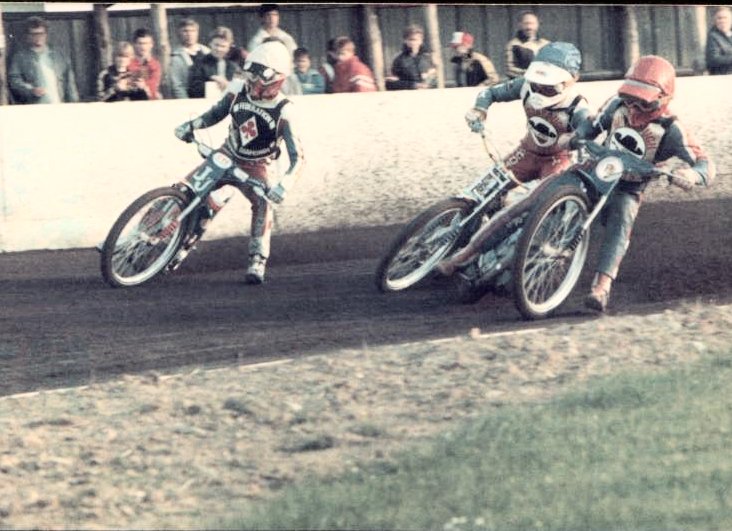 Courtesy of Steve Wicks
Steve at Berwick battling it out with Bandits Wayne Ross and Rob Woffinden.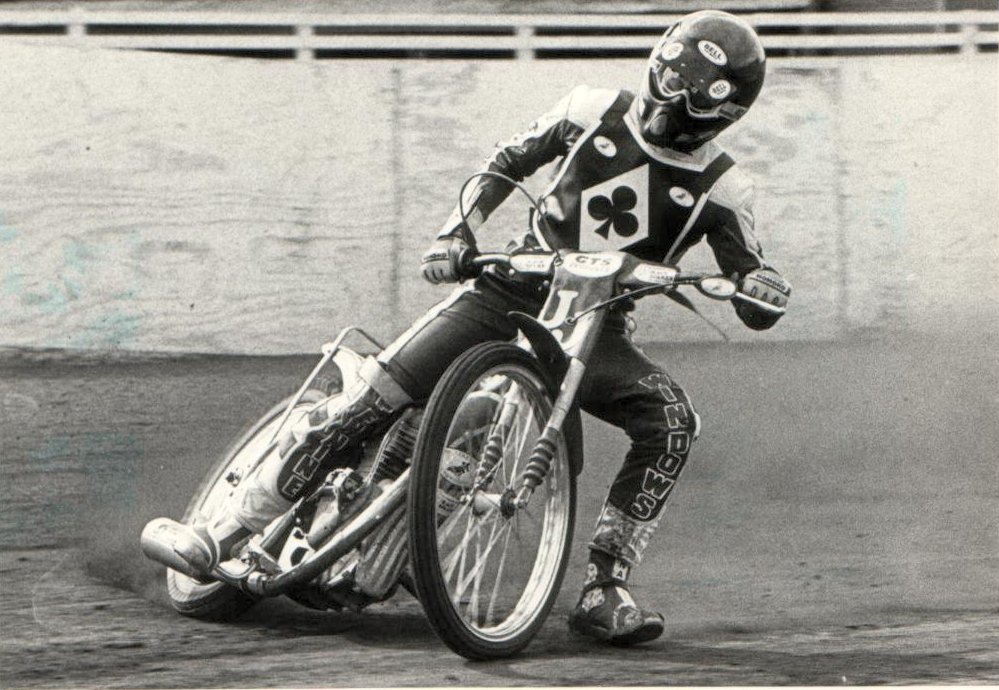 Courtesy of Steve Wicks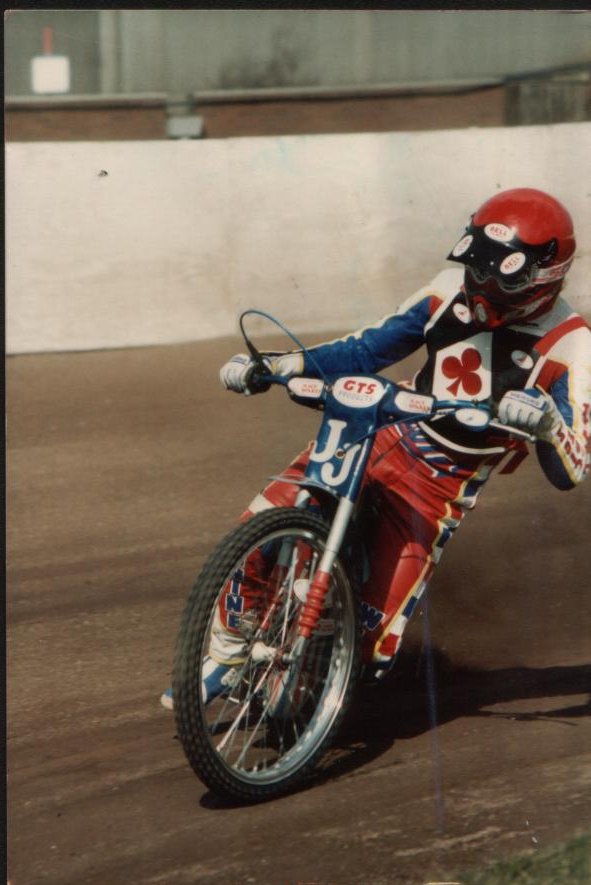 Courtesy of Steve Wicks
---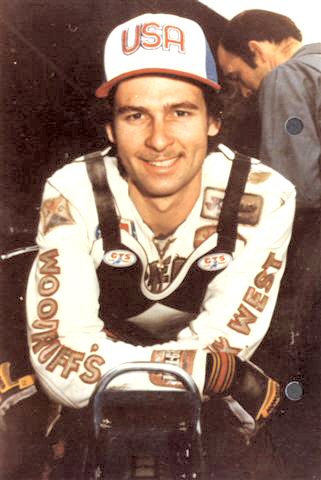 Eddie came to us for the British League campaign in 1984 from sunny California. He was quite a character and got himself married on the Brough Park track (see below)! He and Joe Owen were the riders that the crowd wanted to see. Eddie was based on Tyneside and he ran some training schools at a track at Felton in Northumberland. Eddie never reached the heights of some of his countrymen but we all thought him capable of it.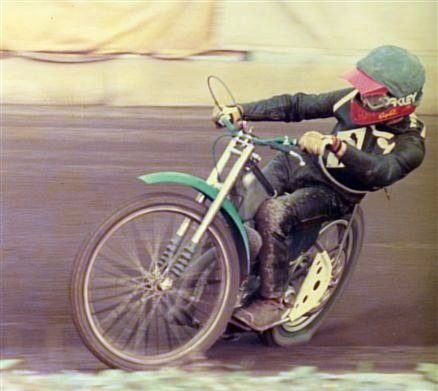 Pictures from Paul Brassell: Eddie the Eagle
Eddie At His Training School At Felton Northumberland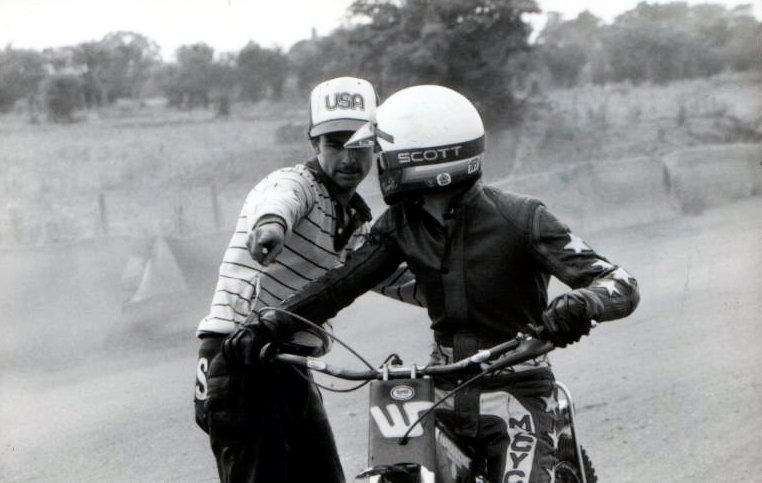 Courtesy of Steve Wicks
Eddie giving racing advice to Steve Wicks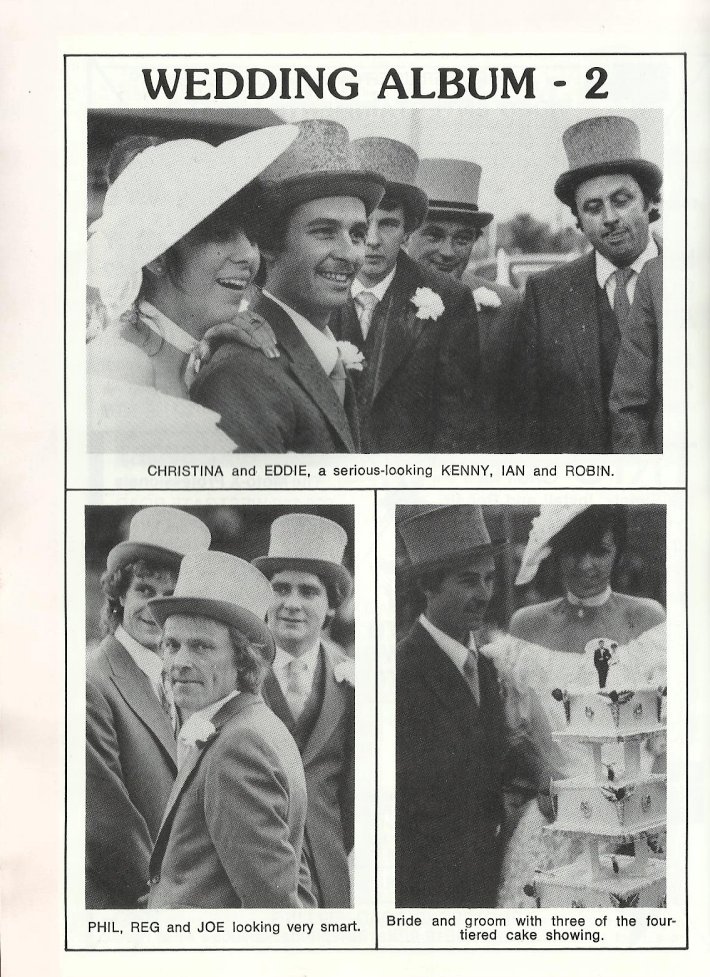 Brough closed its doors yet again at the end of the top flight season and Eddie moved on. So did our promoter and entrepreneur Ian Thomas. With Thomas leaving, Newcastle's most successful spell ever, came to an end. Thank you Ian for what you achieved in your time here. None of us will forget the top teams you assembled for us. 1975 to 1984 if you missed it, you missed a helluva lot!
---
To continue with 1980s part two click here.htm
Home:
---
The contents of this website are © and should not be produced elsewhere for financial gain. The contributors to this website gave the pictures and information on that understanding. If anyone has any issue or objections to any items on my website please email me and I will amend or remove the item. Where possible credit has been given to the owner of each item.