1970's Newcastle Riders
Newcastle had a great run between 1961 and 1969, good crowds, great riders and great music playing in the stadium. The signature tune "Diamonds", by ex-shadows bassist Jet Harris was played every week from 1963 onwards! We thought the speedway would go on for ever but by 1970 things had changed, although not the signature tune!
Anders Michanek Geoff Curtis George Hunter Ian Hoskins Tom & Joe Owen Kenny Carter
Rod Hunter
---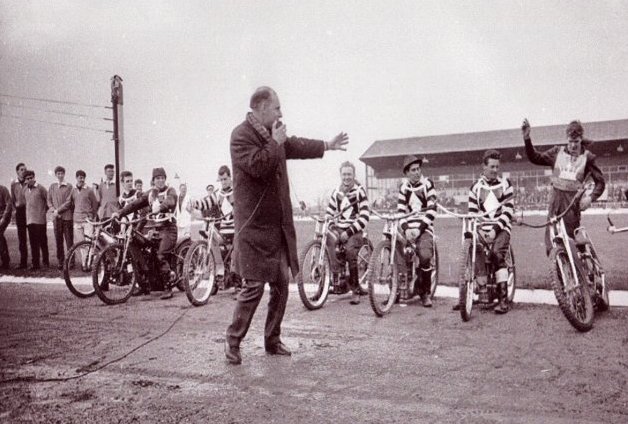 Ian Hoskins Newcastle boss for 1970. Here he is introducing his previous team Edinburgh at Brough in the 1960's. Ian was doing the big introductions long before the boxing guy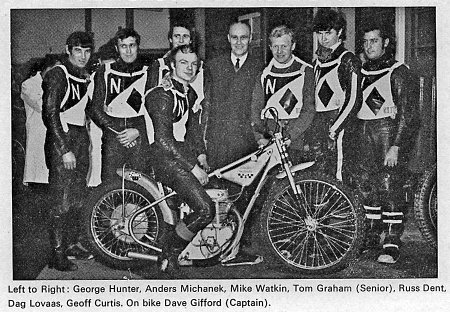 This team started the season on 30.3.1970, It was the last season the Diamonds would line up in traditional Black Leathers. To me this had been the classic look of a Speedway Team for 40 years, but sadly it was the end of an era. It had all changed when Speedway returned to Brough in 1975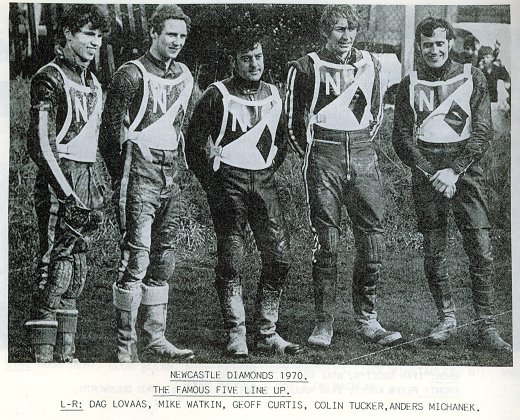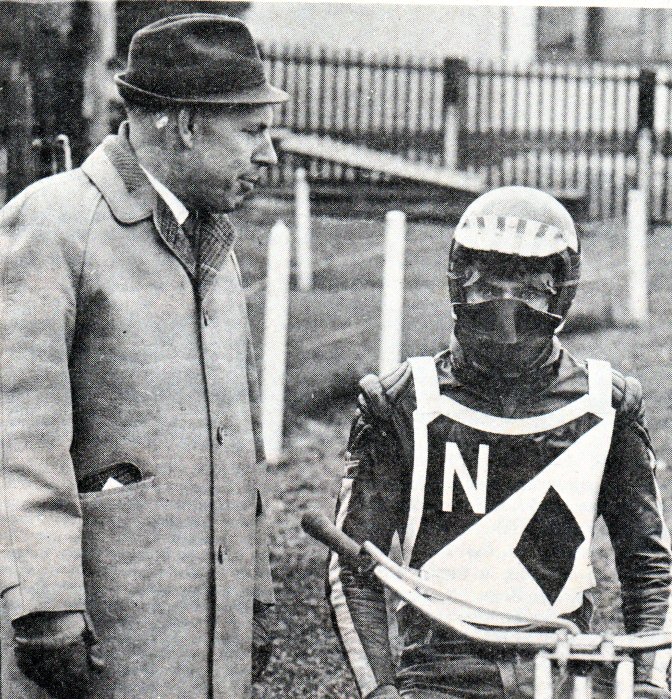 Manager Ian Hoskins with his best bit of business in his year at Brough, new signing Dag Lovaas
Speaking about his task at Newcastle, Ian said " It is not going to be easy, we have taken over a track that has lost it's world champion (Ivan Mauger) and also lost a potential world champion (Ole Olsen)" If Newcastle doesn't turn out to be a success this year it will not be for the want of trying. Ian was big enough to take the challenge on. Big thank you to Ian Hoskins.

Practice day 1970
Dave Gifford, Anders Michanek, Mike Watkin and Dag Lovaas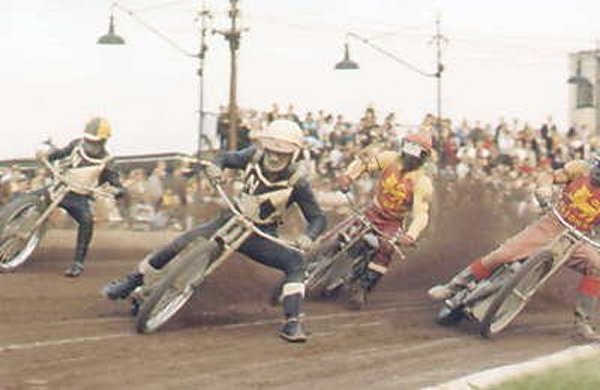 1970 Diamonds away at Leicester?. Dave Gifford leading. Who are the other riders. John
Update: Giffy says: Geoff Curtis is in yellow and I think John Boulger is in red the track is Blackbird Road Leicester
Geoff Curtis: Sadly his life ended following an accident at the Sydney Showground on the evening of December 15, 1973. Geoff was just 30 years of age when he died.
---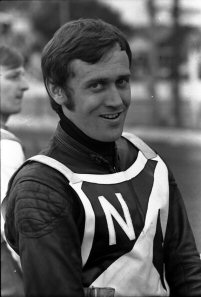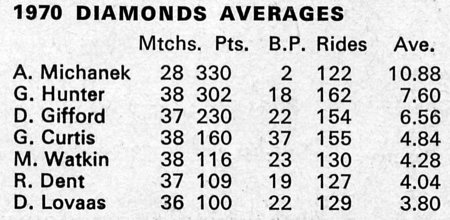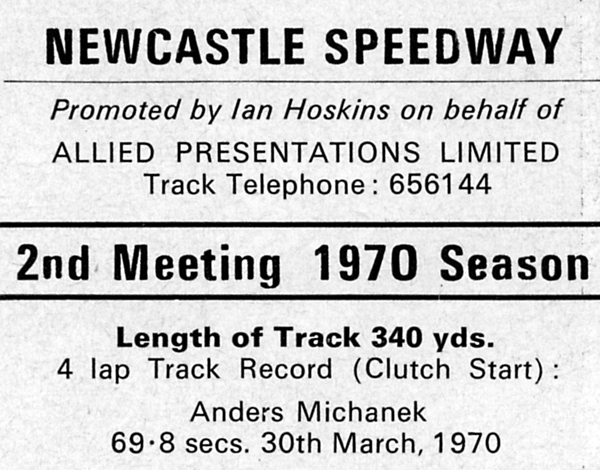 As you may know the track shape had been changed, the new length being 340 Yards. Iíve attached a scan from the second program of the season showing Anders new record time of 69.8 seconds.
Anders Michanek 30th March 69.8 seconds.
Anders Michanek 6th April 67.4 seconds.
Bengt Jansson 15th June 67.4 seconds. (equalling Anders time)
Ivan Mauger 3rd August 67.0 seconds,
That was it, the end of an era at Brough. The team photo was I guess the last time you would see a Newcastle Diamondís team turn out in classic black leathers. How sad. Coloured leathers detracted from speedway in my opinion.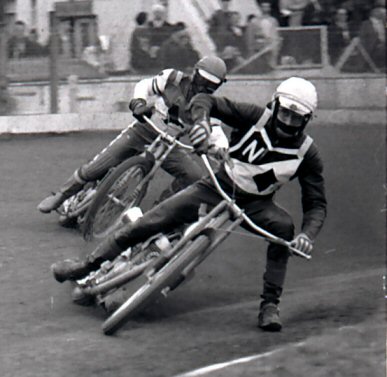 Photo of Anders courtesy of Alf Weedon
This action shot of Anders was taken at Swindon. Anders leads Robin Bob Kilby
Swede Anders was brought to Brough in 1970 by the new promoter Ian Hoskins. He was a great rider and later won the world championship, but he came to us at the wrong time. Dwindling crowds and a lack of co-operation by the stadiums owners forced the club to close its doors and Anders went elsewhere for 1971. The promotion wanted to drop down into the lower division to keep the sport going in 1971 but the stadium owners said no to the proposed move and the bikes went silent for 4 seasons.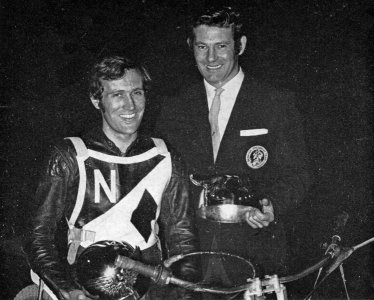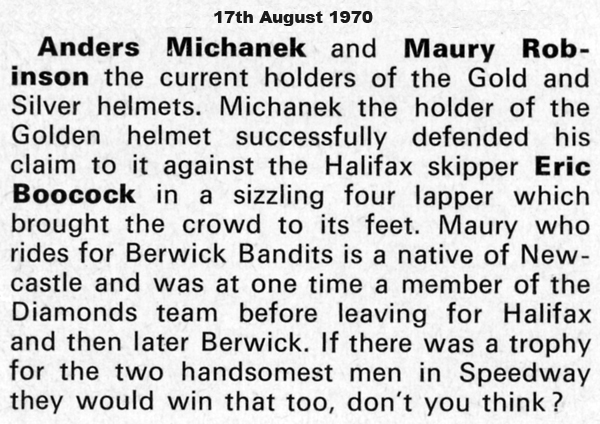 ---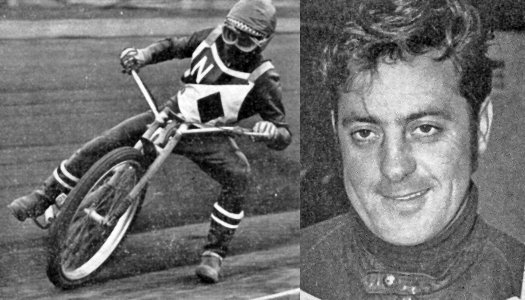 I was sad to read Geoff Curtis had been killed on 15th December 1973 in an accident at the Sydney Showground. A memorial plaque on the Sydney Speedway web-site shows him to be the last rider killed at the Showground before it closed in 1996.
---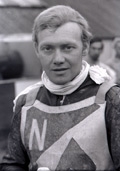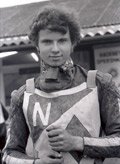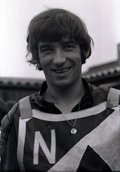 Russ Dent Dag Lovaas and George Hunter from 1970
---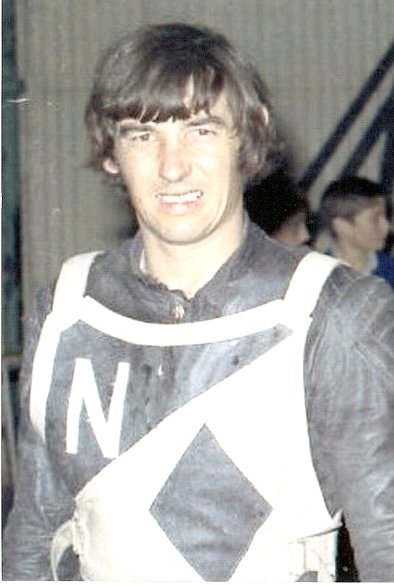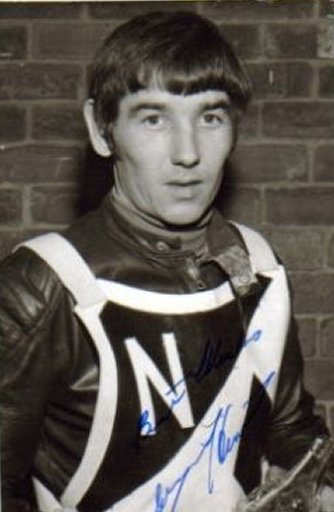 George Hunter
---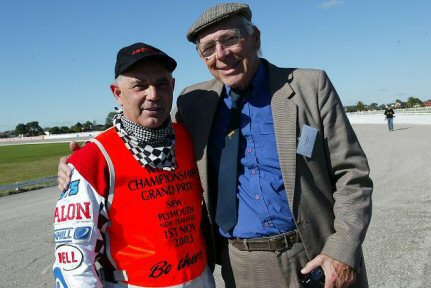 Ivan and Ian
Ian has been in touch recently and has this to say about his his father's spells at Brough and his own, all-to-brief spell as a Newcastle promoter: -
Many thanks for allowing me to submit a message for Newcastle speedway friends, riders and promoters over the past 75 years. My father, Johnny Hoskins, ran Brough Park prior to the war and I have many memories of Syd Littlewood, Norman Hargreaves and the great George Pepper, the Canadian who was killed flying a Mosquito during the war. My Dad also reopened it again in l946 and there was the great Jeff Lloyd and the brief memory of Ken le Breton who was transferred in exchange for Lloyd to New Cross plus a thousand pounds, the worst deal, ever made by Johnny as Le Breton didn't come good until he went to Ashfield in Glasgow in l949 and rode for the Giants under Johnnie's banner.

I have mixed memories about my season in l970 when Allied Speedways asked me to run Newcastle for them when they took Brough Park over from Mike Parker. Unfortunately, Parker had sold Ivan Mauger to Belle Vue which made Parker the most unpopular man since Adolf Hitler on Tyneside. To make matters worse, after I agreed to accept the challenge, Parker demanded that Ole Olsen, the other superstar at Newcastle, join him at Wolverhampton and they agreed. Anders Michanek and George Hunter from Edinburgh were unable to compensate for the loss of Ivan and Ole, so it was Mission Impossible. I also made my last speedway discovery in Dag Lovaas from Norway, the l6 year-old boy who later became a world finalist when he joined Reading at the end of the luckless 1970 season.
May Newcastle continue to thrive and may the many memories of those who helped make Brough Park what it was for 75 years, continue to be recalled in the years ahead. Dave Gifford, who rode in my l970 team, sends his regards from New Zealand where I am now based.
Yours aye, Ian Hoskins. March 2005
I wrote back to Ian to ask him for any more of his views and maybe a picture or two. This is Ian's reply: -
Many thanks for your eulogy. Fraid my computer has been out of action with a virus, hence the delay in replying. I am not computer literate. In fact, I'm a computer ignoramus and have no idea how to send a photograph. It follows that your web site proposal is like asking me to send a message to Tony Blair asking him to vote Tory at the next election.
All I will say is this.
Speedway is more than a sport. It is also an entertainment. That is why Johnnie was so successful. He entertained by getting races to start on time, cutting out delays and making intervals a period to get to know your riders. When I began promoting in l946, it was necessary to have a doctor on hand. Today, you have to have a doctor plus two ambulances.
What killed the last Ashfield promotion?
In the first season when moving away from Shawfield in Glasgow across to Ashfield, they had a crash. The ambulance took the rider to hospital and the next race was delayed for one hour until it returned to the track, thus sending thousands of would-be supporters away home vowing never to return. Common sense must surely prevail. There are motor cars that could service as an ambulance surely? The track doctor could attend to any new injury until the ambulance returned. What about a telephone call to the hospital? If speedway could survive for 40 odd years without an ambulance being mandatory, surely the Ashfield case must be considered? (Ashfield is the home of the Glasgow Tigers and I discovered the track in l949 for the Glasgow Giants, a team run by Johnnie Hoskins and starring Ken le Breton who was killed on track in Australia.)
Yours aye, Ian Hoskins. March 2005
Thank you Ian for your memories and views and yes we can only wonder at what might have been had Mauger and Olsen still been at Newcastle when you came in! Anders, Ivan, Ole, George, Dag and Giffy that would have been some team! But it wasn't to be and we closed down. Ian's points about entertainment and lengthy delays are good ones. We have all stood around in the cold whilst we await the return of an ambulance etc. I would agree that waiting an hour between races could stop a new supporter from wanting to come back again. Now Ian! sending a photograph by e-mail for the site isn't that hard to do! ask an eleven-year-old relative to show you how!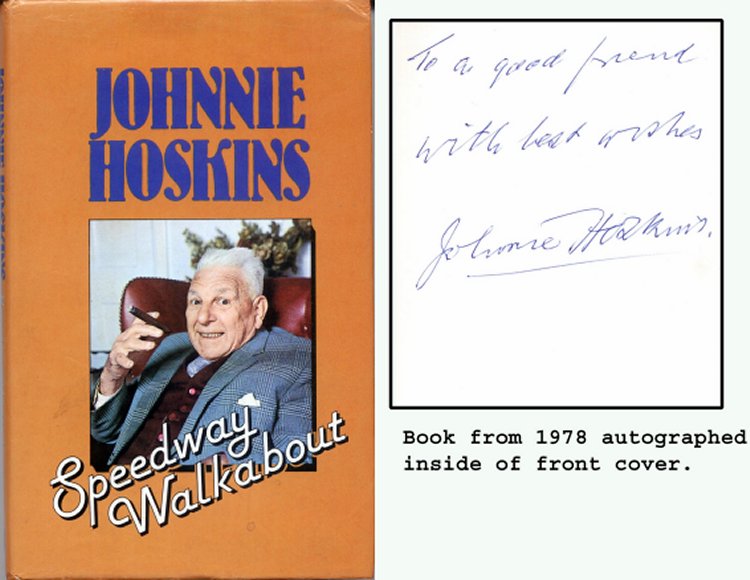 Then came a gap! No speedway 1971,1972, 1973 or 1974 as Newcastle's licence was taken by Sunderland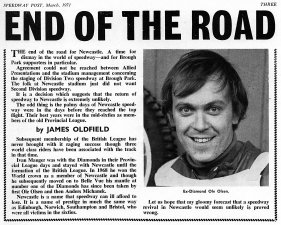 The headline says it all Brough Closed down at the end of 1970 season
---
1975 Re-opening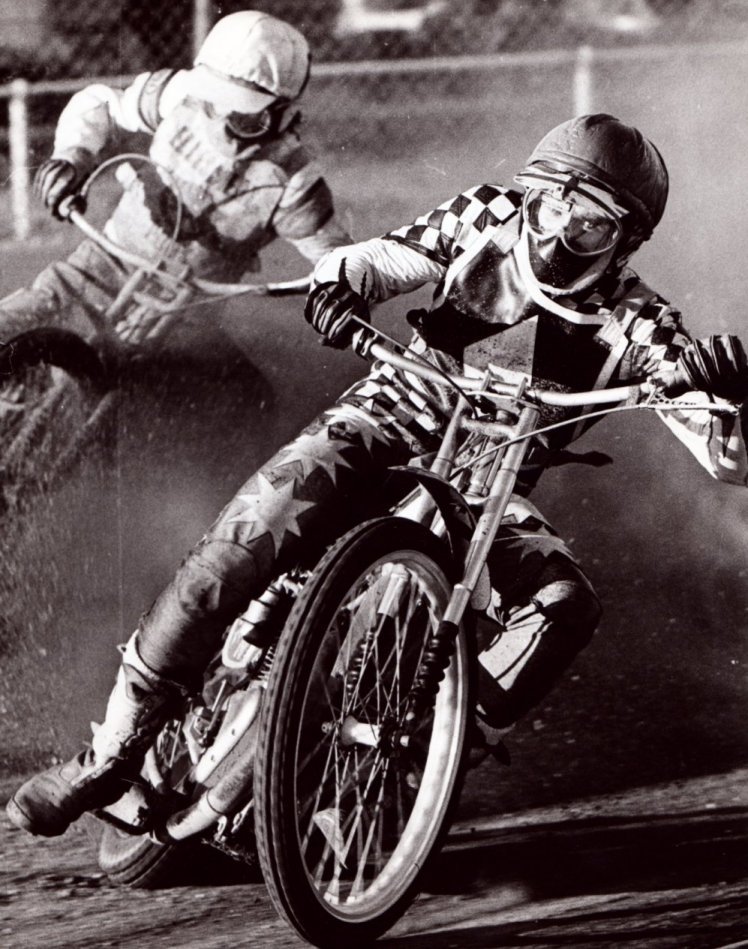 1976 Joe Owen and one of his deadly rivals John Jackson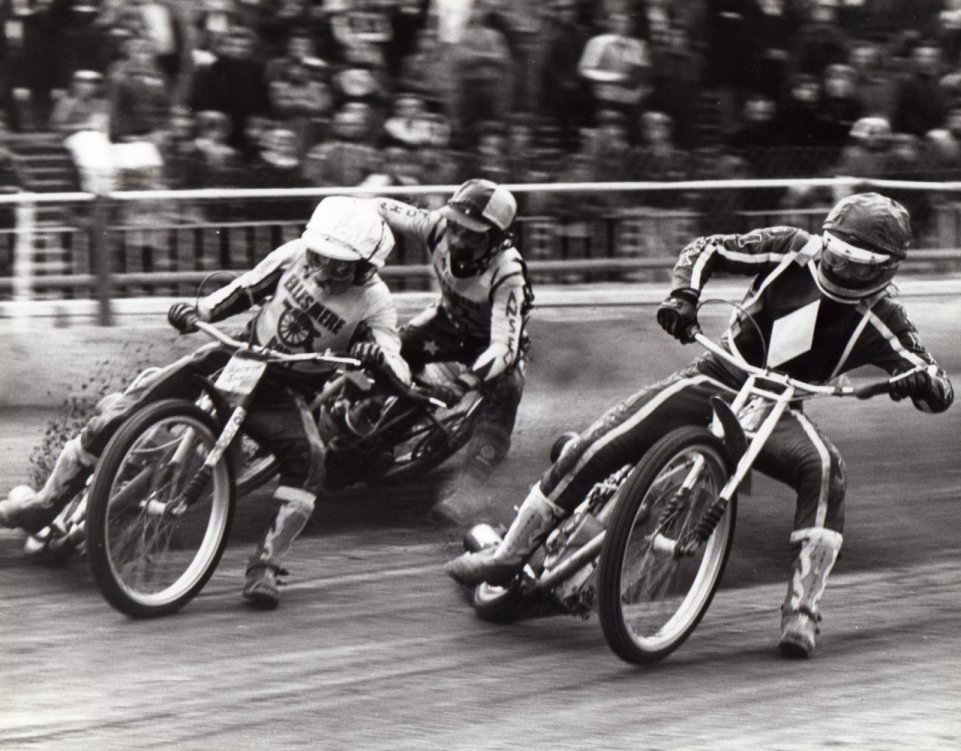 Tom Owen inside the two Ellesmere Port riders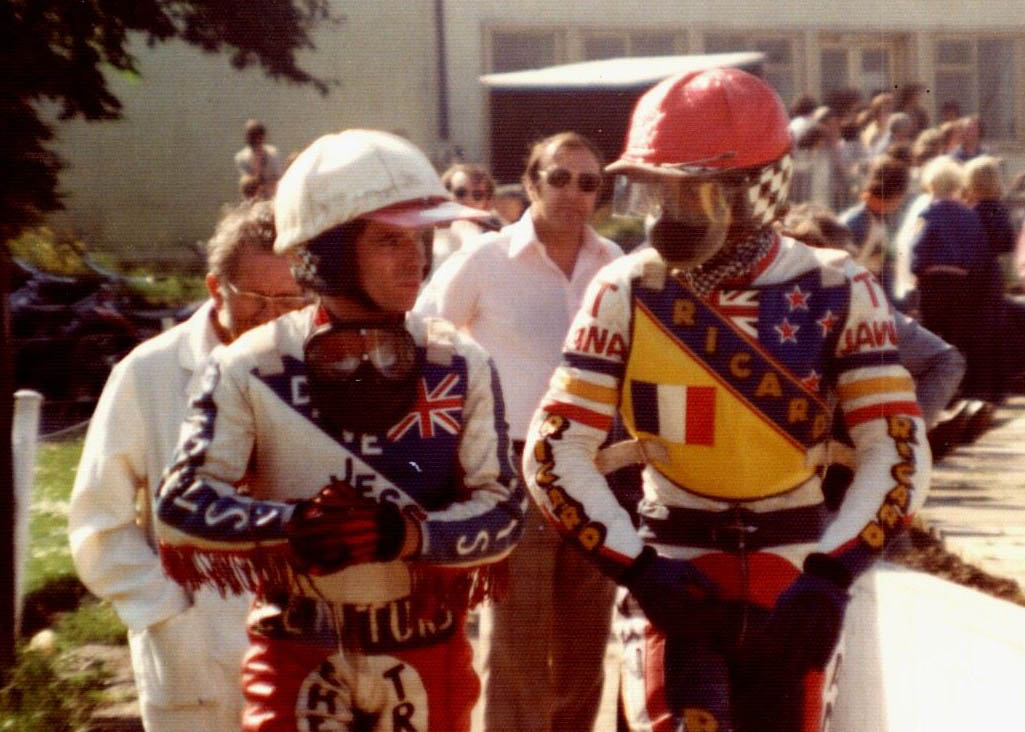 Ivan and Dave Jessup with Dave making Mauger look tall!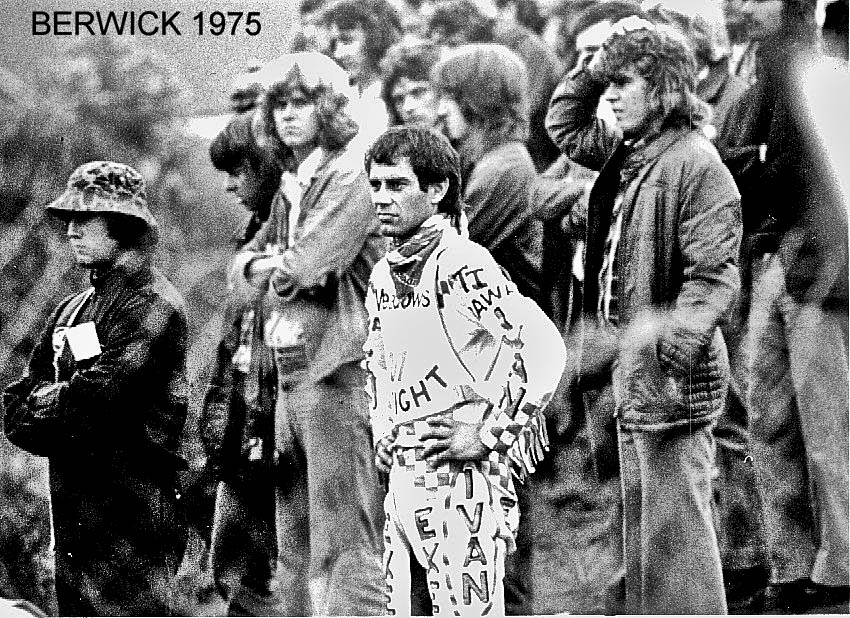 Ivan at Berwick 1975
---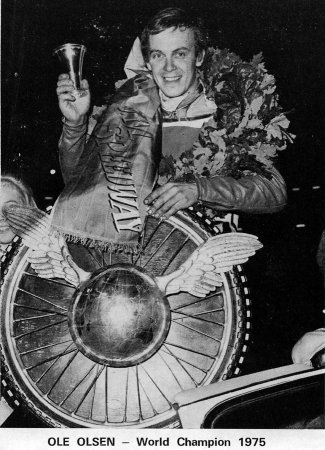 ---
Brough stayed shut until 1975 when Ian Thomas arrived and so began the most successful years in the history of Newcastle Speedway.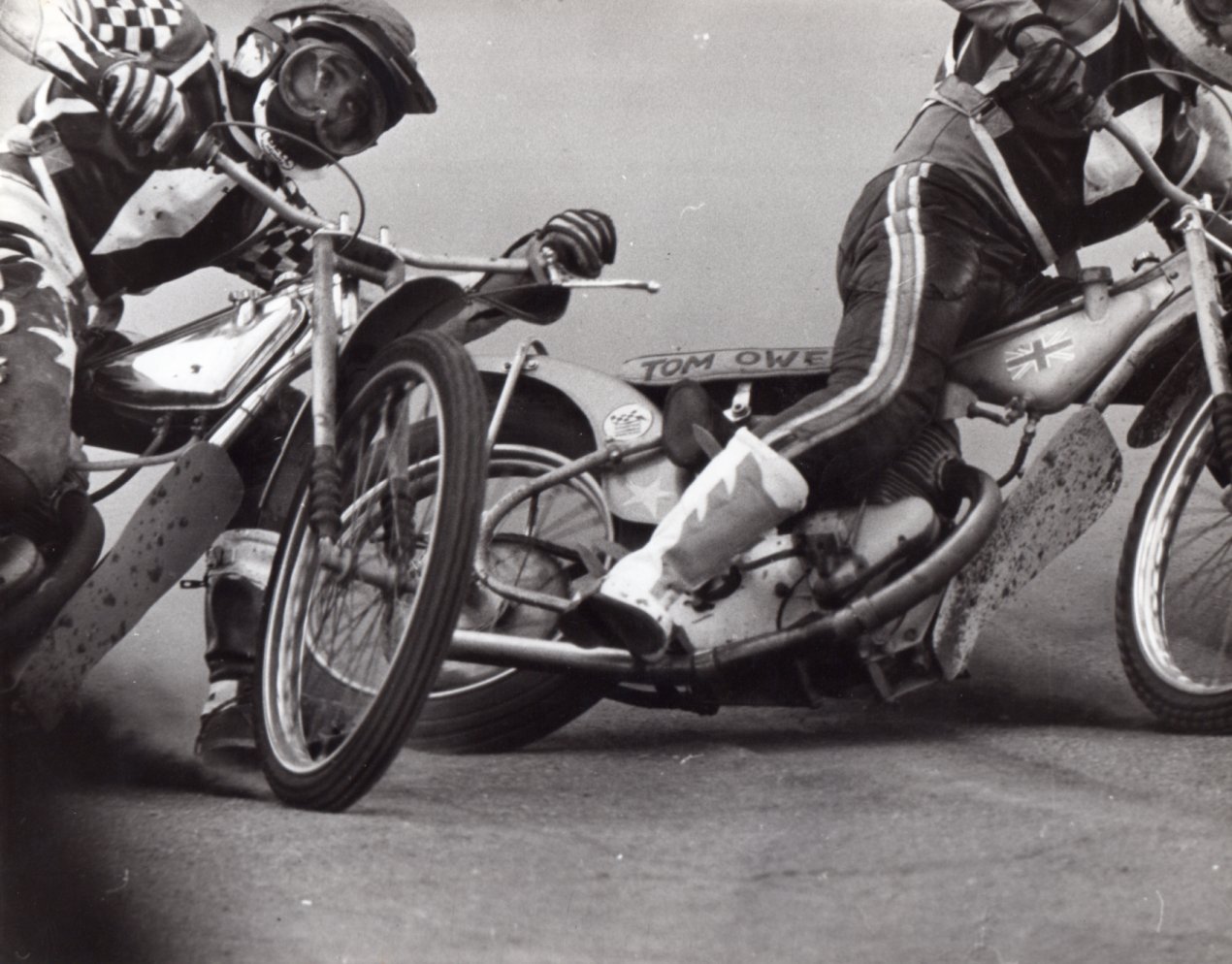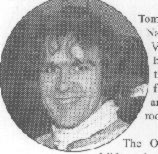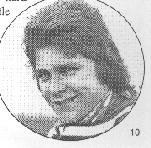 Tom (left) and Joe The Unforgettable Owen Brothers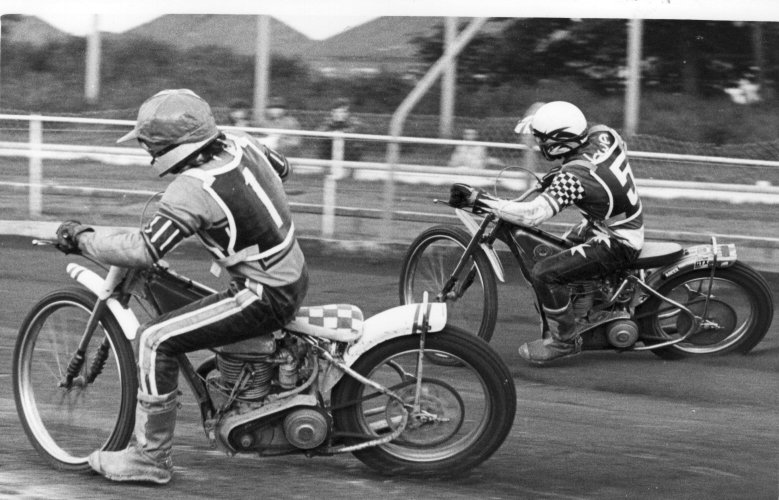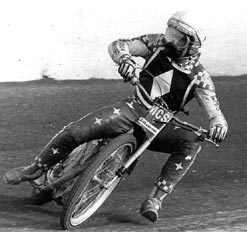 Joe Owen: Was he better around Brough Park than any rider ever to wear the Diamond Jacket? I think with all due respect to Ole Olsen and the other top riders only the riding of Ivan Mauger casts any doubt on that. Mauger was better after he left Newcastle though whereas Joe gave his best years to Brough Park. It could be argued that Joe looked so good because of second division opposition but really you can only beat the riders that come to your track and he did that effortlessly. So anyway not a bad accolade if we say Joe was second only to Ivan around Brough.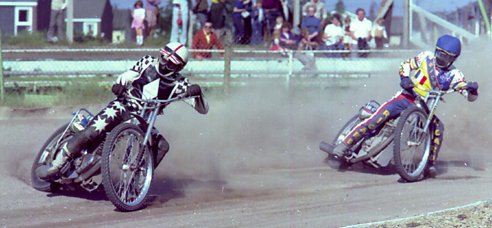 Joe leading Ivan at Brough Park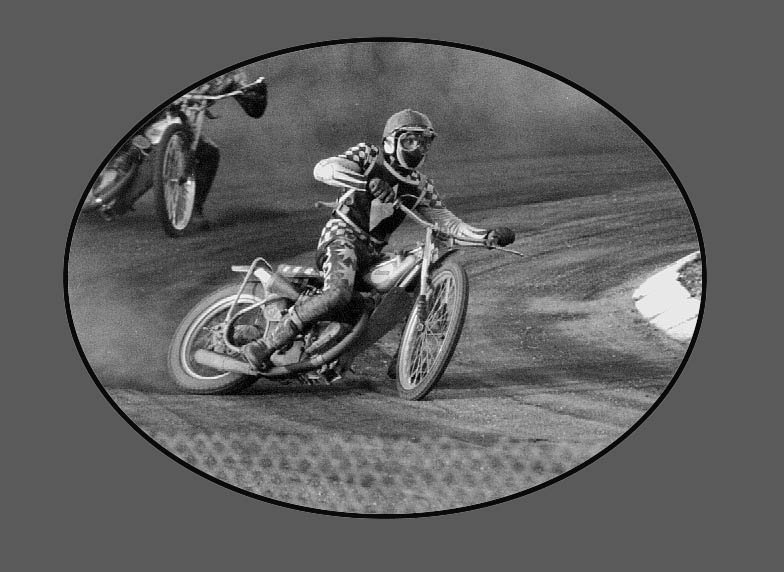 Joe at Brough
The Owen Brothers were from Ormskirk in Lancashire. Both were riding at Barrow in Cumbria in 1974 when Ian Thomas signed them for his new venture! To re-open Brough Park. What a major capture for 1975 these two turned out to be. First it was Tom who made us sit up and take notice, then younger brother Joe started on his winning ways. Every match Tom and Joe swapped top scorers roles with really only mechanical failures and falls stopping both from scoring maximum points.
Joe edged Tom out of the no 1 role and Joe became the brightest diamond for the remainder of the 1970s and early 1980's.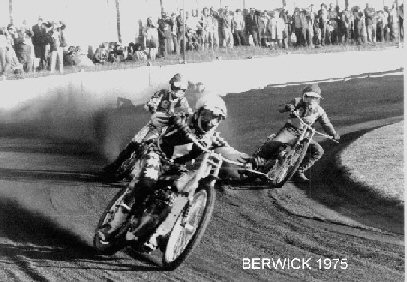 2 shots from John Robson's camera at Berwick. left: we have Tom inside team mate Phil Michaelides and on the right Joe scorching ahead of the home riders.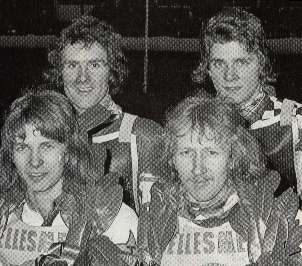 Lot's of hair, lot's of talent - 1976 NNL Best pairs. Newcastle's Tom & Joe (runners up), with the Gunner's pair who won it. Chris Turner and John Jackson.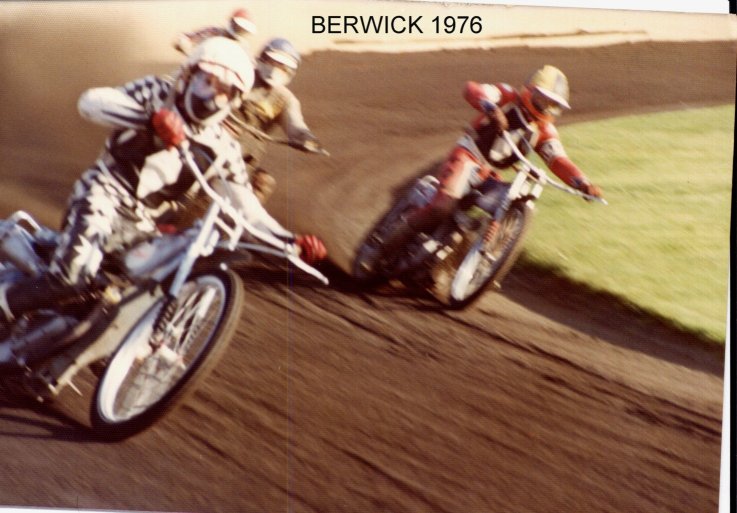 Joe takes the outside at Berwick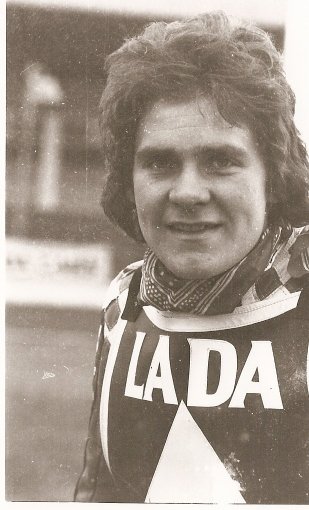 Joe Owen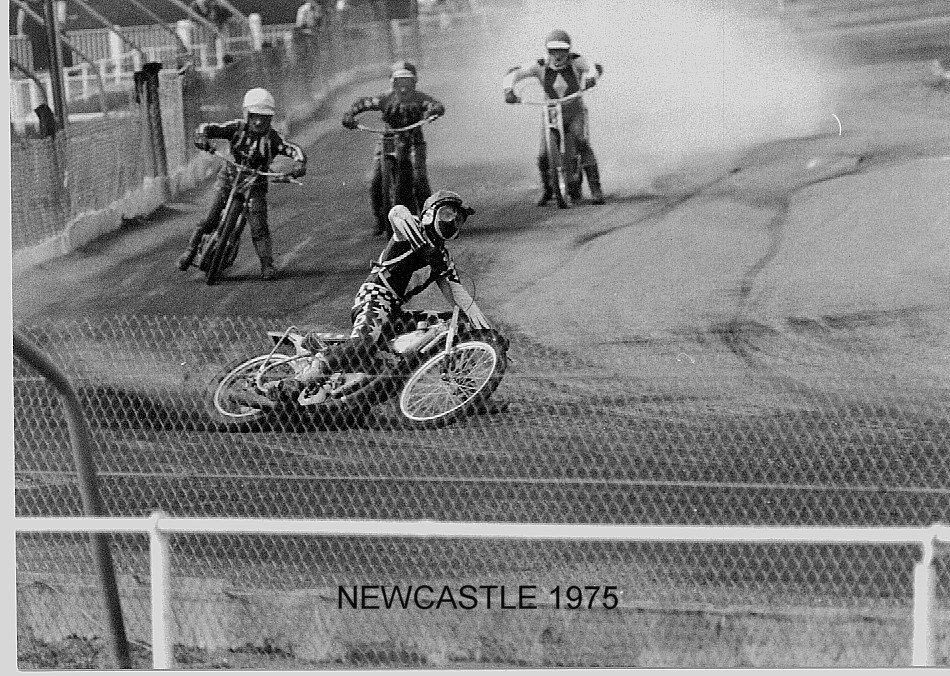 Joe recording yet another win at Brough Park
---
Joe Owen NLRC 1976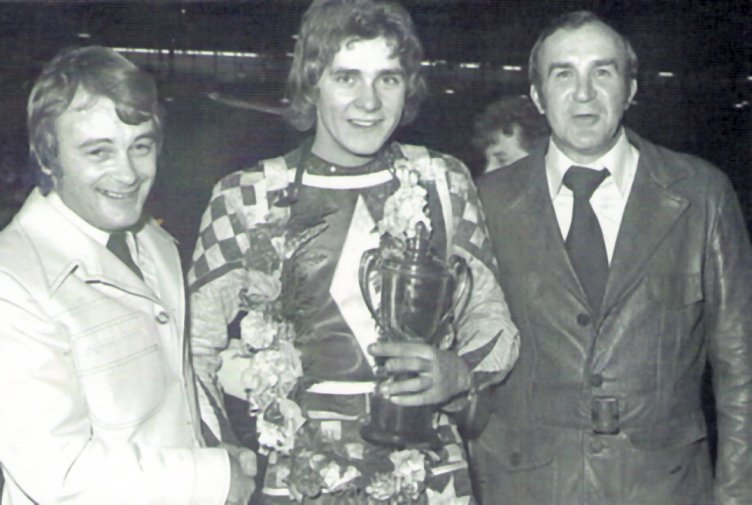 The late great Ian Thomas flanking Joe Owen with Co Promoter Brian Larner. Joe has just won the National League Riders Championship in 1976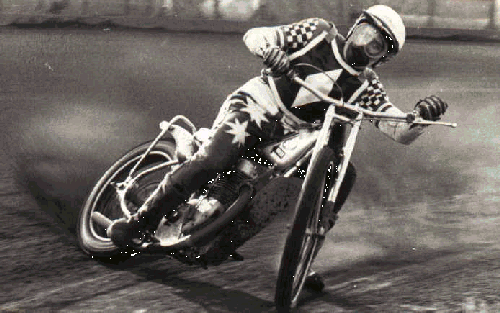 Joe at full throttle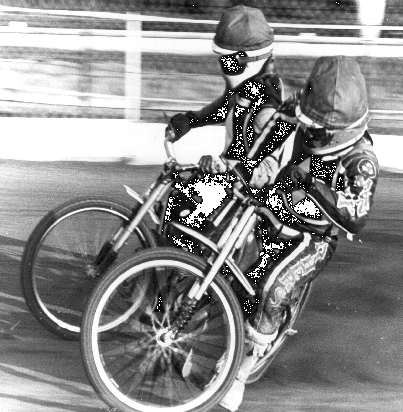 This is Tom Owen
On the inside, doing "the business" team-riding with New Zealander Graeme Stapleton.
Usual stuff from these two! 1st and 2nd for 4 laps and you could throw a blanket over them, they trusted each other so much, they rode flat out inches apart.
2 very skillful riders, making it impossible for the opposition to overtake them. Graeme was very popular and he would thump anyone who said he wasn't! He had a Citroen Safari to carry his bikes around in. The guy practically lived in that car as he was based in London for much of the time he was a Diamond.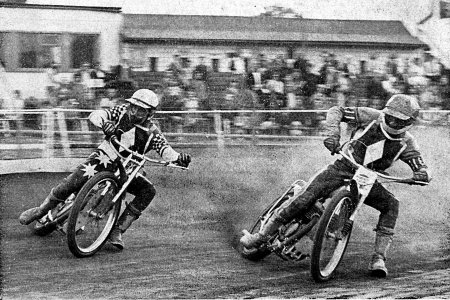 Tom and Joe
match races they had on Monday June 23rd 1975. Tom was the Silver Helmet holder, but Joe was not allowed to challenge him for the Helmet as they were in the same team. As you can see Joe was the winner 2 to 1. The times are interesting as they compare favourably with times in the late 1960ís but only a second or so faster than Frank Hodgsonís record from 25 years before. No doubt track and bike changes affected that. I think you can only say riders like Pepper, Hodgson, Mauger, and Owen Bros. were the best of their time around Brough as they all held the track record.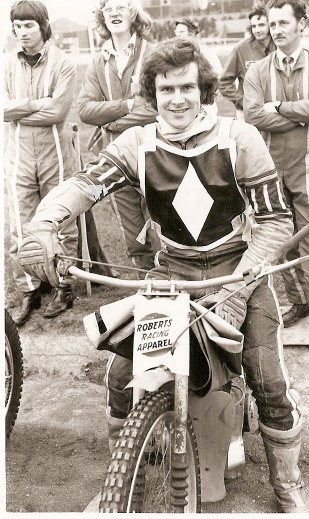 Tom Owen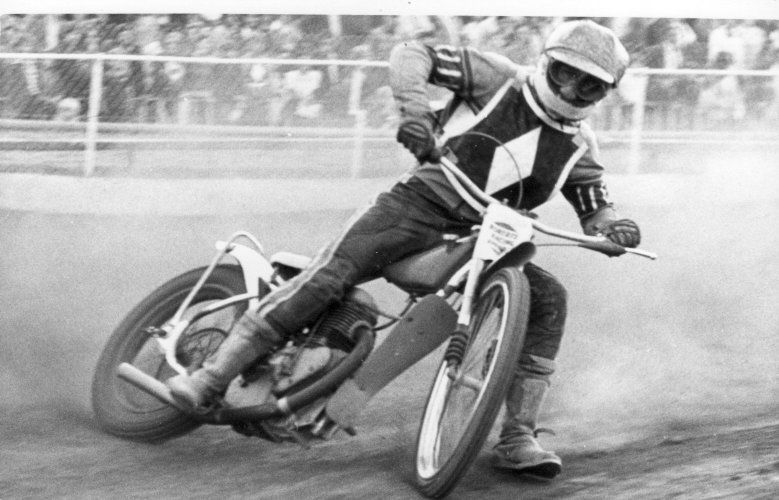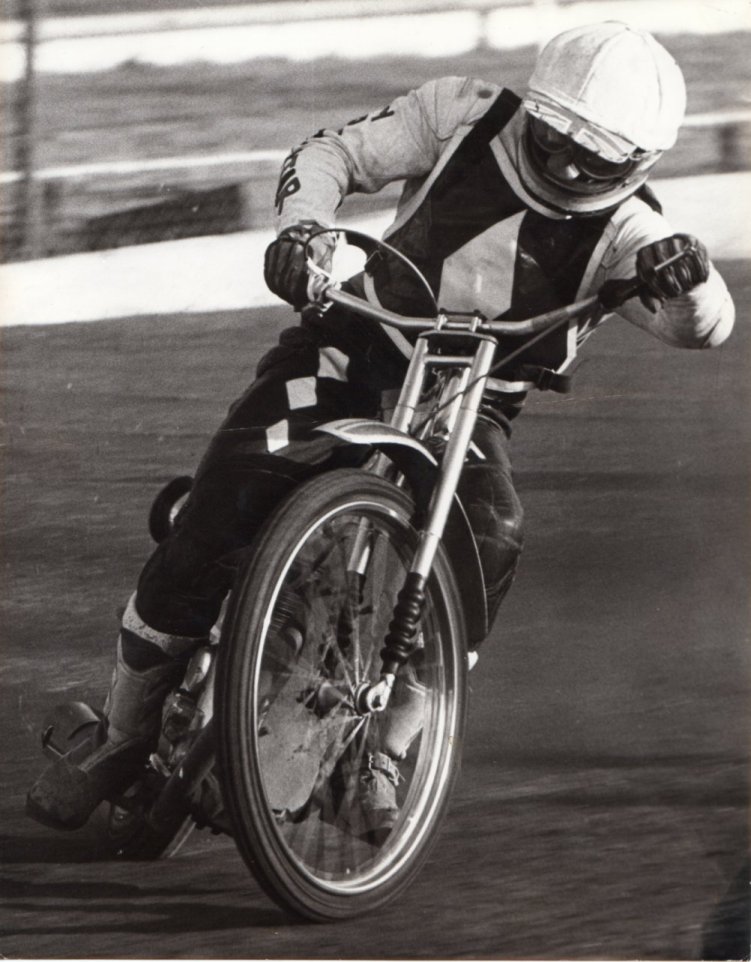 Tom in 1977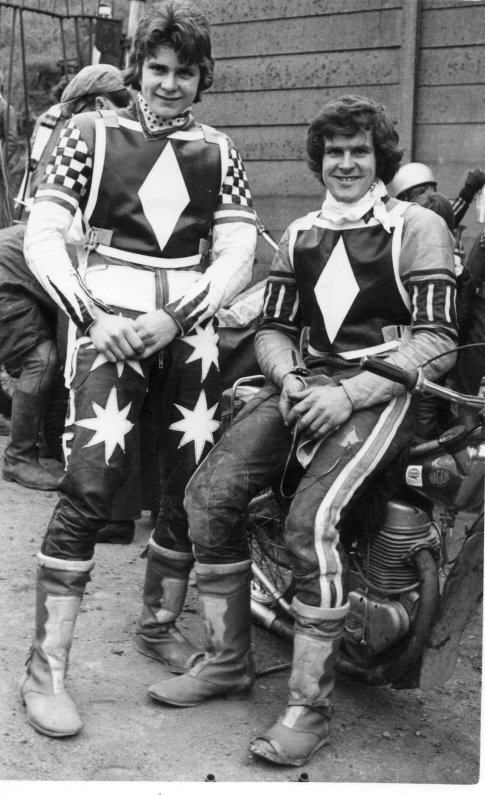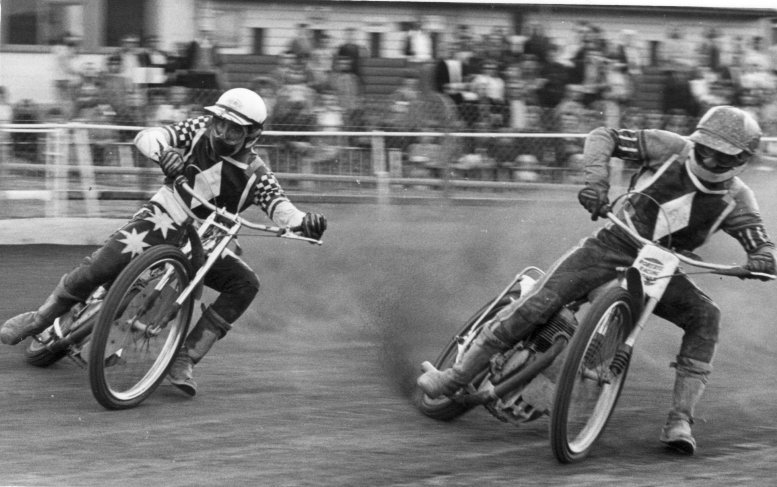 3 pictures of Tom and Joe from Sunderland and Newcastle fan Mike Stores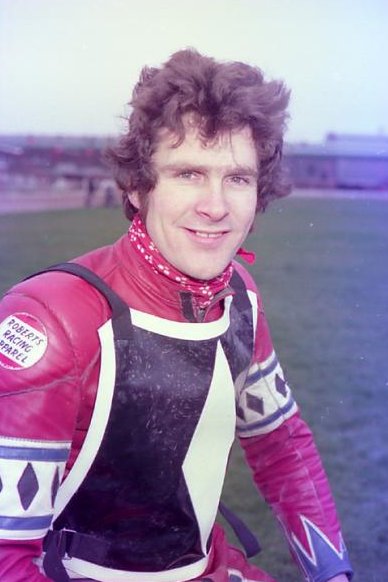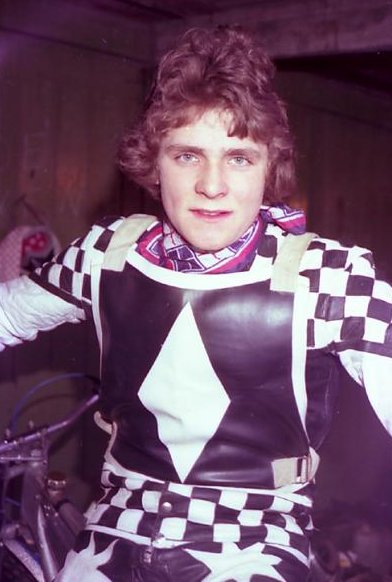 Photos from G Mann
Tom & Joe They carried Newcastle Through the clubs most successful spell 1975 -1984
---
Ron and Neil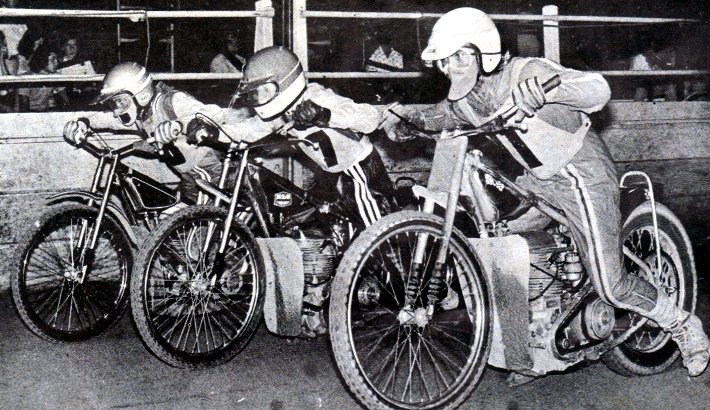 Photo Courtesy of Tony Webb

Ron Henderson, Neil Tomlin and the late Neil Coddington on the inside1974 Queensland junior title at the Ekkaon. Ron and Neil (Fish) became popular members of Newcastle Diamonds during the 1970s.
---
Kenny was a cocky little Yorkshire lad when he joined Newcastle in 1978. He developed into one of England's top men and is famous, some would say infamous, for his on track battles in World Championship finals with American, Bruce Penhall. Bruce and Kenny produced what was probably the best televised Wembley Stadium world final ever in the early 1980's passing and re-passing each other elbow to elbow. Then they almost repeated the act in Los Angeles a year later. Kenny losing out both times to the charismatic American. Controversy and Kenny went hand in glove and he met his death in 1986 in a highly controversial manner.
The newspapers reported that Kenny had shot his wife Pam dead and then turned his shotgun on himself and committed suicide. Two young lives lost in tragic circumstances.
---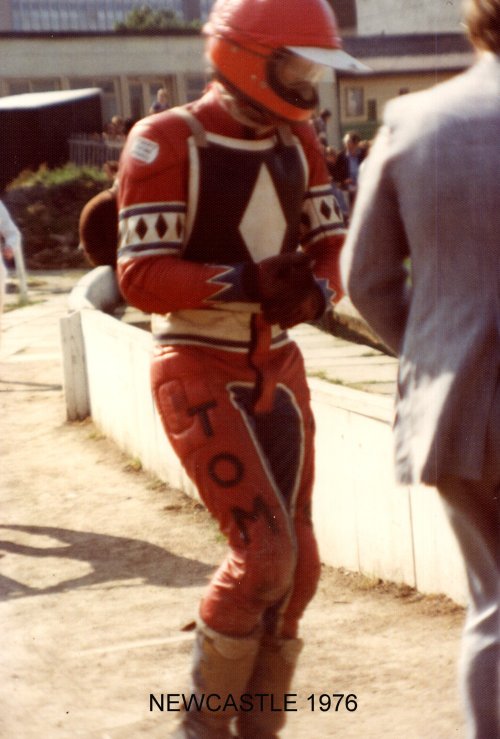 Tom Owen
---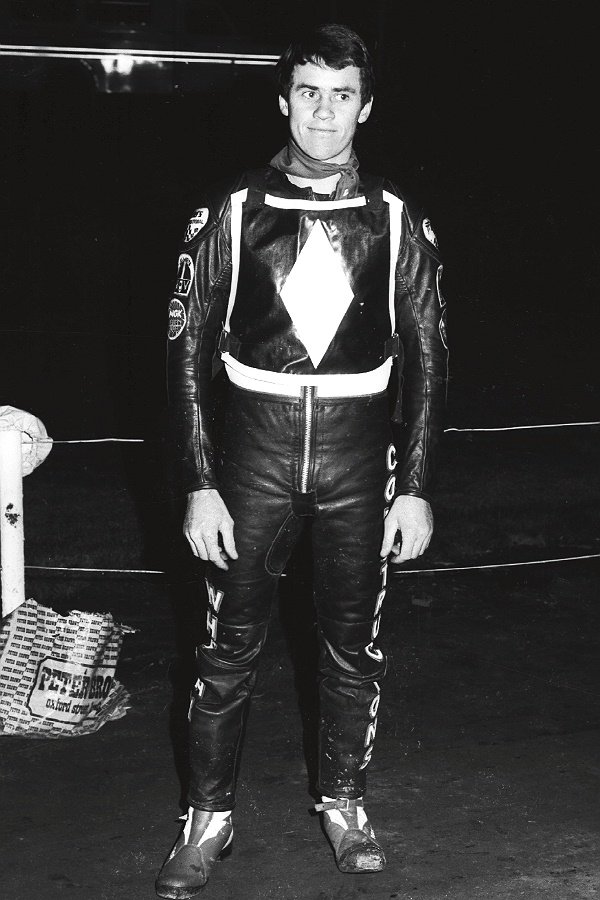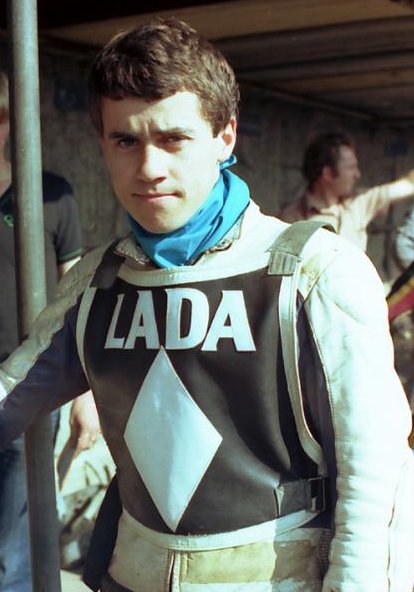 Rod is an Australian who came to Newcastle in the late70s and rode throughout the 80s for us. After a settling in period he started to show that he was going places. A lightning fast gater he often led from start to finish but when he had to he could sweep around the outside in breathtaking style to overtake. I remember Rod and team mate Joe Owen both scoring 21 point maximums in the same match!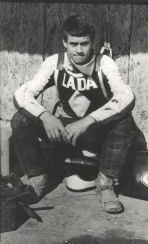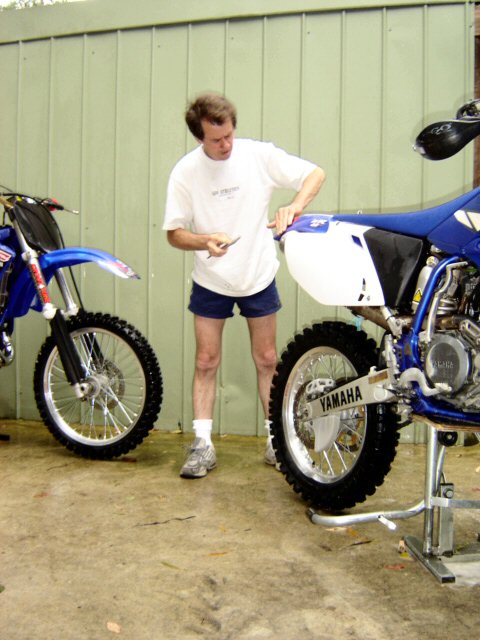 Picture courtesy of Andy Raine
Rod is an all round biker and I still remember him doing a high number of wheelie laps on a motor cross bike. If there is a record for covering the most ground at Brough Park, on your back wheel then Rod holds it. Here he is today, still involved with bikes. Rod suffered from back problems and he eventually went back to Australia with his Geordie born wife Kathleen. They are still together and have two teenage daughters. He now runs a motorcycle and all terrain vehicle franchise.
Rod's Jawa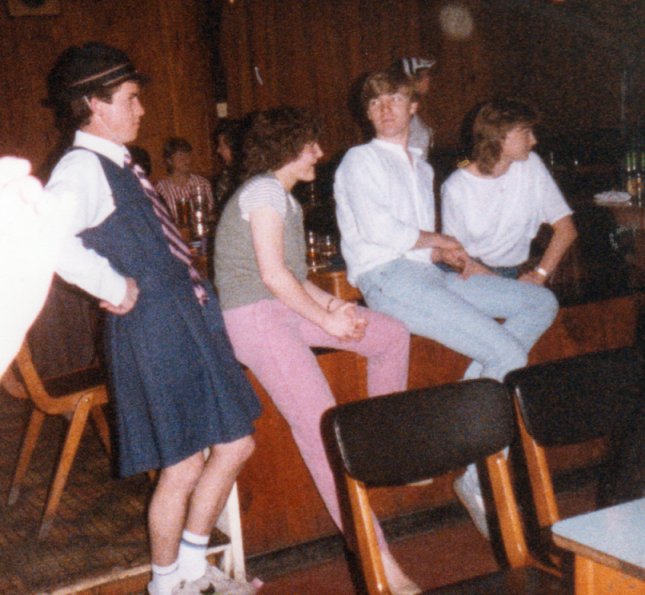 Courtesy of Dave Rowland
Rod in schoolgirl dress. There must be a good reason!
I hope Rod will soon send some pictures and a few of his memories of his time here to share with us.
---
1975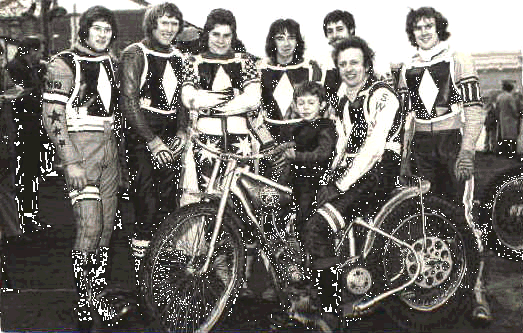 1975 - The start of the most successful period in the clubs history.
Ron Henderson, Tim Swales, Joe Owen, Robbie Blackadder, Phil Michaelides, Tom Owen,Captain Brian Havelock with son Gary on his knee.
One of the above went on to become world champion! which one? Guess!
---
1976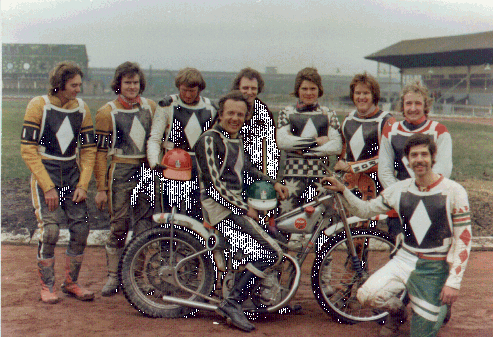 1976 - Robbie Blackadder, Tom Owen, Tim Swales, Mike Watkin, Joe Owen, Ron Henderson, Andy Cusworth, Captain Brian Havelock and Phil Michaelides. Brough Park had a big grandstand and bar on the back straight shown here, now demolished.
---
1977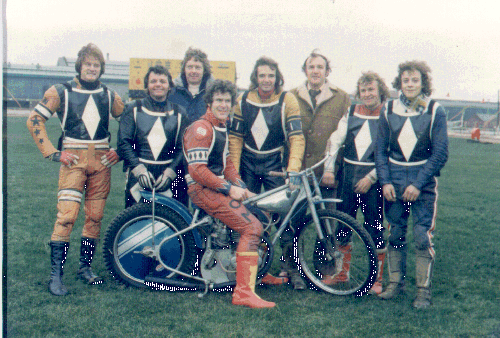 1977 - Ron Henderson, Taffy Owen, Dave Younghusband, captain Tom Owen on bike, Robbie Blackadder, Brian Larner, Nigel Crabtree, Phil Kynman.
(Thanks to Doreen Cormack for providing some of these names)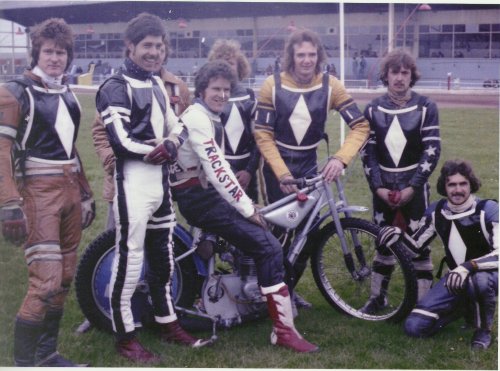 1977 Team
Ron Henderson, Phil Michaelides, Tom Owen, Nigel Crabtree, Robbie Blackadder, memory fails me for the two at far right help me please with their names and the year. John
Update: Doreen Cormack has been in touch she says: its Robbie Gardner and Eddie Argall and the year is 1977. I couldn't argue with that Doreen.. Thanks for keeping me right.
---
Continue with the History of the Diamonds? click here 1970's Part Two
---