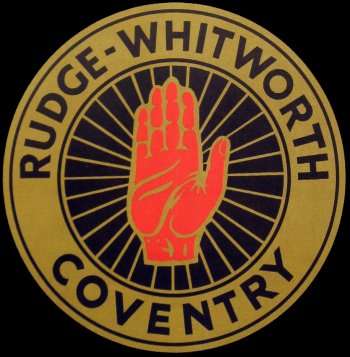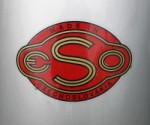 ---
Bikes Page 8
Bikes Page 1 Bikes Page 2 Bikes Page 3 Bikes Page 4 Bikes Page 5 Bikes Page 6 Bikes Page 7
---
Street 4 Valve
Conversion
Joe Owen v
Barry Briggs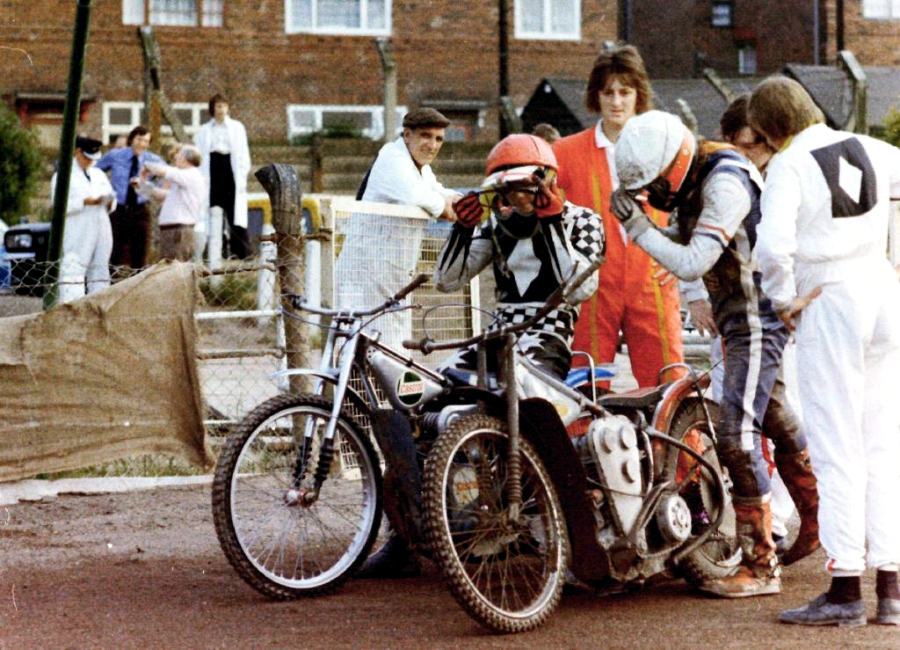 Joe v Barry was a Match Race on 5th July 1976 before the meeting with Peterborough.
John says: Alan's photo shows both riders were using machines with the large cover and 3 bosses. I sent an email half the way around the world to my mate Dave Gifford in New Zealand asking him about this modification. Giffy responded with the following: -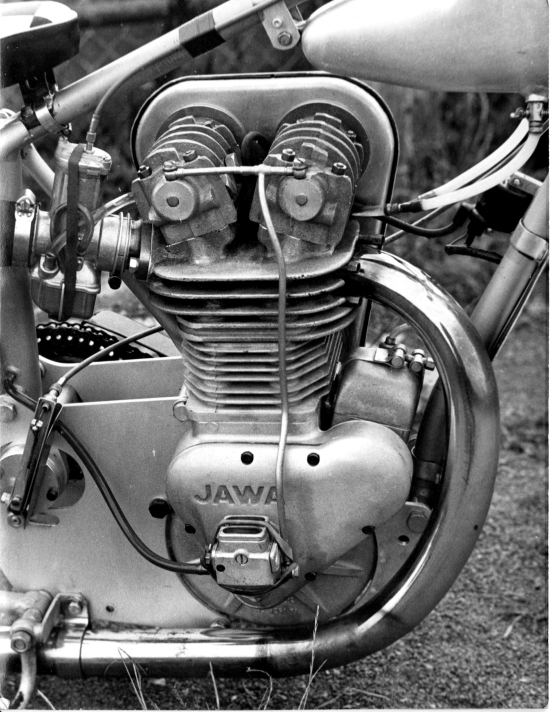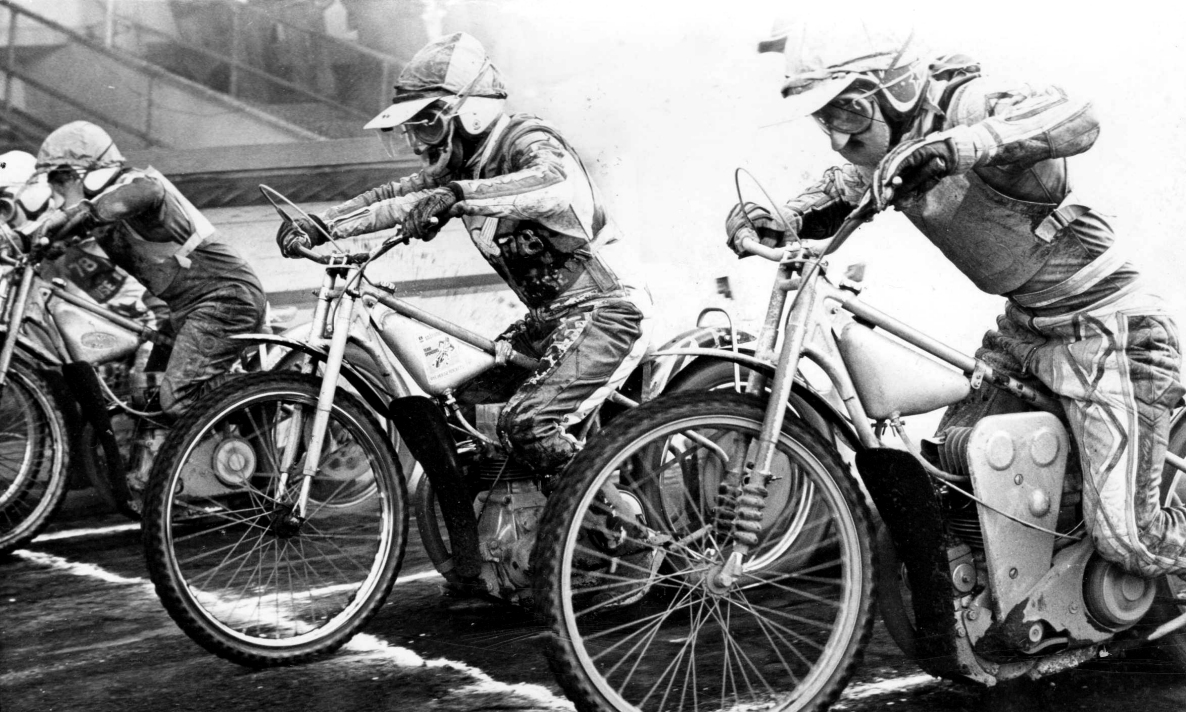 Dave Gifford's pics of his Street Conversion
Hi giffy mate: I hope you are well and haven't contracted covid. Newcastle came v close to closing down a few weeks ago but the promoter Rob Grant junior had second thoughts and has committed himself to Brough having speedway for at least 2022, god knows after that. You will know his dad Rob Grant senior from your Berwick days, no doubt! I am writing to ask you about bikes in the 1970s. Have a look at Briggo's bike in the attached photo. I am a bit puzzled by the large grey plastic thing with the 3 bosses on it. I assume it was to protect the engine from a nuclear attack! but i could be wrong. I have always had an interest in the machines and I cannot believe the shields were in wide use coz I don't remember them at all. So what were they used for and why the 3 bosses?
Giffy says: Hi John, how nice to hear from you and to know that you are well. Things are not too bad here but I fear we all have a long way to go before we return to some sort of normality.
Now to the picture you sent of young Joe and the other bloke. The motor in question is a double overhead cam Mk 1 4 Valve Street. Developed by Neil Street and Ivan Tighe in Australia around 1975. The design was the only true overhead cam where the cam opens the valve directly unlike the Jawa and GM which use rockers in between the cam and valve. The plastic thing with the bosses you mentioned is actually aluminium and covers the cam chain which is driven by a sprocket behind the primary chain sprocket . The two top bosses are where the two cam sprockets are located and the lower one is where the adjustable idler is. The British made conversions made by Neil Street used chain covers of beaten aluminium sheet while the ones made in Aussie by Ivan Tighe were castings. Hope this all makes sense old friend, I have att a couple of pics (see above), of a Street motor I used at Berwick. Hope things get sorted at Brough. All the very best John and stay safe, regards, giffy
Joe Owen Putting his Street Conversion Through a
High Speed Test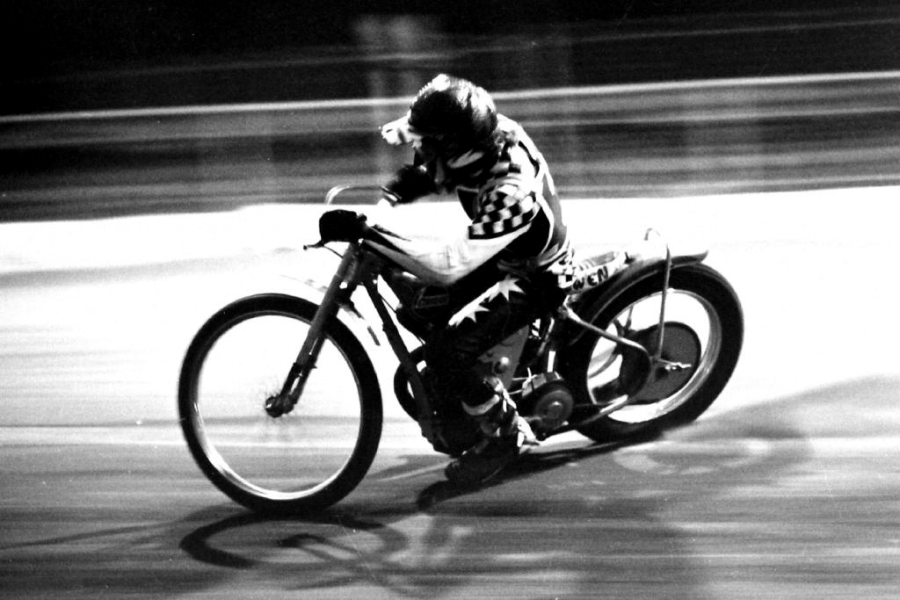 Courtesy of Alan Johnston
Briggo 4 Valve Conversion
4 time world champion Barry Briggs put his famous "Briggo" name to another 4 valve conversion kit. if you have any pictures of the Briggo bikes please email me
John
Hi John I have a new 4 valve conversion kit for a 890 Jawa complete with modified cams. I am overseas at the moment and I think it says Briggo on the rocker cover (Barry Briggs) I assume. I am not a speedway person but I have few speedway engines including what I think is a MK 1 Maley Could you let me know how successful the Briggo 4V kit was and how many were made. Thanks Tommy.
---
Tony Webb Australia
Tony and I exchange emails from time to time. He and I share a passion for the machinery used on speedway tracks around the world over the years. I have added this page to show some of the machines he has unearthed, thank you Tony
Osbourne Engineering Company

(OEC)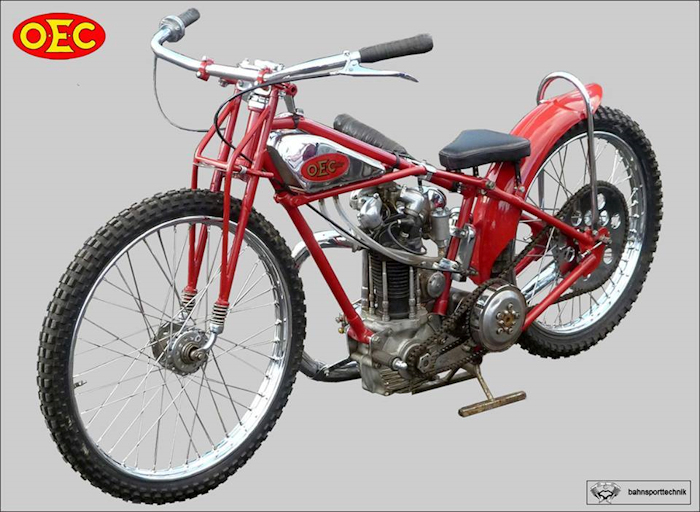 Courtesy of Tony Webb
I believe OEC was an English engineer/bike maker. I understand OEC stands for Osborne Engineering Company, correct me if I am wrong about this John The above picture shows a great restoration of an old British machine housing the almost

compulsory JAP engine

.
More

OEC

Machines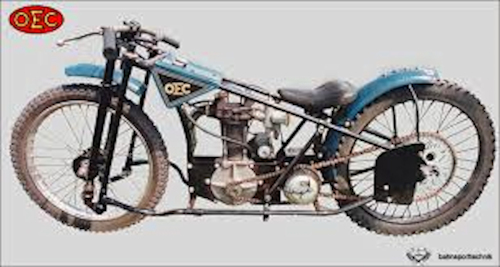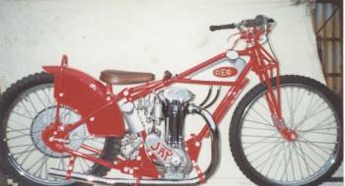 OEC Owned by Noel Clark
---
ONC

Bike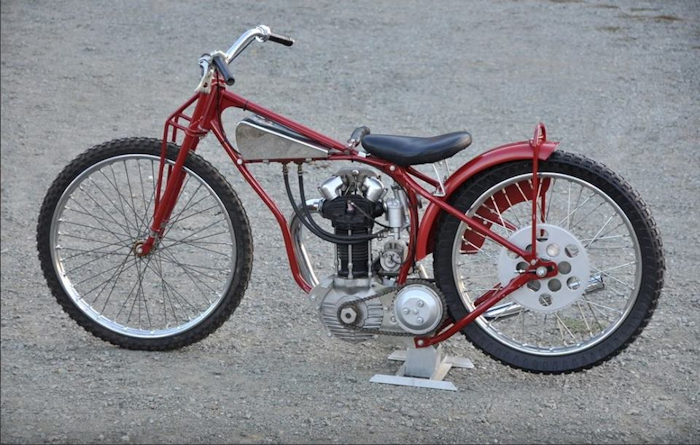 Courtesy of Tony Webb
Tony thinks this bike may have been used in the Netherlands but little is known about it. The bike wouldn't get very far as the rear chain is missing! John says: It is possibly a JAP long track machine. I don't know anything about this bike so do you recognise it?
---
Pre War

JAWA


Long Tracker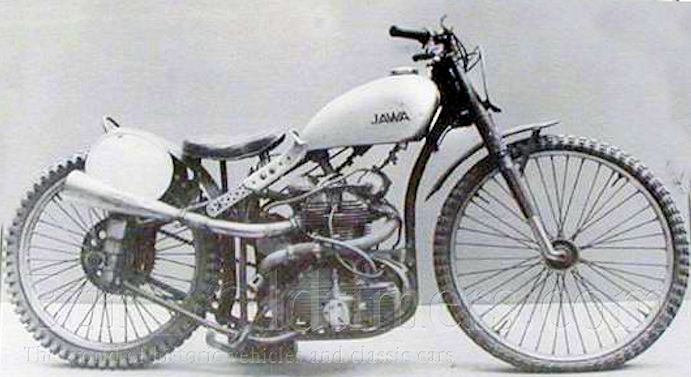 Courtesy of Tony Webb
Pre war Jawa longtracker
. The machine has a very big oil sump/crankcase
---
Skilton Rudge

/JAP

1936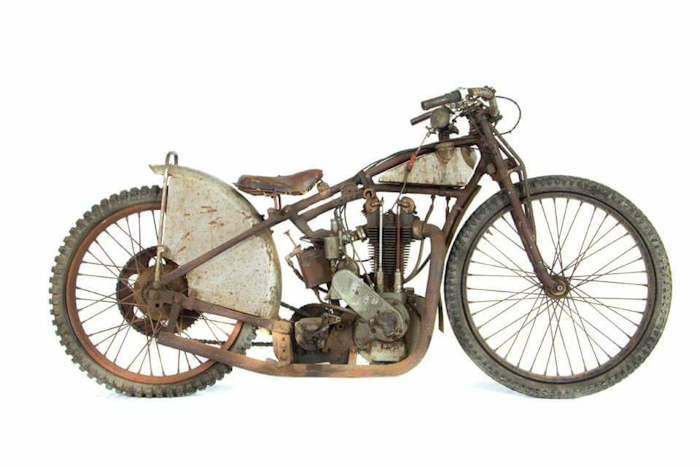 Courtesy of Tony Webb
Skilton Rudge 1936. Note plunger on oil pump and down draught on carb.
Vintage collectors do not see a rusty old bike they would say it's "patina" is attractive and I agree sometimes but love to see old bike restorations too!
---
Comerford

JAP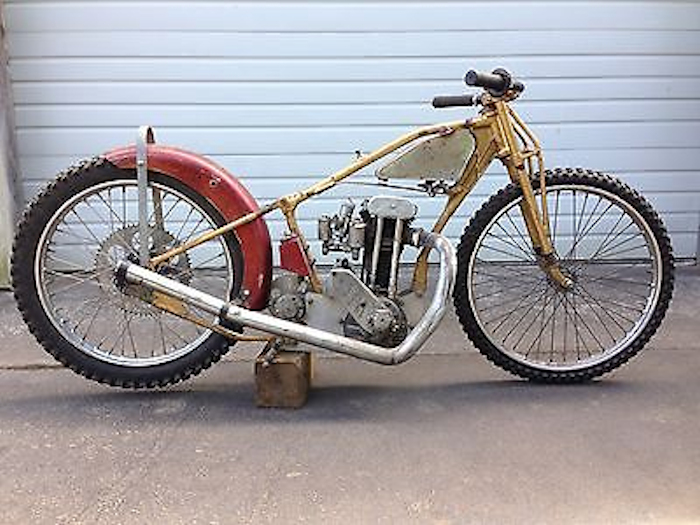 Comerford JAP Unusual engine position. Looks like original diamond with headstock plates indentations. not sure about the bottom chain stays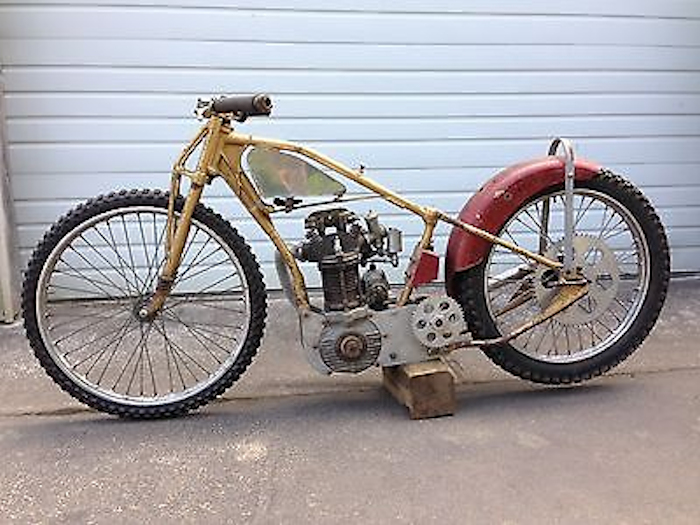 Courtesy of Tony Webb
---
JAP v HRD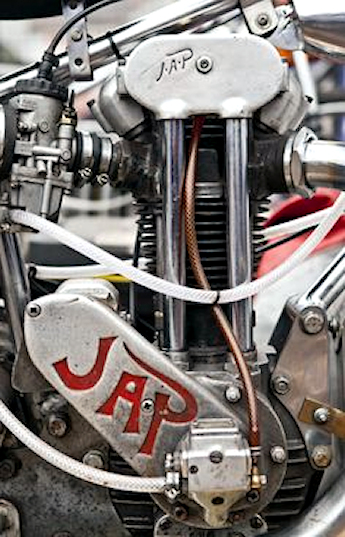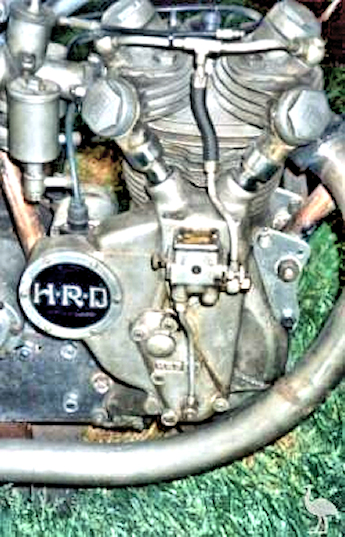 Courtesy of Reg Fearman
Reg Fearman says: The J.A. Prestwich speedway engine is easily recognisable and reigned supreme for some 60 years. Does anyone recognise the H.R.D. ? It was produced in a small number around 1947 - 1948 for speedway racing. Malcolm Craven raced quite successfully for the whole season with the engine. The West Ham Mechanic Alex Moseley was quite involved with the H.R.D. and built the frame that it 'rested' in. Unfortunately the new price of the engine compared to the J.A.P. proved prohibitive so the venture was abandoned at the end of the season. Much later the 'Matchless' engine was tested and tried in practice.
John says: JAP are the initials of the inventor of the engine. He was called John Alfred Prestwich. The HRD initials stands for the founder's name Howard Raymond Davies. HRD Motorcycles were produced from 1924 to 1928, but the undercapitalised company, although having a reputation for performance, struggled to survive, and was ultimately sold to OK-Supreme, who then sold the name and goodwill to Phil Vincent, a motorcycle designer. His name was then incorporated into a new company, The Vincent HRD Company Ltd. A 500cc speedway machine was developed under the name Vincent Vampire but it didn't last long. JAP had seen off all-comers until the Czech ESO came along in the 1960s.
---
Briggo's Handlebars!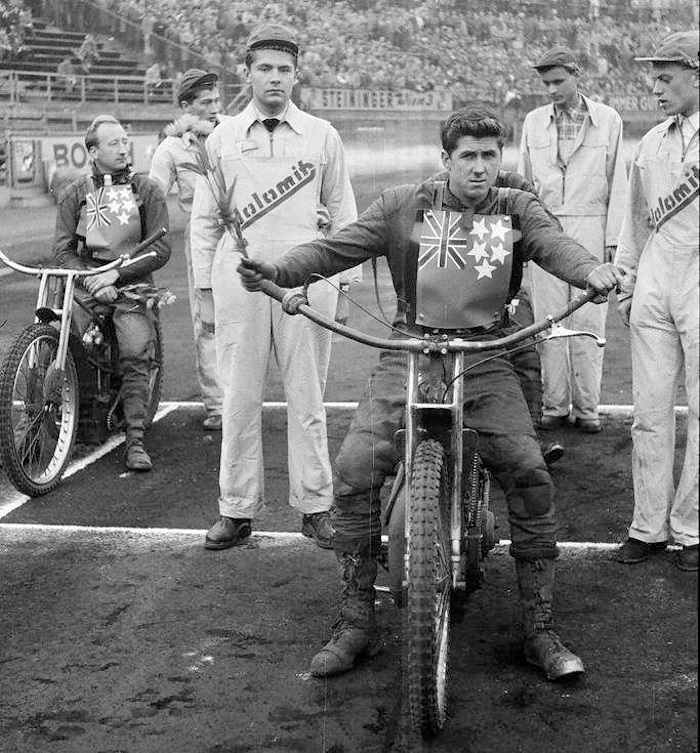 Courtesy of Tony Webb
Tony Webb says: Briggo with some extra wide handlebars, note the position of the clutch lever and the trend that briggo started by turning the throttle cable skywards. Jack Geran in the background on what looks like a early Huck Fynn. Photo source unknown
John says: In a chat with Ivan Mauger I asked him about these wide handlebars from years gone by. He said when tracks were deep, to turn a JAP you needed extra leverage. John says: Barry's clutch lever may have been personal preference but I remember Mike Broadbanks gripping his bars in a similar position well away from the ends. These wide bars must have meant extra strain on the clamps at the fork yoke. I had a Royal Enfield road machine to which I fitted "ape-hanger bars" and the leverage meant the bars were always moving about, so I went back to straight handlebars for safety's sake and discarded the "Easy Rider" bars to the scrap heap
---
1929
Blackburne
Wallis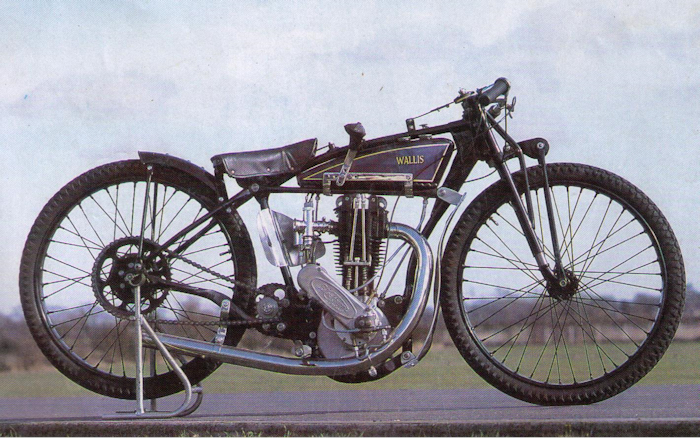 Courtesy of Tony Webb
This bike is a little different from the norm! The rear chain looks lonely! I suspect the primary chain will be on the other side, quite unusual Mr Wallis!
---
Early Riders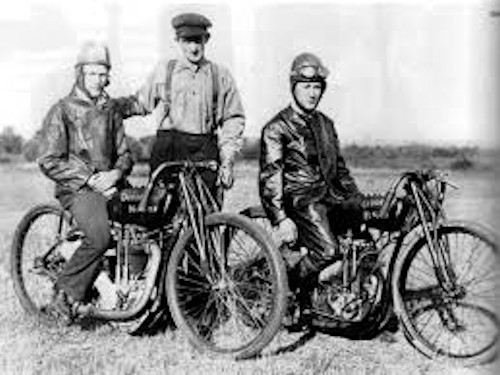 Courtesy of Tony Webb
Tony Webb says: Charlie Ogden was one of the most respected engine tuners in Australia. The riders either side of Charlie are John Patman and Bobby Blake , the photo is believed to have been taken at Moore Park in Sydney.
John says: These riders are on identical machines possibly OEC engines but their handlebars suggest they are mounted on Harley Davidsons. I think OEC engines, but if you can help send me an email John
---
The Comerford Special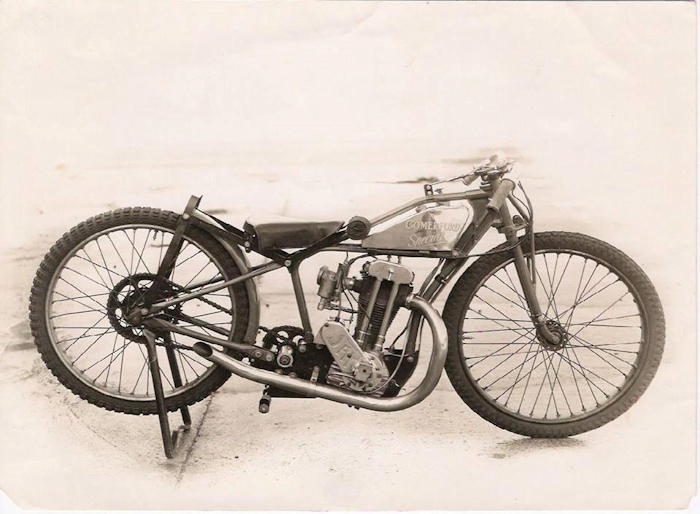 Courtesy of Dave Gifford and Tony Webb
"The Comerford Wallis with direct drive 1932 Photo Giffy
".
John says: a JAP" with "Skinny" tyres. I don't understand the term "Direct Drive" I think all speedway bikes are direct drive via a chain from the engine sprocket to the rear wheel sprocket via the clutch. They don't have gearboxes! I will email giffy in NZ for his advice as maybe I am missing something here?
Giffy says:
Hi John old mate, I think this is a pic I sent to Tony, I have a Wallis frame that he wants to buy and the Comerford was developed from the Wallis. Anyhow, what he said is not quite correct, a true direct drive is when a single chain or belt runs from the engine to the back wheel. The early board track racers were like this. The Comerford and several other early speedway bikes used a countershaft system like the one in the picture which enabled gear ratios to be more easily obtained. The down side of this system was that the bikes were hard to move around, when the back wheel turned so did the motor and a decompresser which lifted the exhaust valve off it's seat was fitted to early JAPs I think it was around 1933 when clutches fitted to the countershaft became the norm and gate starting became possible. The correct way to describe modern transmissions might be Single Geared with a clutch. Hey man, the maggies are back next season!!!!!!!!!!!!!!!!!!!!!!!!! All the best, giffy
John says: Hi giffy, Thank you for the tech info. As a Magpies fan you must be happy that the "Toon" have been promoted to the Premiership 2017 as I am too, "Howay the lads" let us pray the team can attract top players with a 100 million player fund pot. Problem is other teams are paying nearly that for just a couple of players.
---
The Fastest Quarter Miler, A Wallis JAP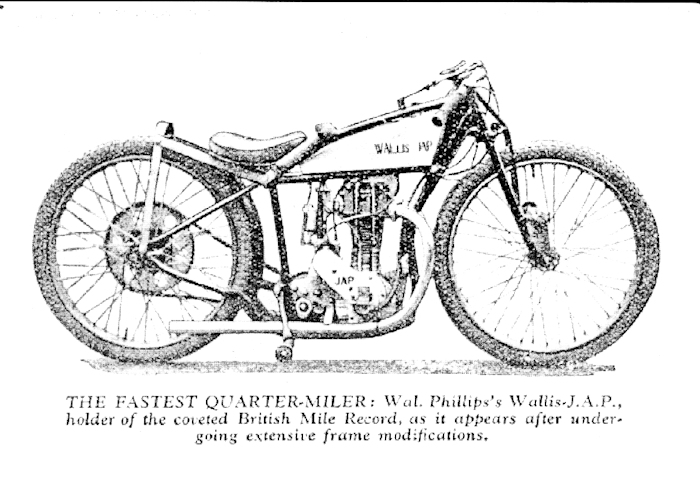 Courtesy of Tony Webb
The JAP engine's brute force torque, developed by the long-stroke engine and it's high compression ratio propelled this bike to break the quarter mile speed/time record and the Wallis JAP bikes were excellent speedway machines too
---
3 Bike Pics From Giffy
Rotrax

JAP

1966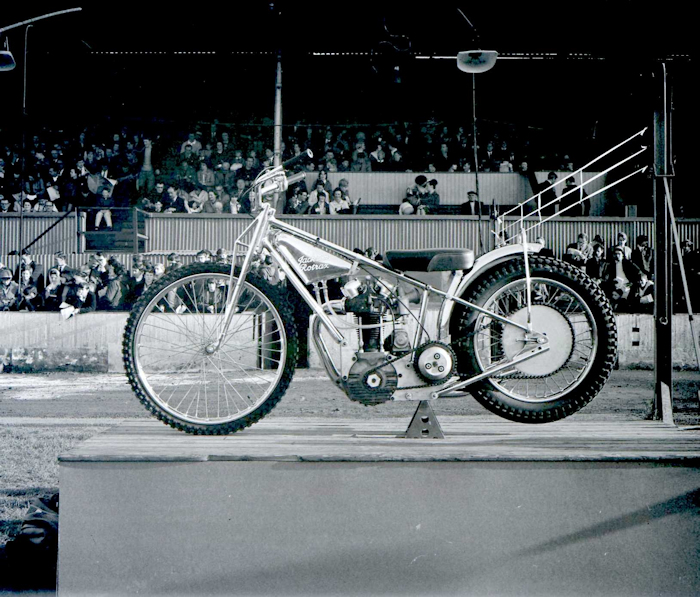 John says: Thanks giffy The most beautiful speedway bike ever made in my opinion. The mighty JAP engine housed in the Rotrax frame.
The Rotrax was first prize at the Scottish Championship 1966 at Old Meadowbank
28th May 1966. The bike was brand new hence the solid rear sprocket. Riders drilled out the socket to lighten the weight slightly. I wish I had one to start up on sunday mornings to annoy my neighbours!
Early

1960s ESO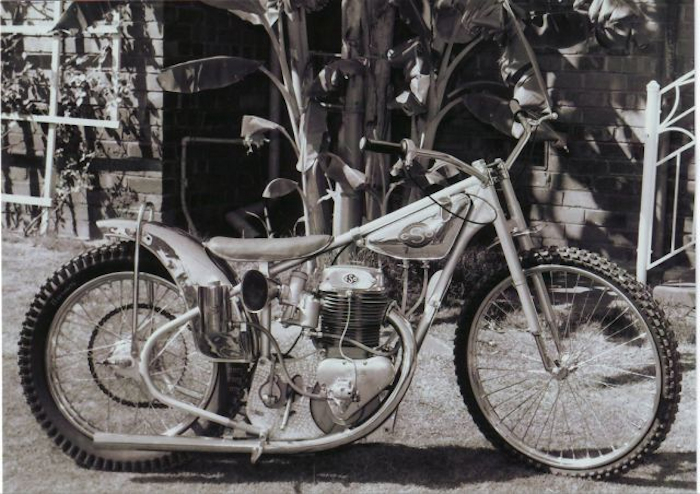 Another great looking machine. This Eso was the first to be imported into Australia sometime around 1960. The ESO had a shorter stroke engine and needed far less work than the JAP. It was also easier to ride, so move over JAP, the Czech machine later to be called the JAWA was about to claim first place in world speedway and Justifiably so. Much as I liked the JAPs they just couldn't compete with the ESO/JAWA which were cheaper, more reliable and easier to ride.
Another

1960's ESO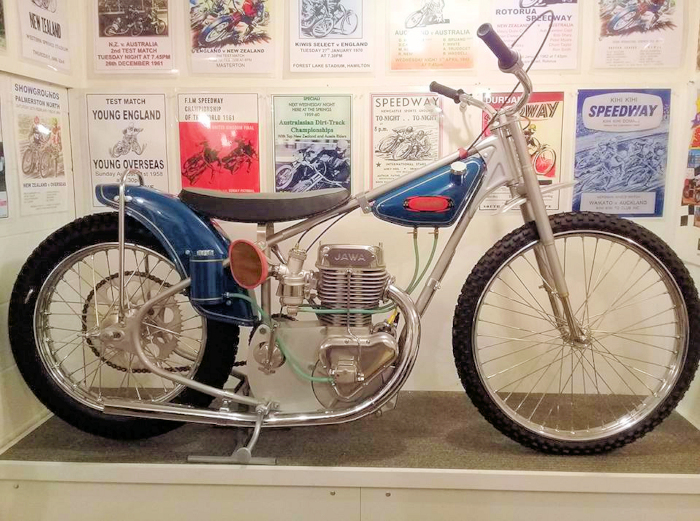 Dave Gifford says: Hi John, hope all is well. I have attached a pic of a 1967 Jawa I tidied up a few years ago but never got around to taking a photo of it, til now. All the best, giffy
Giffy's Cave
Hi John, hope you are safe and well during what must be a very difficult time in the UK. I have att some pics taken in my "cave",most of the bikes are finished, a couple of air cleaners to come back from the chrome platers and that's it. No more to do for myself but a bit of stuff for other people will keep me busy. I will hold on to bikes for about a year and then I intend to sell them, I don't want to fall off the perch and leave it all for someone else to sort out!
I take it there was no speedway at all at Brough last year? Must have hit the riders and promoters really hard, a great shame to be sure. Anyway mate the pics are there if you want to use them in the Bike pages and I hope things improve quickly for you and all my old friends over there.
All the best, giffy
PS photos aren't the best quality, I got her indoors to take them with her mobility telephone and she was shaking a bit with the excitement of being allowed in the "cave."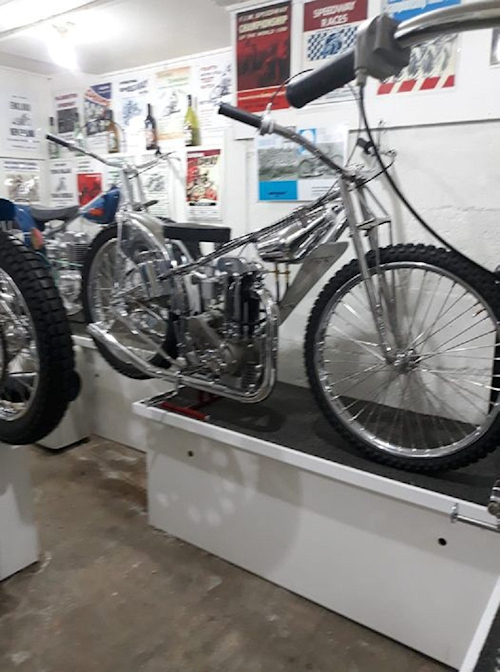 Giffy's Cave 1: Courtesy of Dave Gifford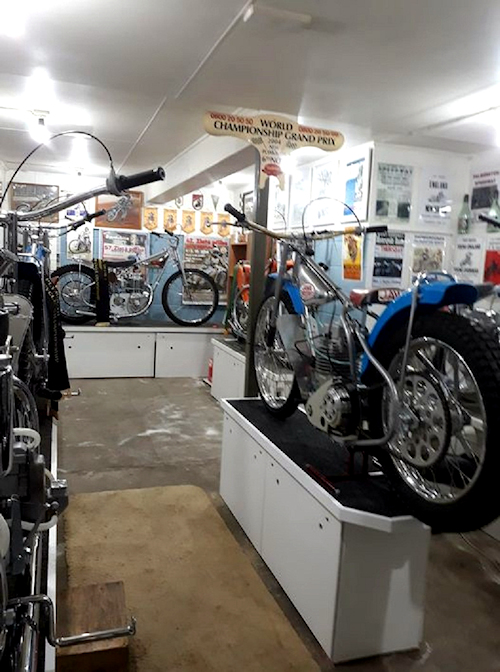 Giffy's Cave 2: Courtesy of Dave Gifford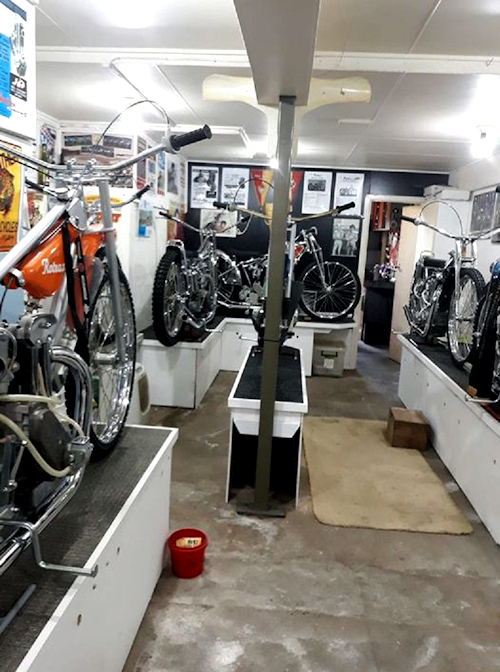 Giffy's Cave 3: Courtesy of Dave Gifford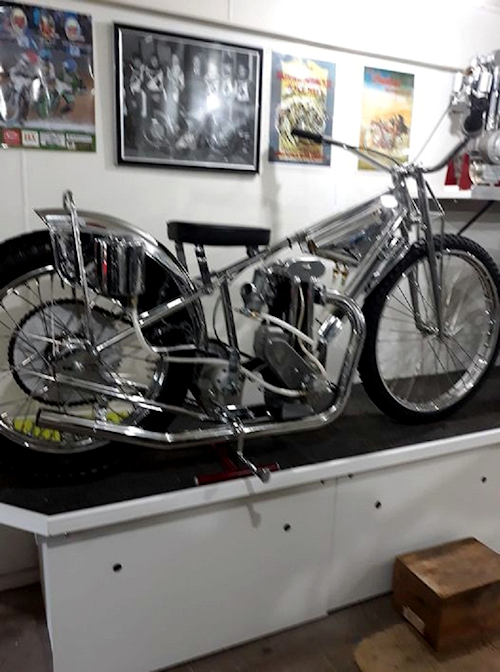 Giffy's Cave 4: Courtesy of Dave Gifford
Dave's glittering chromed collection of speedway machines he has on show, on plinths, around his man cave is a breathtaking sight for all bike fans. It sounds like he isn't about to take on any more restorations for himself and is limiting himself to doing jobs for others. Correct me if I am wrong giffy. My last word is, "Is there any finer sight than a fully chromed Rotrax JAP?"
---
Gerhard Engine Co
The New Kid On The Block!
Marcel Gerhard (I believe he is Swiss?) is a former speedway rider who competed in Speedway, Longtrack and Grasstrack Racing. He reached 12 Longtrack world championship finals and took the top honors in 1992. Marcel started retailing his brand new GTR engines at £3,950.00 +VAT for the 2017 season. Jawa and GM now have another serious rival. Someone needs to do a "Top Gear" type comparison between the 3 machines! Newcastle rider Ludvig Lindgren and his GP rider-brother Freddie Lindgren have the engines.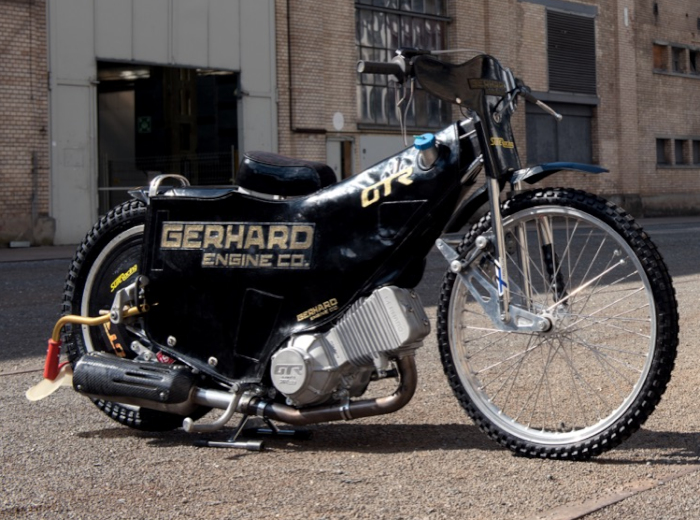 Courtesy of J Spoor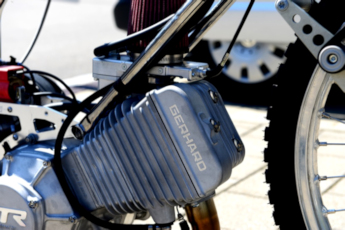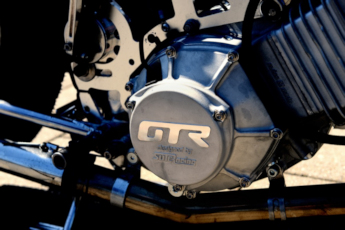 Courtesy of J Spoor
The Gerhard Engine Co. is a collaboration between speedway tuner Marcel Gerhard and Suter Racing Technology. The innovative GTR Project is a complete new speedway engine concept to bring speedway into the 21th century. More than 30 years of speedway experience of Marcel Gerhard meets the latest technology by Suter Racing. The concept is simple: position the GTR engine as a high quality product on the market, make it "the engine to beat" in the future.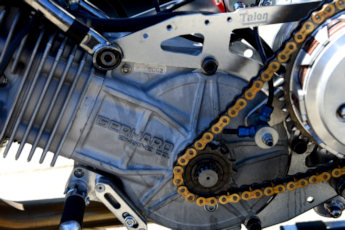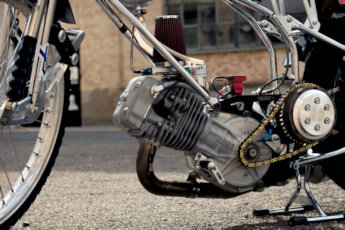 Courtesy of J Spoor
The business side of a speedway engine. The powerful 500cc single cylinder engine turns the small engine sprocket and the primary chain transfers the energy to the Clutch sprocket which in turn drives the rear chain which ultimately turns the back wheel, this all happens in the blink of an eye.
I am really impressed by the Gerhard machine although I can only look at pictures of it, but never-the-less the pictures radiate quality. Time will tell if the Suter Racing GTR can stay the pace set by GM and JAWA. I hope it does.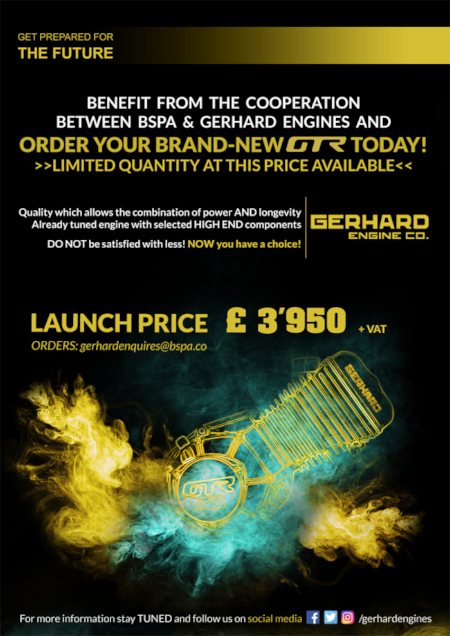 Courtesy of BSPA
---
Name The Bike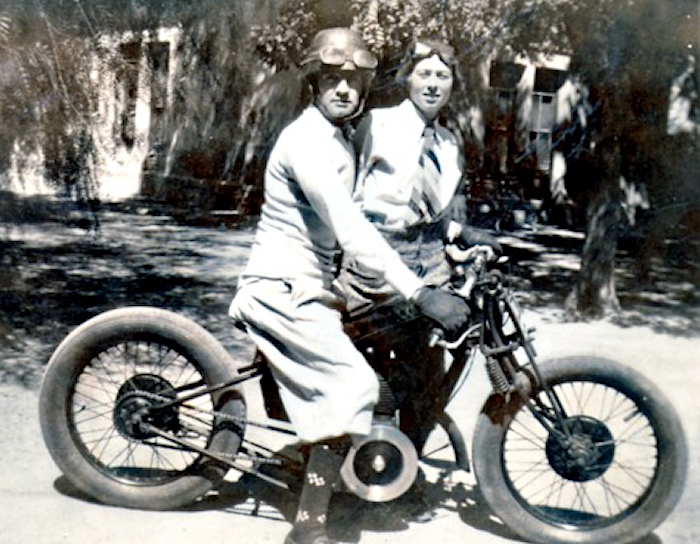 I received the above image from Anibal one of my websites Argentinian visitors. He has this photograph of a stripped down bike which he thinks could be a 1926 AJS and the photo may have been taken around 1930. I do not recognise the large flywheel and do not think the bike is a 1920s AJS. Can anyone identify the machine?
John
I dread to think of the injuries the rider would get from slipping back off the saddle onto the rear wheel at speed!
Robbie Huddleston says: It's a 1929/30 350cc FN side valve (used to have a couple of them). Rob.
John says: I googled FN and discovered they were made in Belgium. Here is a picture of what I think the bike looked like before it was stripped down by the Argentinian guy in the above picture. It looks like the bike had a small capacity 2 stroke engine?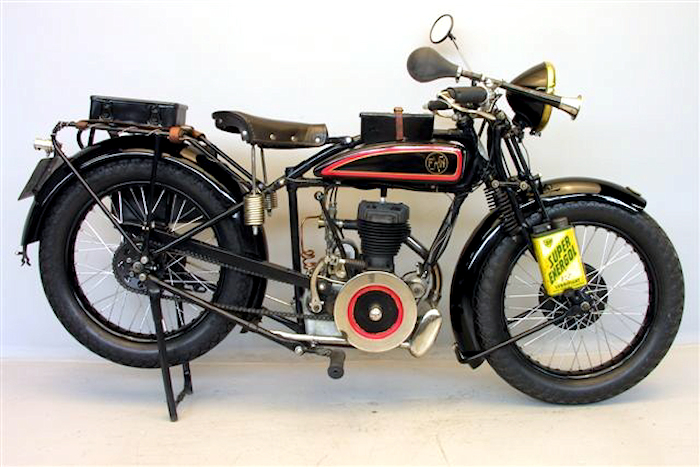 John says: I love old bikes but don't know anything about the Belgian FN. The bottom pic seems to be the same or similar to the stripped down machine at the top of this section. The engine looks puny! less than 500cc and is a two stroke. But in far flung areas of the world there must be people with limited resources racing any machine they can get their hands on.
---
AJS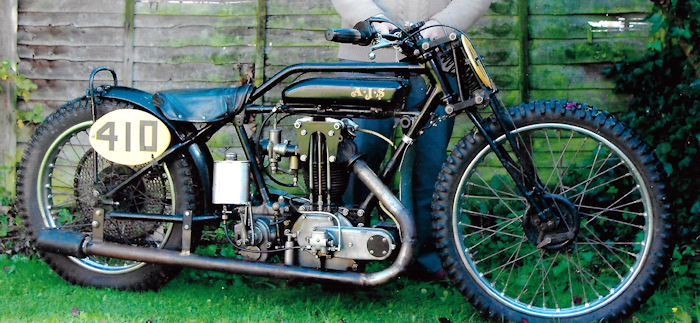 ---
1948

Elstar

JAP
Grasstrack Bike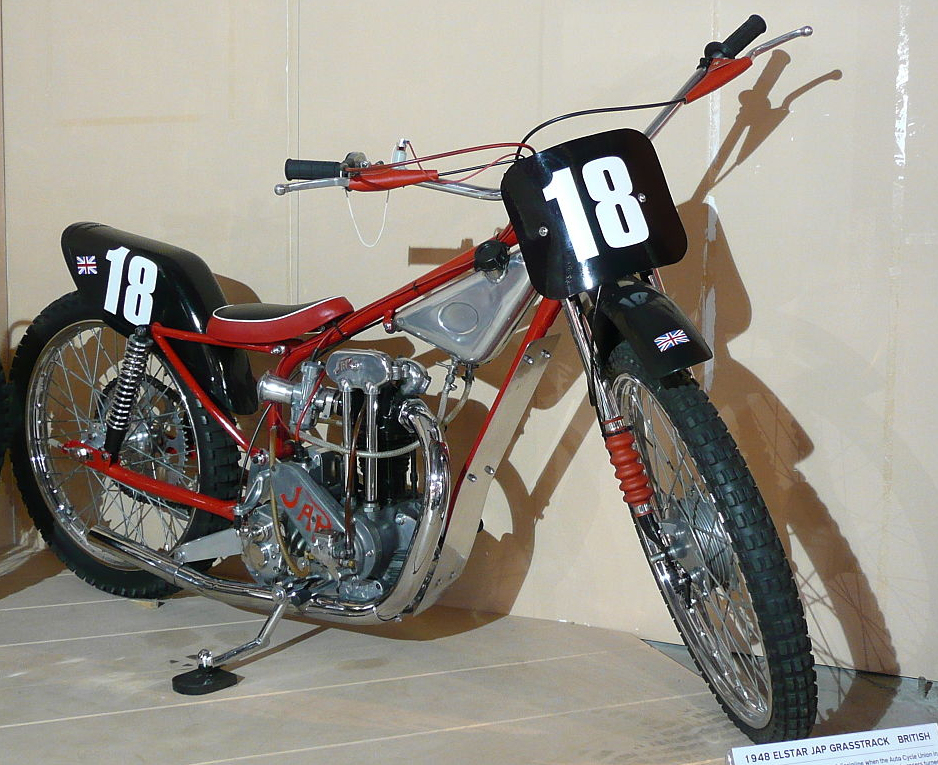 Courtesy of John Spoor
---
Reg Fearman's Speedway

Bike

Machine Pictures
John says: Reg and I exchange words frequently by email and he has helped me often with my websites. Reg never calls speedway bikes, bikes! He always refers to them as Speedway Machines. He has sent me a number of pics of machines which I am happy to show below: -
1928 Douglas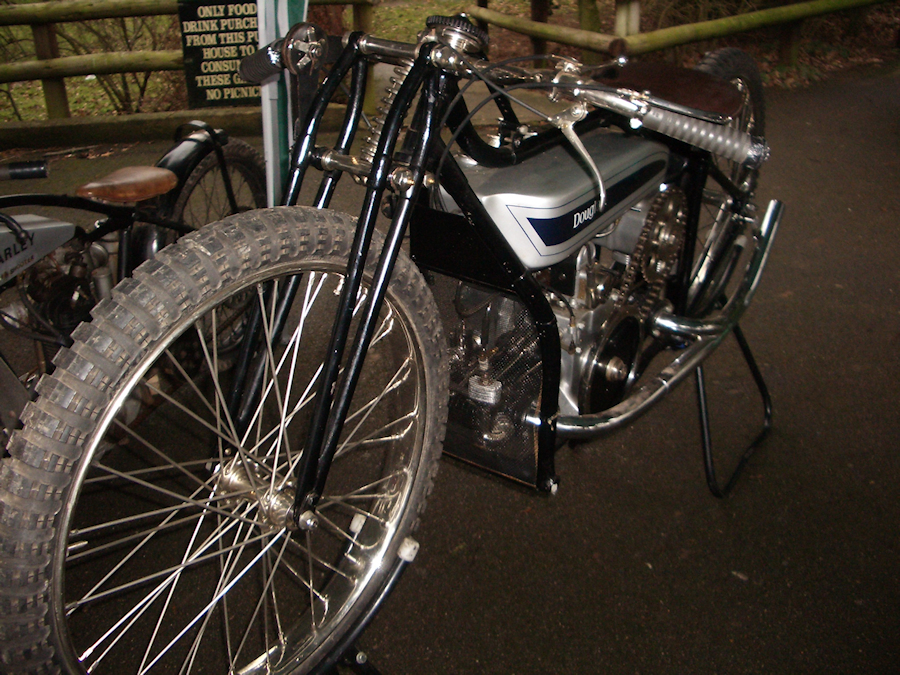 Fay Taylour on a Douglas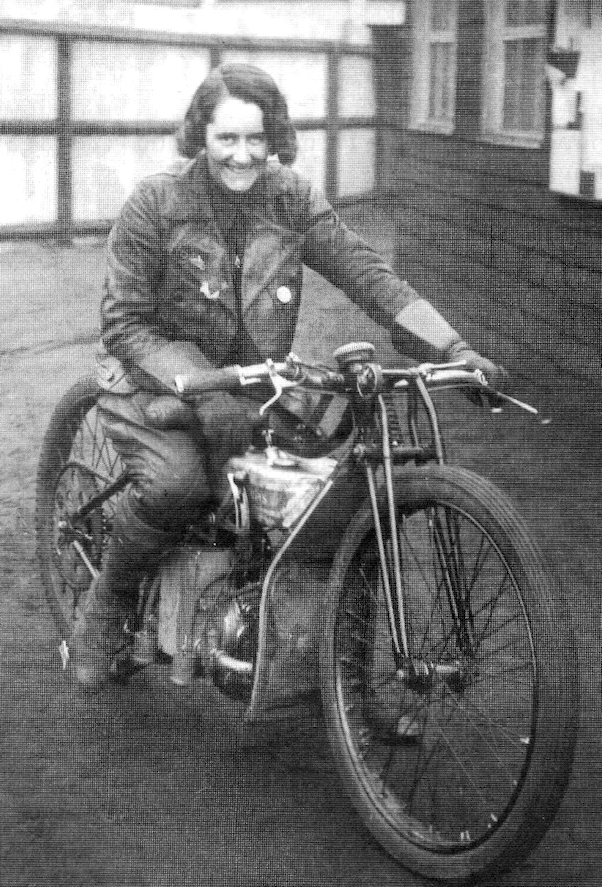 JAP Engines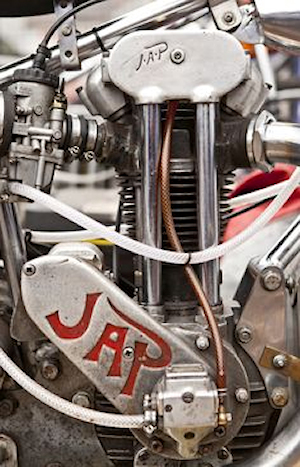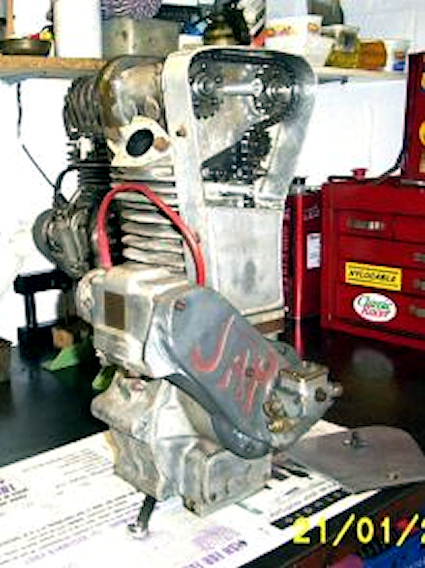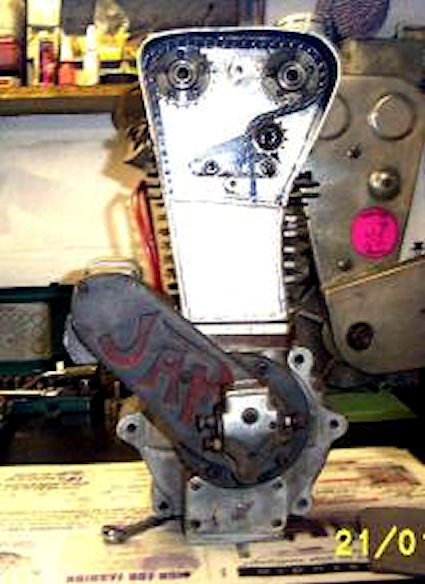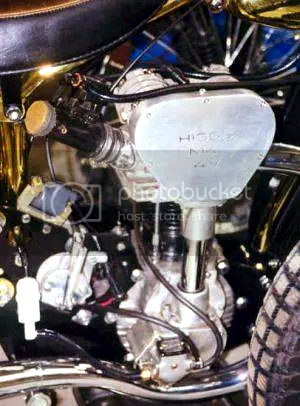 A conventional JAP engine and 3 pics of some form of JAP conversions. I presume they were 4 valve conversions
HRD (Vincent) Engine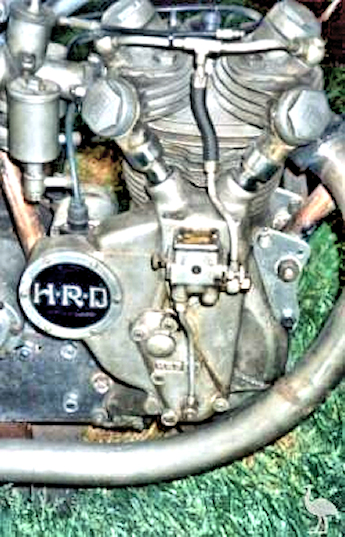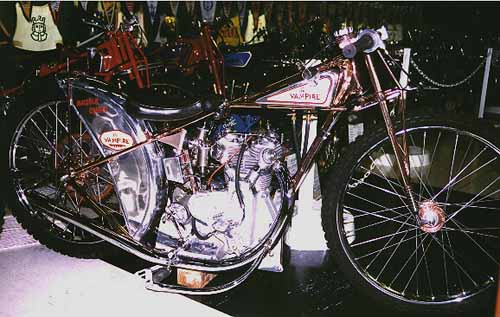 1948 saw a new engine from a great name in British motorcycling, Vincent. The engine/bike did not pose any threat to the supremacy of the JAP and they soon dropped out of the picture.
---
Reg Luckhurst Engine & Bike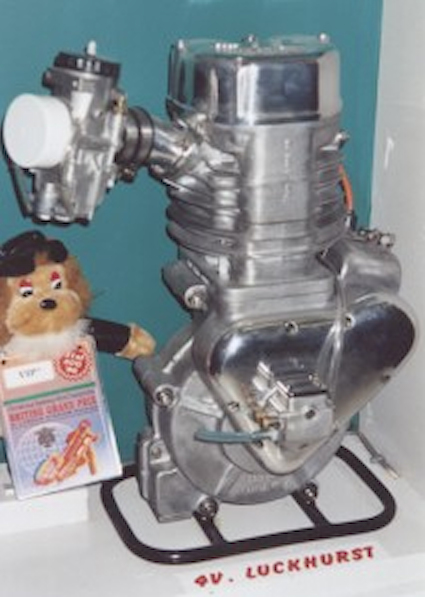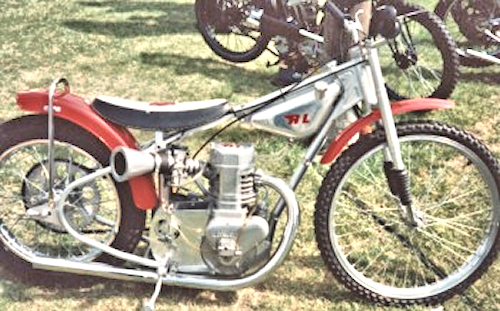 ---
ESO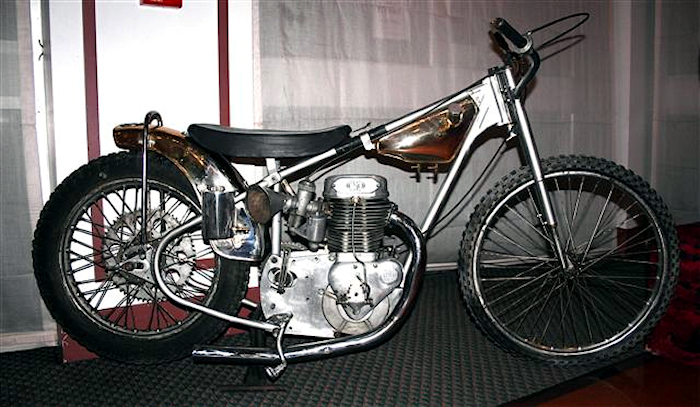 ---
JAWA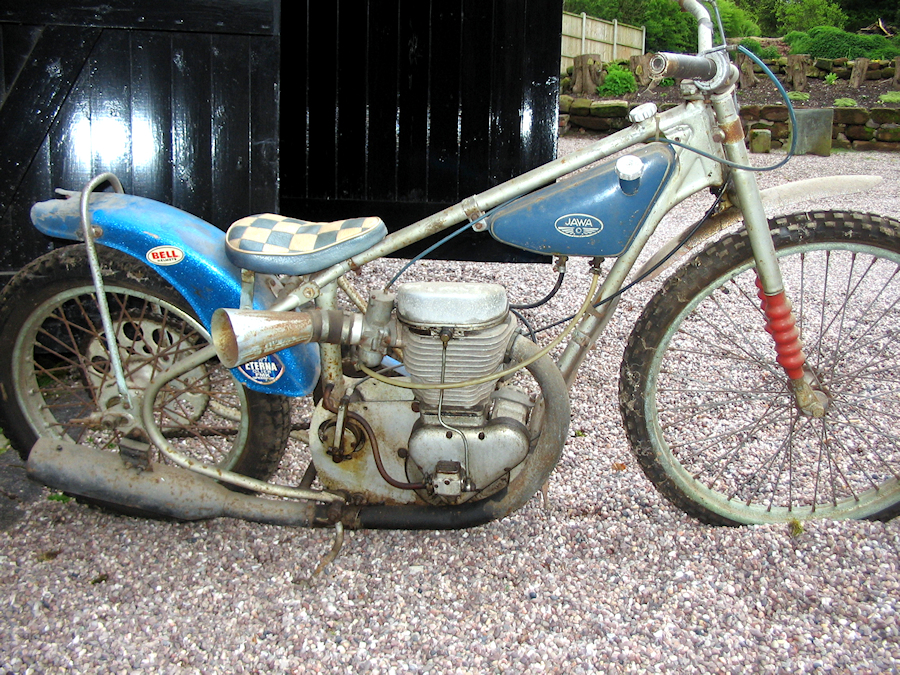 A sadly neglected old Jawa
---
Birmingham Small Arms (BSA)
Aussie Ben Powers says: Hey mate, came across your ad online somewhere saying you want photos of BSA early track stuff. Here's some photos of early dirt track stuff from Sydney.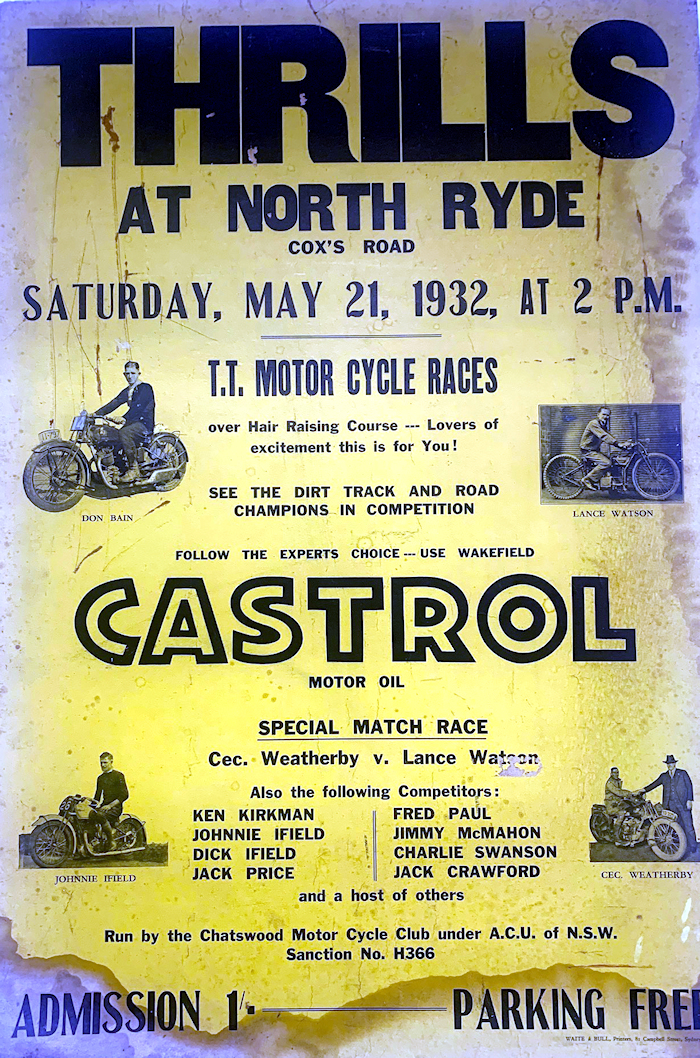 Courtesy of Ben Powers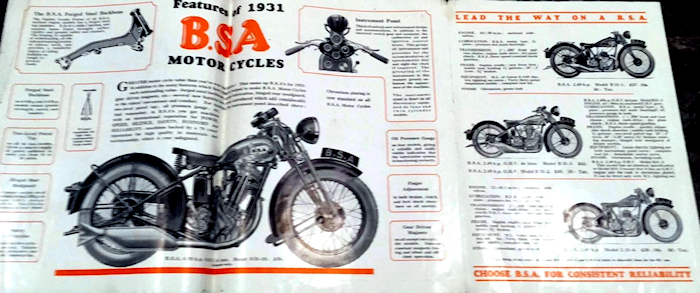 Courtesy of Ben Powers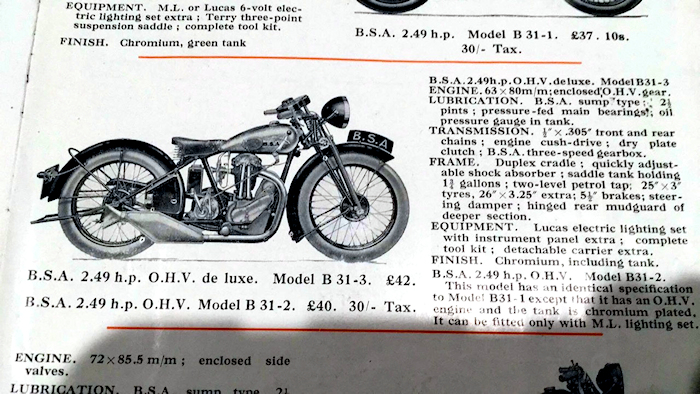 Courtesy of Ben Powers
BSA Engine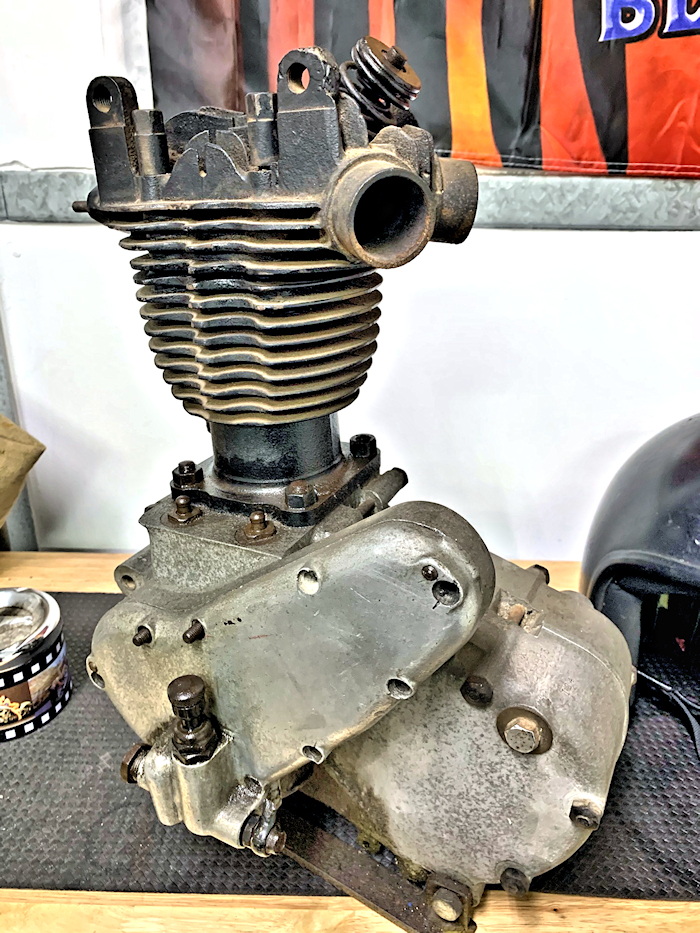 Courtesy of Ben Powers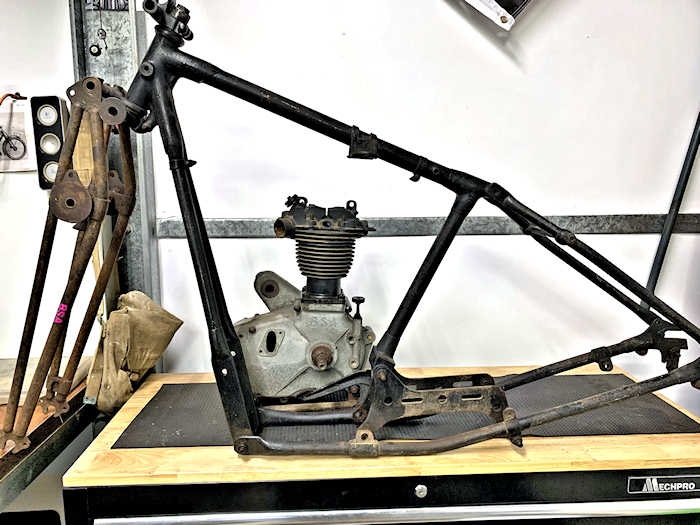 Courtesy of Ben Powers
---
Bikes Page 1 Bikes Page 2 Bikes Page 4 Bikes Page 5 Bikes Page 6 Bikes Page 7
---
The contents of this website are © and should not be produced elsewhere for financial gain. The contributors to this website gave the pictures and information on that understanding. If anyone has any issue or objections to any items on my website please email me and I will amend or remove the item. Where possible credit has been given to the owner of each item.