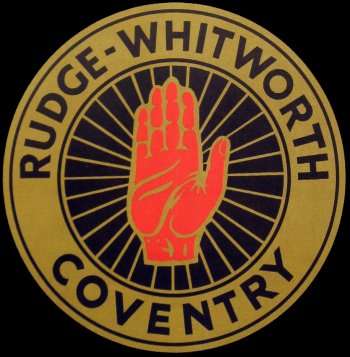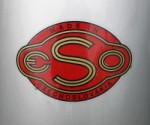 ---
Bikes Page 1
Bikes Page 2 Bikes Page 3 Bikes Page 4 Bikes Page 5 Bikes Page 6 Bikes Page 7
Giffy's Engine Restorations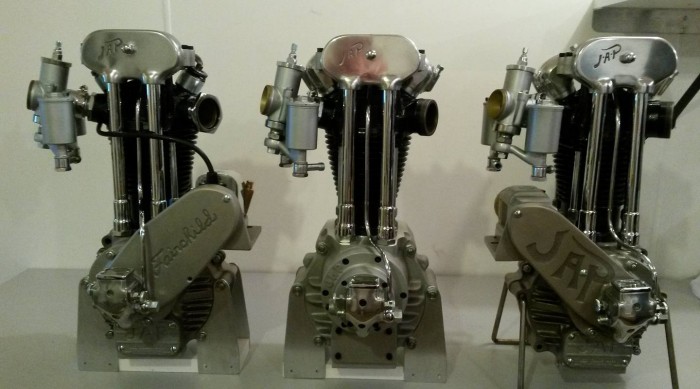 Courtesy of Dave Gifford
Giffy says: Hi John, I hope all is well with you. I have attached a picture, (see above) this one is for JAP lovers everywhere! The motor on the left is a Fairchild modification done by Jerry Fairchild in Los Angeles in the 1940ís, the idea was to prevent fuel from the carb getting into the magneto. Jerry made crankcases as well but I only have the mag platform on JAP cases. The motor in the centre is a Thornton JAP made in Auckland NZ by John Thornton in the mid sixties, He made cases and a mag platform at first and then came up with this coil ignition set up. I know of two others still in existence. The motor on the right is a common old four studder which is to go into a Rotrax frame. Viewers will notice that there are no air cleaners fitted, this is because I donít have any! I can get the original gauzes and circlips for the Amal Type 27 carbs but not the original Amal intake Bell Mouth trumpets. If anyone could help with this I can be contacted at giffords@clear.net.nz. Bit cheeky John, I hope you will forgive me just this once. All the very best, giffy
John says: How could I ignore a talent like Dave's. So if you can help Dave with the Amal Carb items please email him or me and I will pass you on to Dave in NZ John
---
Modern Speedway bikes look very much alike now, but this wasnít the case with the early dirt bikes.

Basically any powerful road going bike was stripped down, tuned up, tinkered with, for racing on the dirt tracks.

It was common then to see the great British bike marks, in dirt track form.

Famous names like John Alfred Prestwich (JAP), BSA, James, Royal Enfield, Rudge, Vincent, Velocette, Sunbeam and Douglas from factories the length and breadth of Great Britain once graced the tracks. Now speedway is dominated by Jawas from the Czech Republic and the Italian GM's.

Other bikes have come and gone but the Jawa still remains as ideally suited to going sideways at speed! But on these pages let us look at some of the other bikes that thrilled the massive crowds of yesteryear: -
---
Pre Speedway
Early-English
Track Racing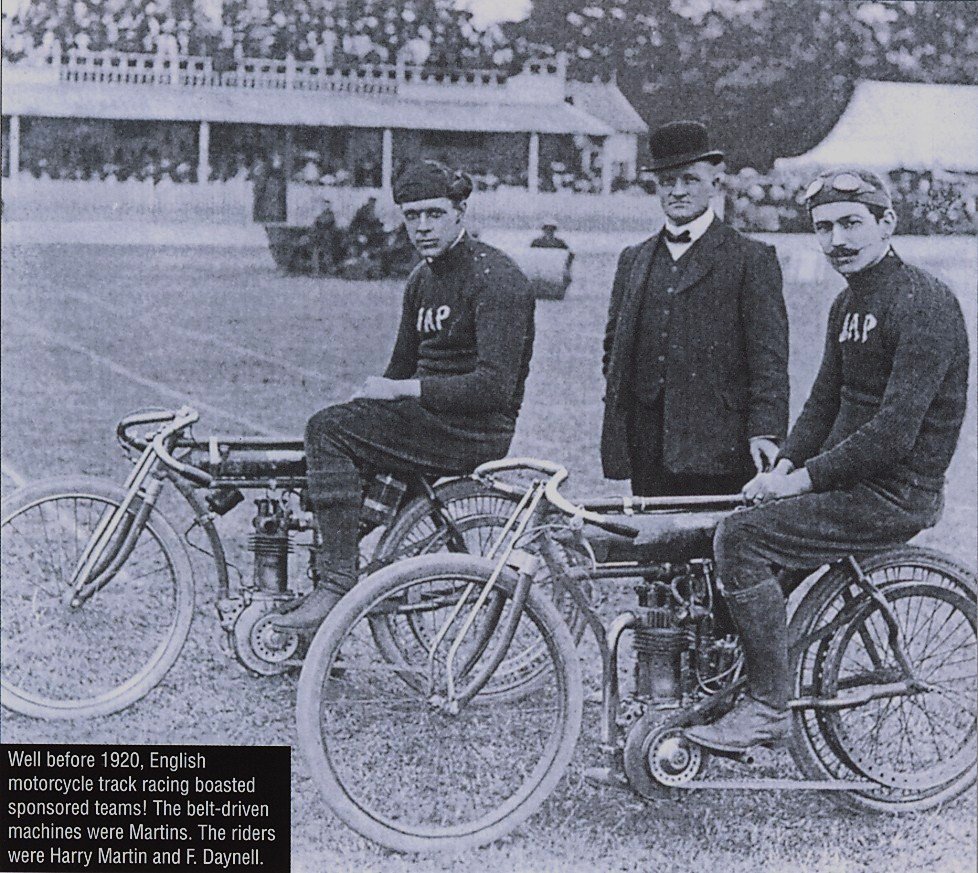 Evidence of speedway in England, well before the cinder sport began in Australia? Well no! The bikes were fitted with JAP engines and certainly look like early speedway bikes. I believe they raced on grass. These old bikes show their bicycle frame roots, the front forks for example are borrowed from bicycle technology.
---
James

500cc V

Twin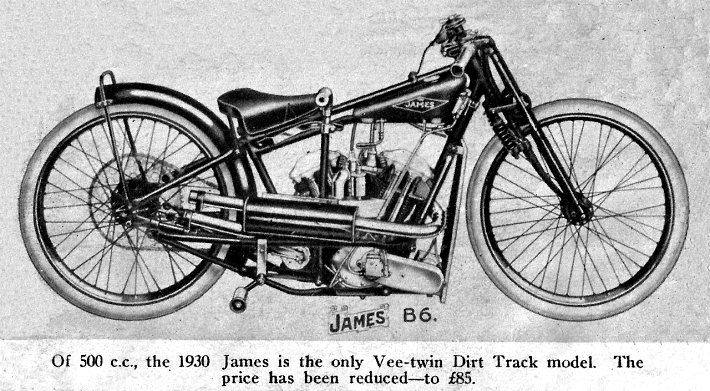 Courtesy of Paul Wild
Thanks for the above image Paul. A photo of an actual Dirt Track V Twin James is shown below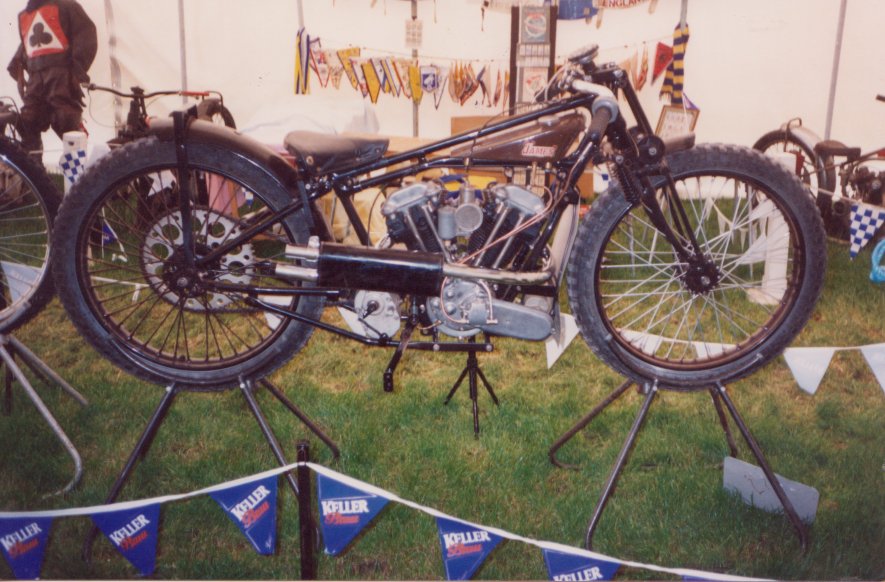 ---
The Crocker

I believe this is a Crocker from the USA. The picture must date from the early 1930s as I think the factory started production of speedway bikes then. The manufacturer did not produce many bikes so they are collectors items now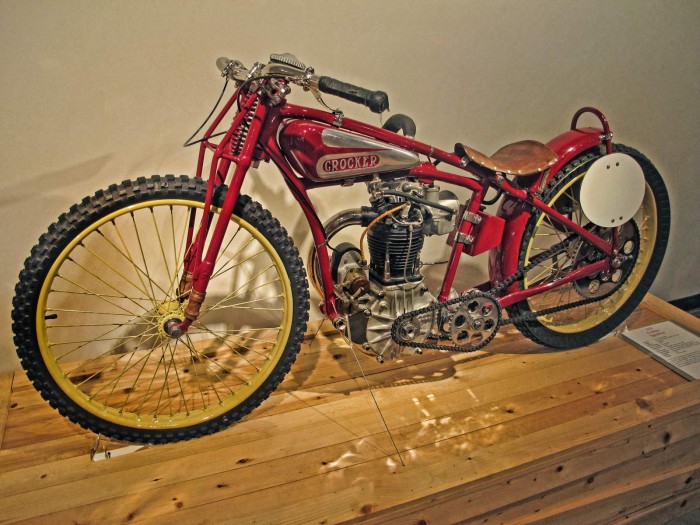 A potent looking 1930s speedway machine. Crocker was an American guy and he deserves a mention on my website despite making just a few machines. No other details are known
---
AJS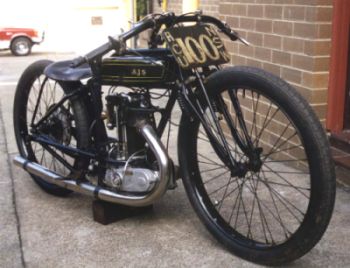 This 1926 AJS could be the worlds oldest surviving Dirt Track Bike. The bike was used in Australia in 1926 by Tony Batros, it has to be older than any British based bikes as our tracks didn't get under way until 1928. It is a 350cc AJS Special Racing GR7 Big Port. 350cc bikes were quite common on dirt tracks then, another 350cc was the Harley Peashooter.
Andreas Raab says:
the AJS-Speedway Motorcycle on Your Homepage is an AJS Model G8, it is an 1926 500 ohv TT-Model.
John says: Not sure if I can agree with Andreas, I think it is a 350 not a 500, what do you think?
Paul Reed says: As the current owner of the Batros AJS, I can confirm that it is a 1926 GR7 350 , described in the AJS catalogue as "Special Racing" . Engine number G 46334, Bore and Stroke 74mm 81 mm = 350cc. Andreas Raab is incorrect in asserting that it is a G8 500cc. This is obvious at a glance, as the G8 has a horizontal magneto chain cover, while on the GR7, the cover tilts up to the front
John says: Thanks for sorting that out Paul. Can you send any more pictures of your great bike?
Another Early Bike
1927AJS

Grass/Dirt Tracker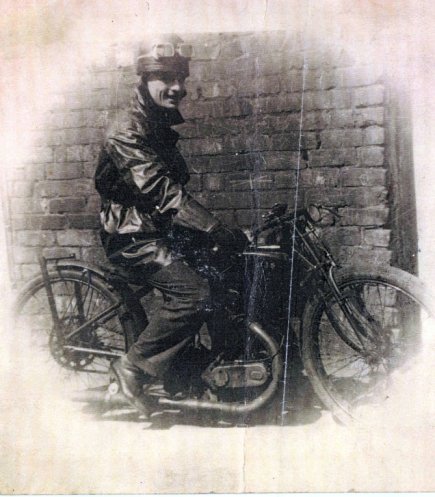 Courtesy of Phil Newton
Phil Newton says: Here is a photo of my Dad Arthur James Edward Newton on his AJS grass/dirt bike in 1927 The picture was taken in the street of (27 Bligh St Wavertree, Liverpool)
Dad used the AJ for work (Liverpool Gas Co ) he was a Plumber /Gas fitter. He fell off after winning Golden Helmet in about 1926 and got married 1927 Nearly turned pro I believe. Doc set his collar bone on the track and had a lumb there but lived to 82 d 1983
John says: The years (1926/27) Phil is talking about predate what we call UK speedway, i.e. beginning in 1928. I have asked him for more details of his dad (Arthur Newton) not a name I know, perhaps Arthur rode his AJ in races somewhere before speedway started here in the UK and he later went on to race at Stanley Stadium Liverpool when the speedway track was born for "open meetings" in 1928, or maybe Phil has the wrong years in mind?
---
Harley Peashooter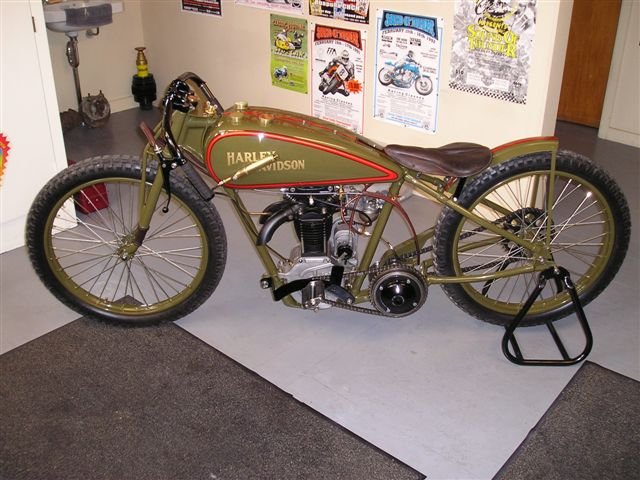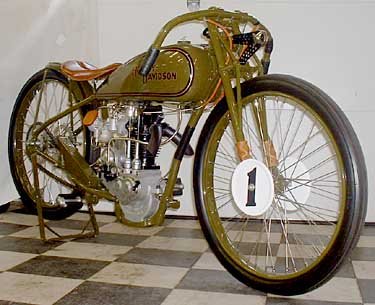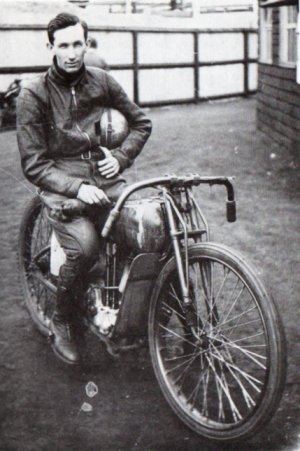 Frank Arthur (above right) astride his Harley Peashooter. The bikes were 350cc or 500cc. The Peashooter was a mid 1920s winner until the Douglas & Rudge came along.
Douglas v Harley
Late
1920s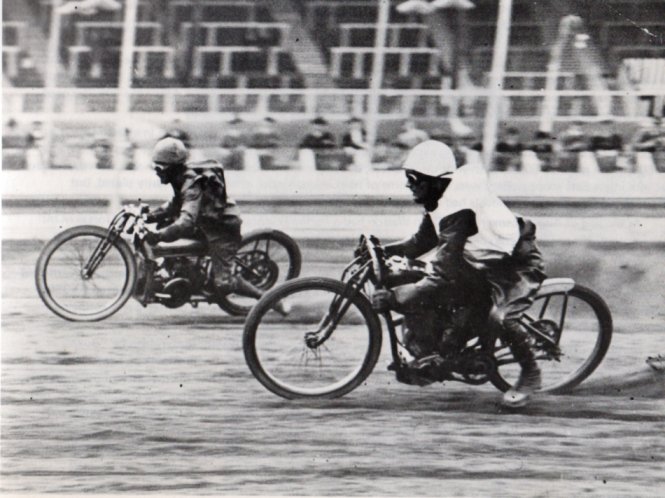 A Harley Peashooter inside battles it out with a Douglas flat twin
---
A Number Of
Old Bike Pics
From Tony Webb
The Calthorpe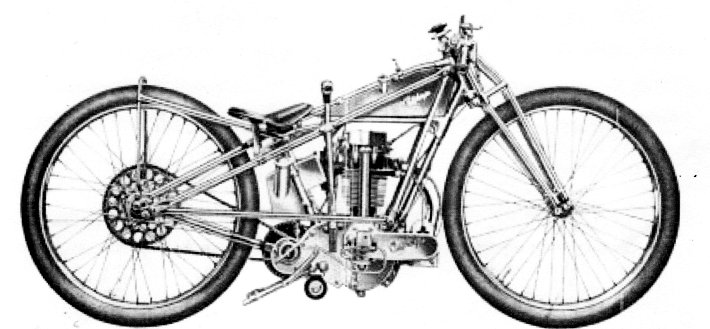 The Chater-Lea (Coppernob)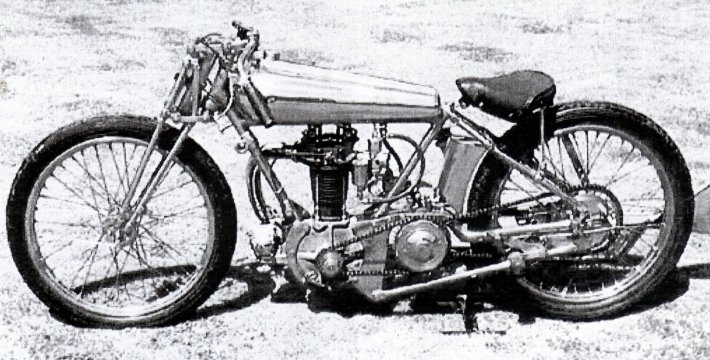 The New Imperial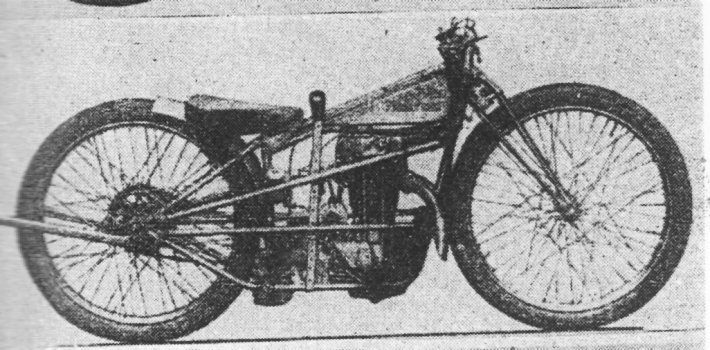 Norton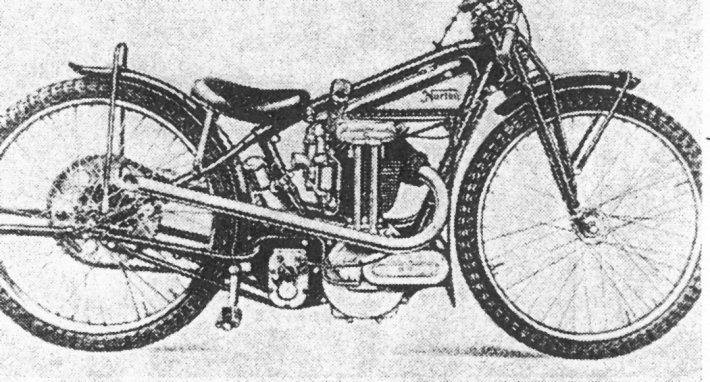 Velocette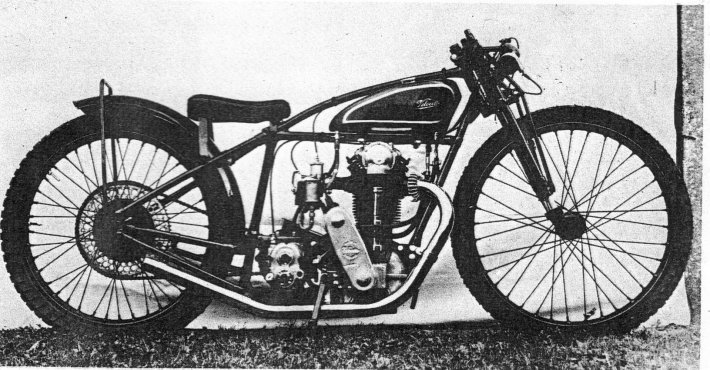 Wallis DT 1929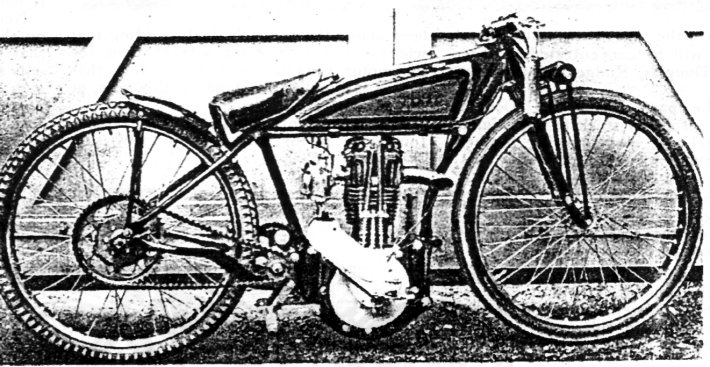 An
OEC
With A

JAP
Engine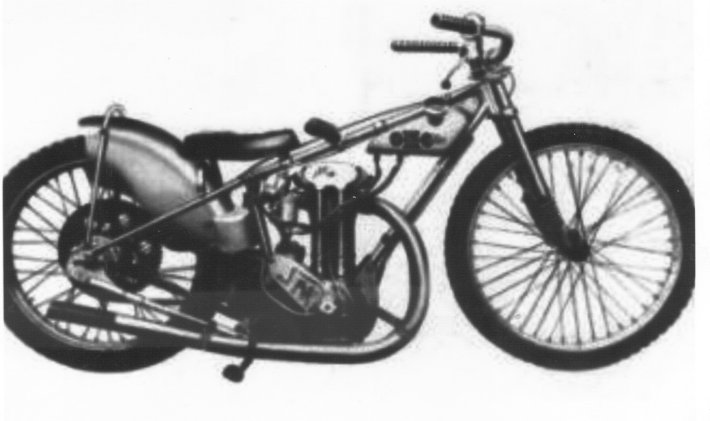 Zenith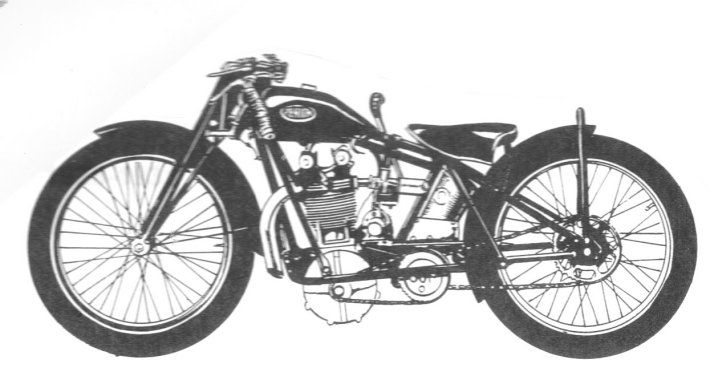 ---
Scott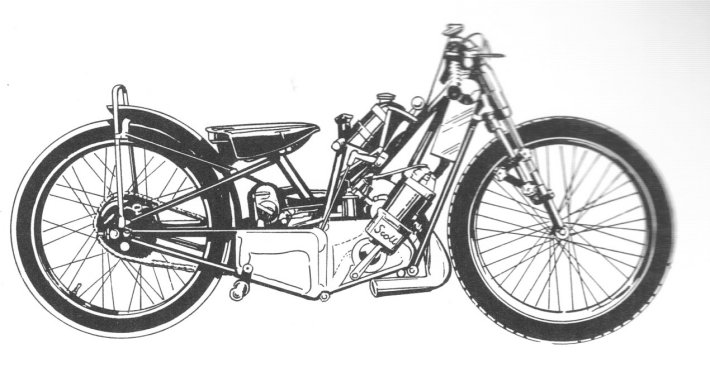 The Only Two Stroke Machine Used On British Speedways
McEvoy Blackburne
---
Douglas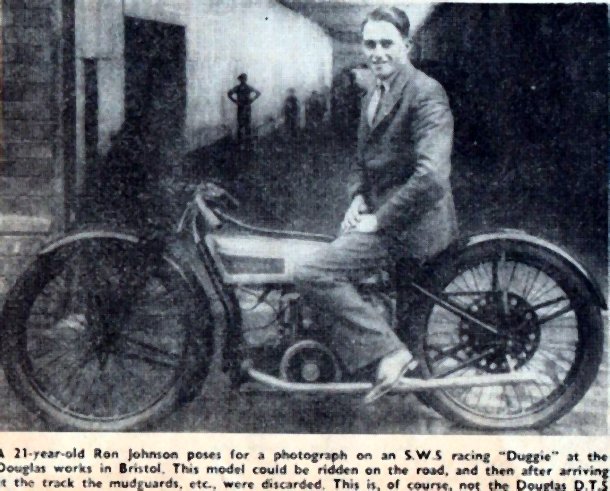 `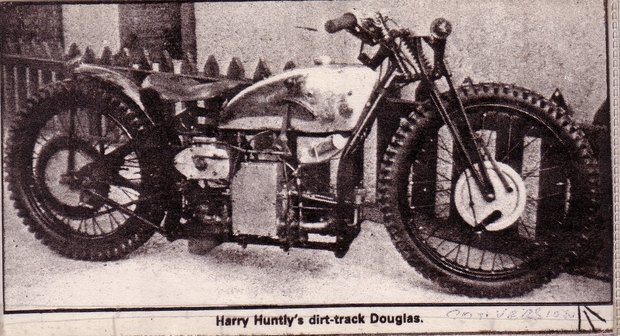 This bike was assembled from a "box of bits" by Harry Huntly. His son Ian, emailed this: -
Ian Huntly says:

In the late 50's, Dad bought a big box full of motorcycle parts which proved to be a Douglas Speedway bike !! Some parts were damaged or missing so I remember Dad fabricating new bits in his garage. He gave the bike a very special gear box and some special-metal pushrods. He sat down and built this race bike which ended up being entered at Druridge Bay Sand Track, ridden on the sand by a rider Dad picked for the "job". It was a heavy bike with straight through exhaust but it bump started immediately. It sounded glorious. Dad sold it to the local grass track sidecar champion who added a sidecar and did well with it for a couple of years.

I wish I knew where it is now !! Can you help please ??
John says: If you know what happened to the Huntly Douglas please send me an email
JOHN
---
BSA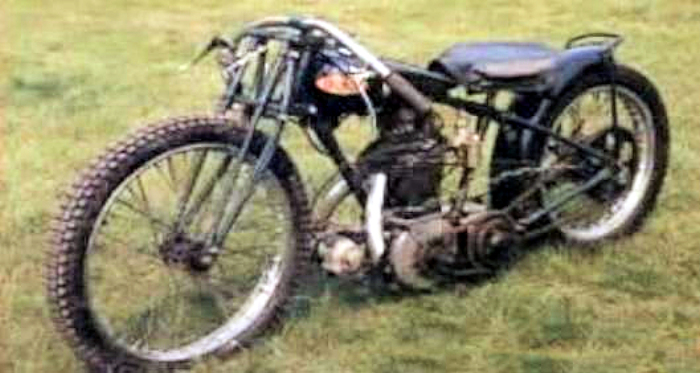 Above: a BSA 500cc

Dirt Track

Bike
John says: A very affordable machine at the time. The poor mans speedway machine! For those who don't already know. BSA was a great British company that began making weapons. BSA is a shortened version of Birmingham Small Arms. In the 20th century the company turned it's attention to motorcycle manufacture. BSA along with Royal Enfield (another old British company) were armaments makers turned motorcycle makers. The Beezer didn't last long as a dirt-track bike (1929/30), which is a pity as JAP could have done with some national rivalry and who knows maybe BSA would still be going now if they had invested properly in making speedway machines?
New Zealand Restorer Frank Brookland has one of these machines to restore and would appreciate contact from anyone who has any photos etc of the Beesa
John
Pat Jeal has been in touch with the following info and a couple of photographs: - I've attached a couple of pictures you may like.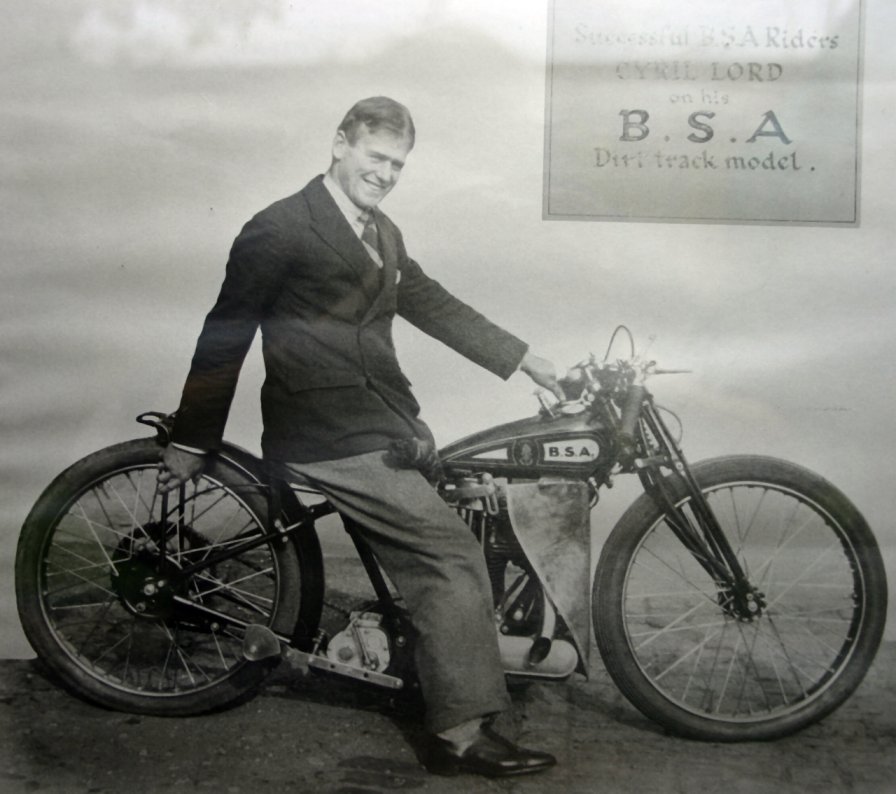 Pat Jeal says: I suspect the BSA photo on your site is of this following restored bike, which was ridden by Cyril Lord and later owned by Noel Somerfield. The photo is of it in grass trim at the 1968 High Beech reunion but I know it later had a brakeless 21" front wheel refitted.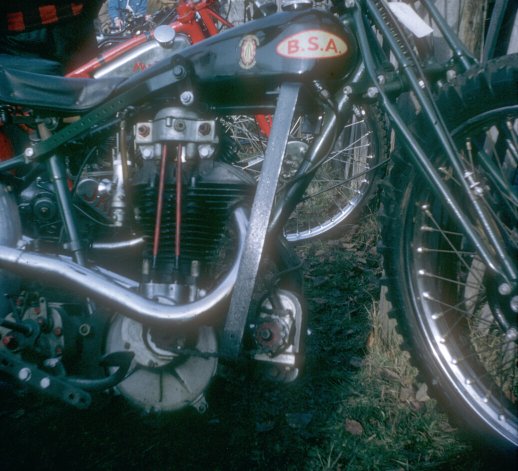 1929

 BSA Road Version 
(For Comparison)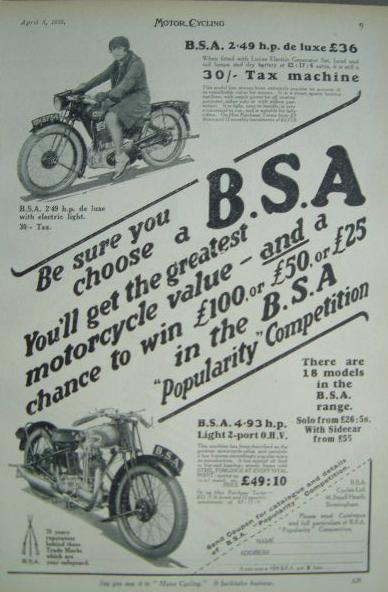 Courtesy of Les Elmer
1930 BSA S29- S19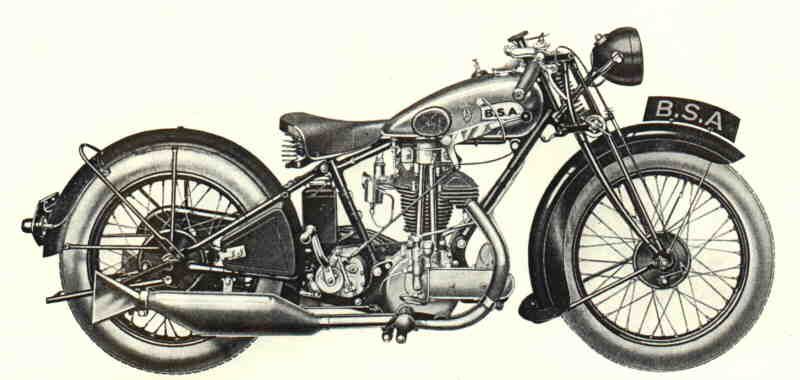 Courtesy of Les Elmer
1929 BSA
Roadster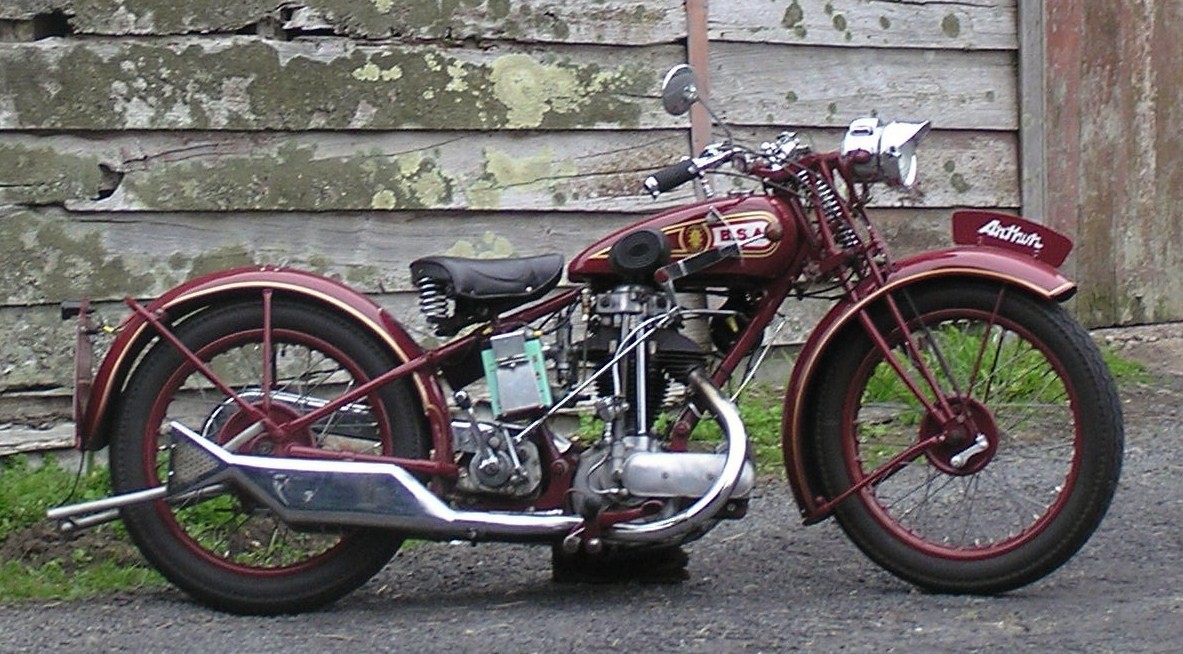 Courtesy of Les Elmer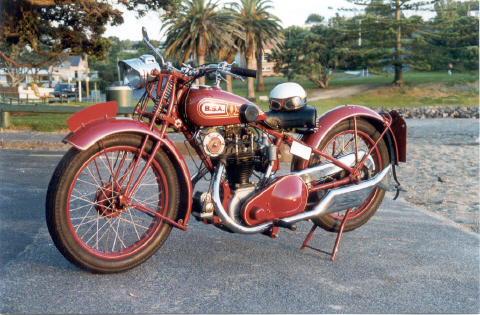 Courtesy of Les Elmer
The 1929 BSA roadster appears to be the machine BSA used as the basis for their speedway machine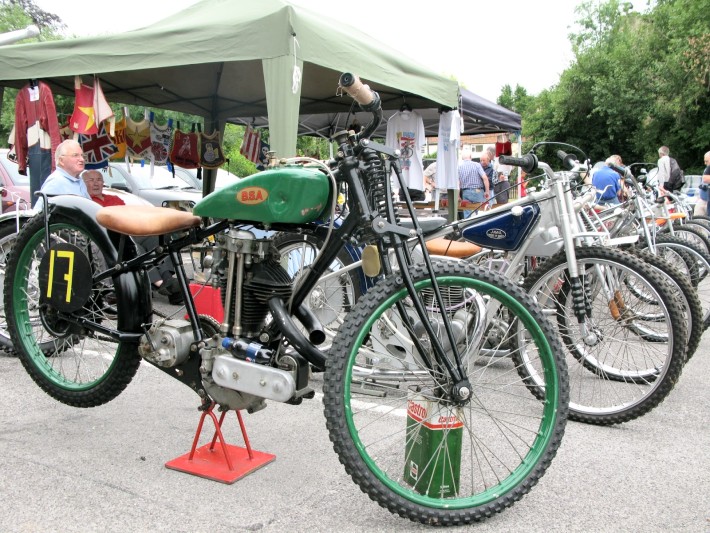 The Dirtrack BSA appears to have a similar engine to the JAP. If BSA had seriously opted to build speedway bikes, their company would have continued longer than they lasted with just their road going machines.
---
Velocette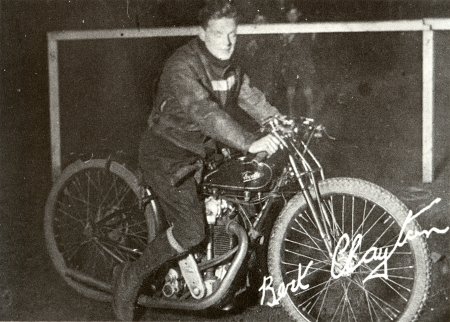 Let's hear from you if you own the engine. Velocette produced many powerful single cylinder engines for their road going machines, pity they didn't concentrate on speedway bikes more
---
Sunbeam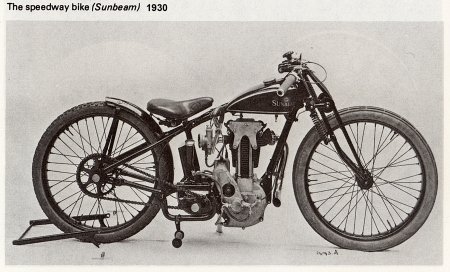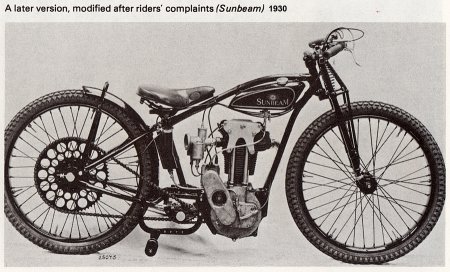 J

ohn says: What jumps out from these Sunbeam pictures is the size of the wheels 28". Later regulations limited wheel sizes to 22" and then to the modern day size 18 inch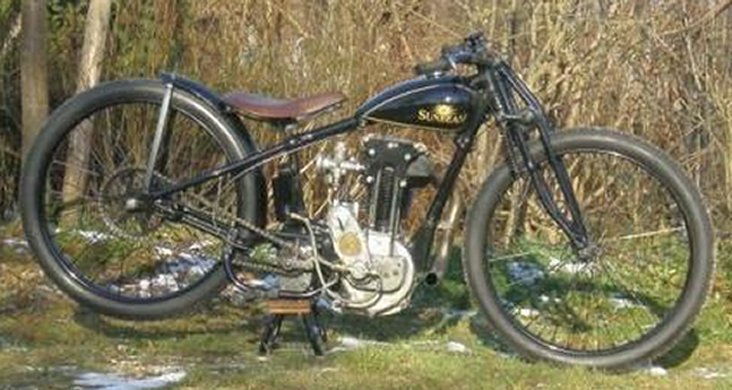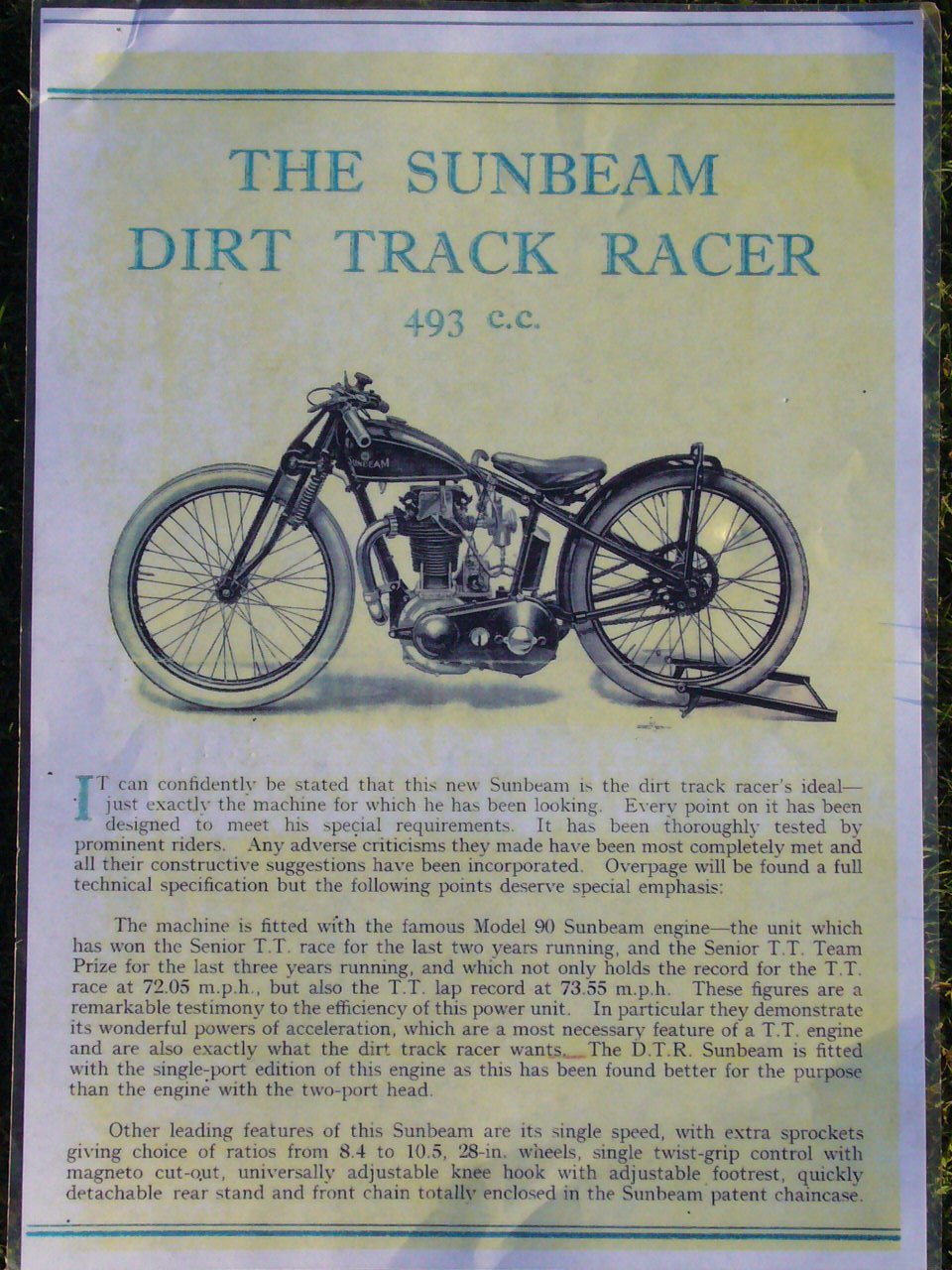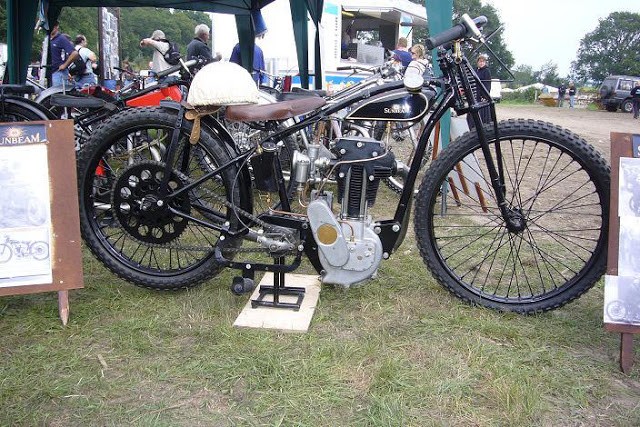 This Sunbeam I am told was a 1948 model. I doubt that and would date it as a 1930s machine. The bike however is immaculate whatever its year of manufacture.
---
Rudge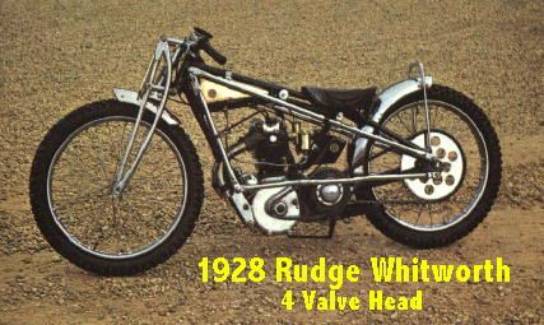 Above: The Rudge 500.This example looks very potent even by modern bike standards. (Four valve technology is not modern ) I bet this machine raced flat out would frighten the life out of a lot of modern bikers!
JAP In A Rudge Frame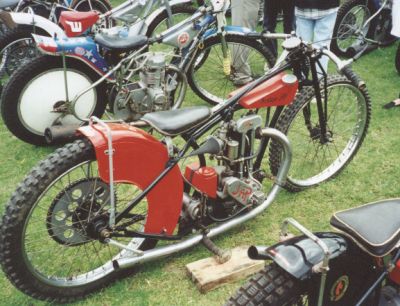 ---
American Riders

1920s Or 1930's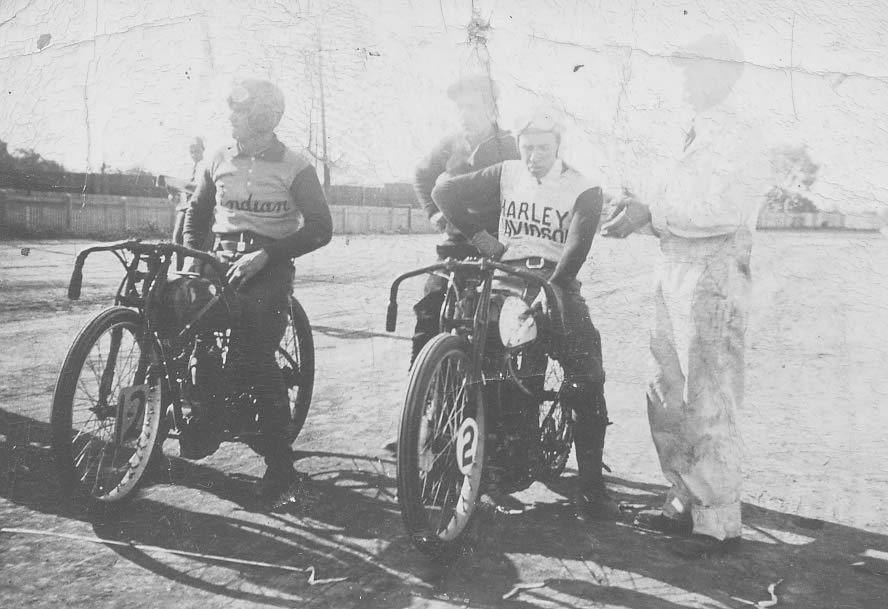 American Riders 1930's at the Richmond Raceway, (Picture courtesy of Carrick Watson) US riders had been racing around their dirt tracks for a number of years before we got underway in 1928. These riders are obviously mounted on an Indian (left) and a Harley Davidson. The Indian became a popular mount for Wall of Death riders. They don't appear to be wearing much body protection. I assume therefore that they are simply posing for pictures but who knows maybe they raced in their long johns in 1930's, Richmond USA!
---
So, in the late 1920's and early 1930's the pioneers quickly discovered which bikes to use to be a winner. The Harley Peashooter had the edge at first.
The long wheel base Douglas was the first choice of the "leg trailing winners" with the shorter wheel base Rudge giving the foot forward riders the edge. Then came the JAP in 1931 and the older bikes gradually gave way until all riders were mounted on the mighty JAP.
---
Douglas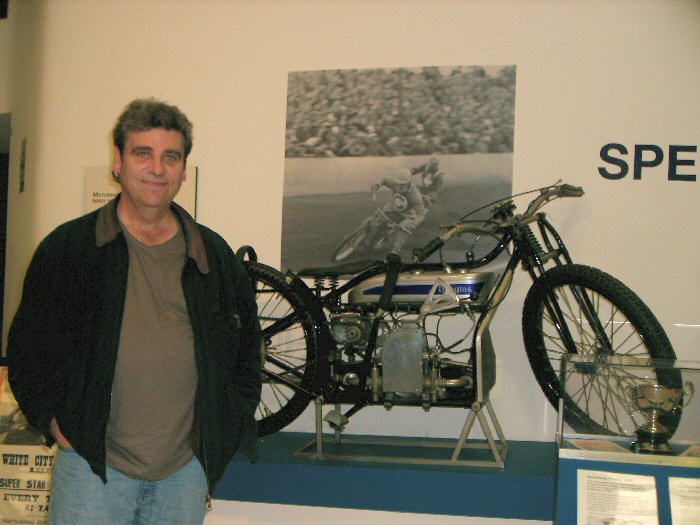 The Website owner, John Skinner, at the Glasgow Transport Museum. The Bike is a 1929 Douglas D.T. The picture on the wall shows an Glasgow rider leading a Newcastle Diamond. The Glasgow museum is well worth a trip, whether you pay the speedway a visit or not.
The Douglas had 3 gears but no clutch! For three years, the Dirt Track Douglas was the supreme dirt track machine selling around 1,200 bikes in 1929 alone. A bike like this one ridden by Gordon Byers, won the first ever race at Newcastle's Brough Park.
David Turner says: That bike was owned and ridden by George Pinkerton. A farmer near Glasgow. He restored the bike about 25 years ago. I lived on the farm next to him, and now live in Detroit. He had a brother called Jimmy Pinkerton who was of more note in the Scottish scene and also a very successful sand racer. George is also notable for being a Spitfire pilot with City of Glasgow. He and two others shot down the first German plane over Briton (near Edinburgh). I believe the bike is still owned by his son Ian who still farms the same lan
d. George died about 10 years ago
---
Alex Kynoch Shows How It Was Done In
1929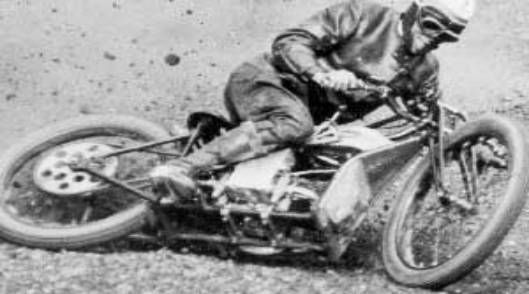 A 500cc Douglas Dirt Bike.
Alex Kynoch shows how it was done in 1929. No, he is not falling off! These long wheel-base bikes had a very low centre of gravity because the "heavy" engines were horizontally opposed flat twins mounted along the bottom of the frame. The Leg Trailers were usually mounted on these bikes.
---
Rudge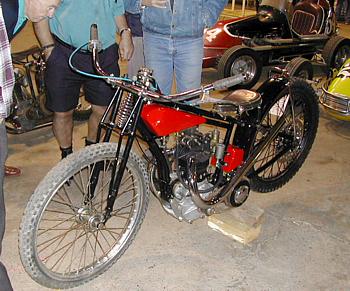 A Speedway Rudge
The shorter wheel base and higher centre of gravity of the Rudge did not suit some of the Douglas leg trailers although many adapted to the foot forward style of riding when they switched from the Douglas to the Rudge
---
JAP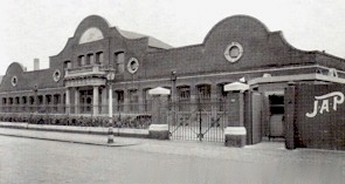 This "Art Deco" building in Tottenham, housed the JAP Factory
John Alfred Prestwich

(JAP)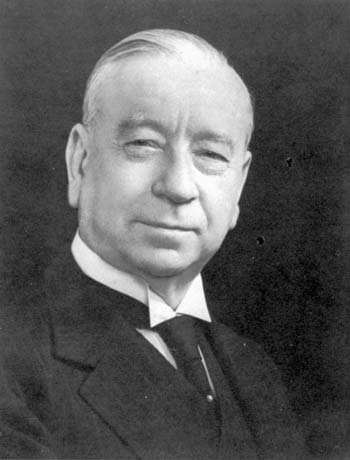 John Alfred Prestwich. A very clever man who invented a number of things including his JAP engines used in speedway
Dawn Of The JAP 1931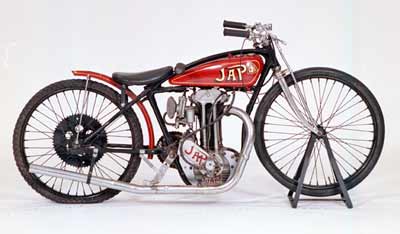 This early machine probably dates from around 1931? The JAP engine in a variety of frames reigned the speedway world for decades. You could say modern speedway was born in 1931?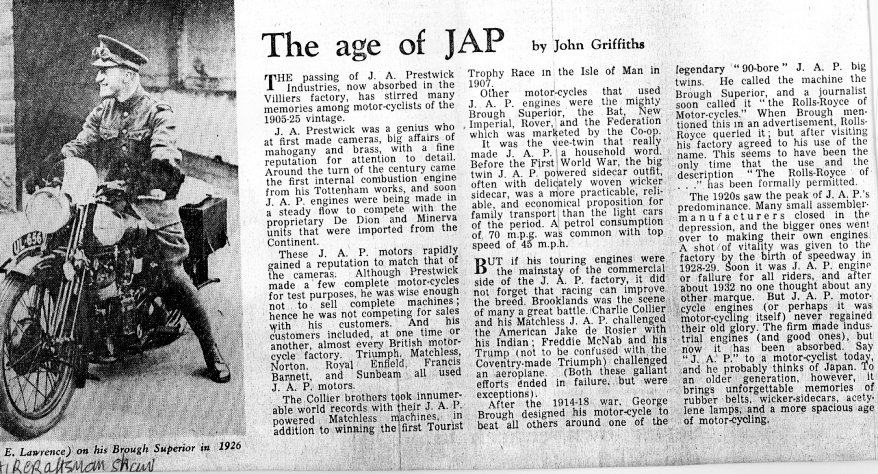 Courtesy of Phil Newton
Harry On An Early

JAP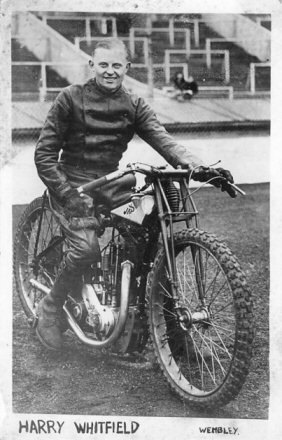 This picture shows an early Jap. Harry by the way became a Newcastle promoter when his riding days were over.
Martin Comerford

JAP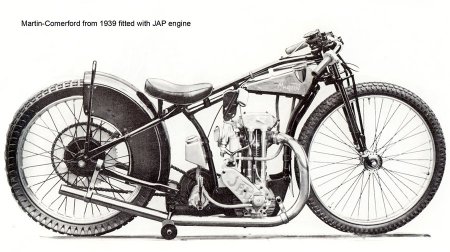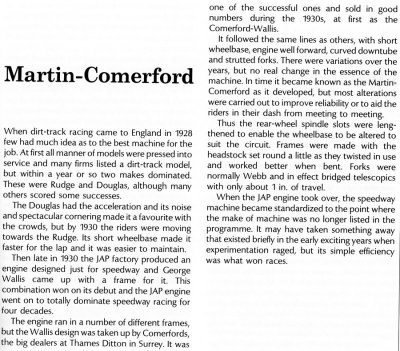 ---
Bikes Page 2 Bikes Page 3 Bikes Page 4 Bikes Page 5 Bikes Page 6 Bikes Page 7
---
The contents of this website are © and should not be produced elsewhere for financial gain. The contributors to this website gave the pictures and information on that understanding. If anyone has any issue or objections to any items on my website please email me and I will amend or remove the item. Where possible credit has been given to the owner of each item.